Steem is up by 10% and once again aiming to move above $1 !
Steem recently saw a downfall and the price almost went down by $0.6 i.e more than half a dollar approx. The price fall down from $1.4 to $0.8 and so it seemed like as if the up run for steem might have finally came to an end.
So just in two days the steem has regained the price by 10 percent and at the time of writing this post the value of one steem is equal to a dollar.
Let's see the below chart taken from Binance to see the rise happened recently.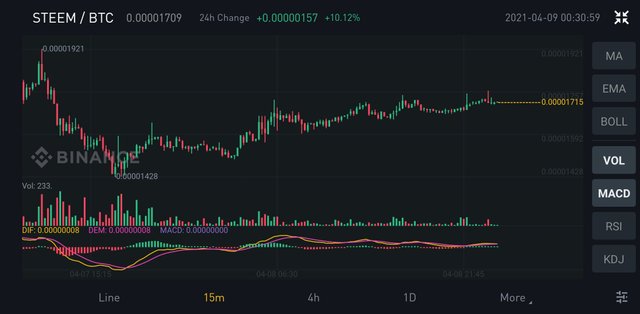 It is Steem/Btc chart and the price is approx equal to a dollar.
If we see the chart it looks like as if the price ll continue to go up following the pattern since it was at 1400 satoshi approx.
Since then we can notice a similar pattern that has followed and if it is followed further , maybe we can Witness another ATH in last one year.
For sure if that happens it ll bring happiness for the steem users who blog or trade in steem. But coming to my prediction and view on what might happen in coming weeks.
I recently talked about steem price in last one year and also discussed future prediction as well and i ll stick to that. I think price ll be coming down again.
I know many are saying that it ll rise based on what was followed last time in the year 2018 i guess.
But here is the thing , the entire Crypto Market has changed , the entire scenario has changed. I Would really want that my prediction becomes wrong and steem goes up.
Thats all for this post , Happy Trading Everyone.