⭐⭐CONTEST: WHAT WORDS COME TO YOUR MIND WHEN YOU THINK OF STEEMIT?? ⭐⭐ @barzah
Hello friends, enjoy your beautiful days and hope you will still be successful in the next few days. I read a review of this contest and was intrigued. I @barzah only saw this contest after 13 hours of posting for the country I live in (Indonesia). At first glance, it is very simple, but very interesting.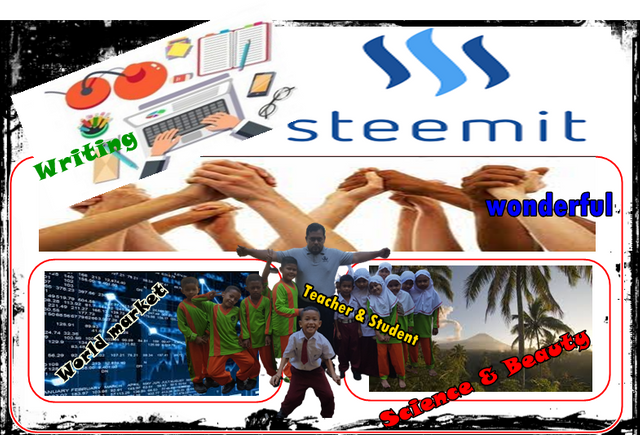 Straight To..
WHAT COME TO MY MIND WHEN THINK OF STEEMIT?
I am first and foremost a teacher in the country where I live. I should have known a lot, but I have to do it while reading. For me, the Steemit platform is one of the most up-to-date digital books. Therefore, I use Steemit as a knowledge store to enrich education and life knowledge, as well as a place where my eyes can relax while reading.

I have a writing hobby so I make this Steemit platform almost everyday as a notebook in my daily life. This is why I decided to write here knowing that the Steemit platform was built with a distro that is not prone to destruction. The motto of my life is: all will perish except a letter while the earth continues to turn.

Friendship As we know, nearly 80% of the world population uses Steemit as a reference for integration and it is exactly the same as on other social networks. We can share useful writings, be it scientific references, on the natural beauty of our respective countries and even on the economic sector.

This Steemit is a global market. In this era of 4.0 and 5.0, cryptocurrency has become a real trading platform. So that this platform is not a fake site.

Steemit is a great meeting platform for people like this community. Administrators and moderators prepare rules with deliberations and even award prizes to the winners of this contest.
these things for me are very extraordinary, they are great and also cool. I hope that what comes to my mind about this Steemit is in accordance with the applicable regulations.
I thank you very much to @belenguerra, @writingnreviews & @fendit, for your contest. this is very useful for steemit users