WRITING & REVIEWS: 💪TOP POSTS OF THE WEEK 🔝 - January 16 (16 de Enero)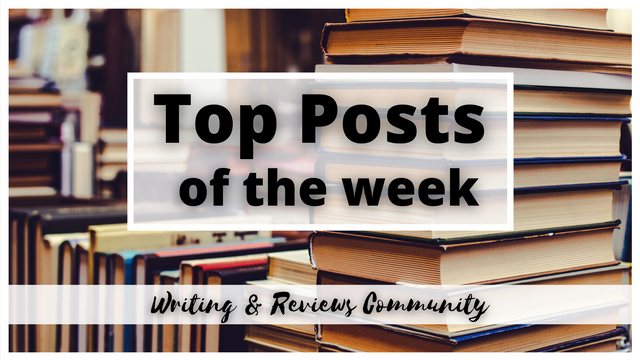 ENGLISH
---
Here is the new Top of the week on #steemit (11 posts selected)!!
---
THANK YOU! We want to thank all of you for your posts. They've been great.
We don't want to lose the habit of highlighting 10 weekly posts! As @fendit recently commented, we have surpassed 1000 subscribers and I am very happy to tell you that there are already more than 1,100.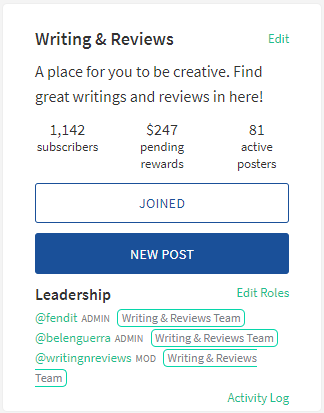 With this number, we have more than 80 active users, so, fortunately, participation in Writing & Reviews exceeds 5 daily publications, allowing us to meet one of our main goals, which is to be part of the growth of #steemit.
While we have already started selecting posts for the Steemit Communities Support Program on a daily basis, there are many people left out. It also happens that the same author cannot be selected more than twice a week so that the publications of faithful participants of Writing & Reviews are only voted twice a week within the framework of this program.
---
Faced with this situation, I have given myself the task of continuing with this weekly selection, but this time I have taken into account the following criteria:
That the publication has not been voted by the @booming accounts
That is not part of the weekly contest
For now, our weekly TOP 10 will take these posts into account, and we invite @steemcurator01 to collaborate with these users, whose content is of excellent quality. From now, thank you very much.
---
ESPAÑOL
Hola queridos amigos!! Bienvenidos a este nuevo Destacados de la semana en #steemit!
Primero que nada, GRACIAS! Queremos agradecerles a todos por sus publicaciones.
No quisieramos perder la costumbre de resaltar 10 posteos semanales! Como @fendit comentó hace muy poco, hemos superado los 1000 suscriptores y me siento muy feliz de comentarles que ya son más de 1100.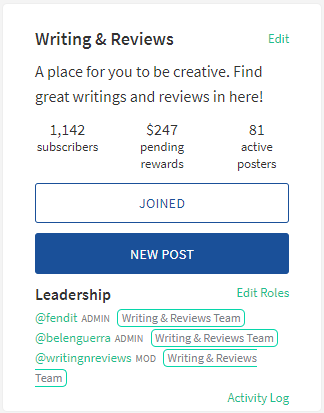 Con este número, tenemos más de 80 usuarios activos, por lo que afortunadamente, la participación en Writing & Reviews supera las 5 publicaciones diarias, permitiéndonos cumplir con uno de nuestros principalesobjetivos, que es ser parte del crecimiento de #steemit.
Si bien ya hemos comenzado a seleccionar diariamente publicaciones para el Programa de Steemit Soporte a las comunidades, hay muchas personas que quedan fuera. También ocurre que no puede seleccionarse el mismo autor más de dos veces por semana, por lo que las publicaciones de fieles participantes de Writing & Reviews, solo se votan 2 veces por semana en el marco de este programa.
---
Ante esta situación, me he dado a la tarea de continuar con esta selección semanal, pero esta vez he tenido en cuenta los siguientes criterios:
Que la publicación no haya sido votada por las cuentas @booming
Que no forme parte del concurso semanal
Por el momento, nuestro TOP 10 semanal tendrá en cuenta estas publicaciones, e invitamos a @steemcurator01 a colaborar con estos usuarios, cuyo contenido es de excelente calidad. Desde ya, muchas gracias.
---

Below, the TOP 10 of this week!
A continuación, el TOP 10 de esta semana!

We really appreciate your participation in this community and we hope to keep seeing you around here!!
---
Thank you very much!!
Thanks to @steemcurator01 and @steemcurator02 for your support.
With love, @fendit & @belenguerra
---

Realmente apreciamos tu participación en esta comunidad y esperamos seguir viéndote por aquí
Muchas gracias!!
Gracias @steemcurator01 por tu apoyo.
Con amor, @fendit y @belenguerra
---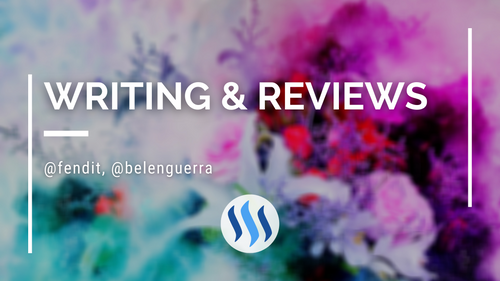 ---