VIDA DE HOSPITAL
Así es como llora un país.
Para nadie es un secreto que la atención sanitaria en Venezuela a nivel público es una terrible muestra de decadencia y deterioro. Un reflejo vívido del dolor humano en su más cruel expresión y la mengua para quien tiene que recorrer los pasillos y las camillas de un hospital.
Las circunstancias más adversas se viven en ese espacio revelador de austeridad y miseria. Pareciera que si no has pisado sus estancias, no has conocido el sufrimiento en su más pura expresión.
Los servicios de emergencia revelan hace años el colapso, donde una caja de cartón en el suelo es el punto de partida para ser admitido como paciente e ir conquistando según la gravedad del diagnóstico: pasillos, esqueletos de camillas sin colchón, camas, áreas de atención, pisos superiores de hospitalización y hasta quirófanos, cual competencia en una muy cruel carrera por la supervivencia. Muchos no lo logran.
Del otro lado del escenario, los familiares, con una actitud suplicante se dirigen hacia el personal, para satisfacer de a poco las solicitudes de alimentos, agua potable, medicamentos y material descartable que surgen; esperando sin descanso, en aquellos umbrales, a que aparezca alguien en uniforme gritando un nombre familiar, tras las puertas en vaivén que alojan mugre y bacterias como para continuar aquella cadena de contagio interminable.
Los vagabundos han encontrado también allí su espacio, cargando con sus peculiares olores a desechos corporales y sus camas improvisadas cada noche. Consiguen sobras de comida en la basura y un rincón donde abandonar sus cuerpos y hacerle frente al despiadado frío nocturno. Ellos quizá, ni se enteran de que hay una vida más allá. Sus mentes esquizofrénicas les regalan viajes hacia destinos fantásticos y definitivamente opuestos.
El personal médico, los residentes de postgrado de las distintas especialidades, ellos no descansan tampoco.
Pasan el día revisando historias, la evolución de los pacientes, entrevistando familiares, haciendo informes y reportes, chequeando tensión arterial, discutiendo casos, y como se dice en nuestro argot: <<pagando noviciado>> con las prescripciones y los diagnósticos... Pasan toda su guardia caminando de un lado a otro, sintiéndose diferentes y a salvo de toda enfermedad, por pertenecer a una población que pareciera privilegiada pero no inmune, eso sí.
El personal de enfermería, el más requerido por todos. Son los licenciados que reciben los medicamentos, los administran, asean a los pacientes, ponen sondas, vías intravenosas, enemas, pañales, arropan, limpian heridas, levantan, inyectan, toman temperaturas; siempre con reloj en mano y haciendo registro de todo. Son personal en vías de extinción, quienes permanecen y aún trabajan con tantos pacientes a su cargo, tienen definitivamente asegurado el cielo.
El personal de aseo y cocina. Son los trabajadores más cercanos a las carencias, que pasan más desapercibidos a menos que hagan falta, trabajan con las uñas literalmente. Están a la cacería de cuánto pote haya en algún lado, para traer comida a los pacientes. Y los que limpian, creen estar haciéndolo pero sin productos adecuados parecieran perder el tiempo y estar haciendo un trabajo inútil.
El hospital como tal sobrevive sin servicios de agua, equipos de alta tecnología, médicos, material descartable, camas, colchones, lencería, utensilios de cocina, material de limpieza, medicamentos, neveras, microondas, internet, vigilancia...pare de contar.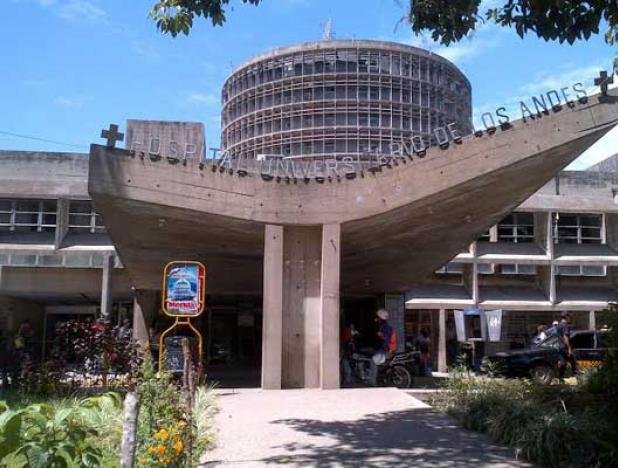 La infraestructura de aquél lugar cuya visión arquitectónica resultó en su época ser funcional, práctica y moderna, hoy día se ve destartalada, en ruinas visibles para cualquiera que pase por allí, bajo el riesgo de que alguna ventana se pueda desprender y caerle encima.
Pareciera un escenario de post guerra o los restos de un huracán. Un cuadro triste y desolador que se suma al sufrimiento de librar una lucha contra cualquier enfermedad.
Es un lugar donde se trabaja por la vida, digno de inversiones millonarias para recuperarlo y sostenerlo, pero la apatía de los responsables es más grande que el problema.
Sin ánimos de discusión política solo quiero mostrar mi apreciación por lo que viví y sentí. No puedo ser indiferente ante tal realidad que clama por ser vociferada a los 4 vientos.
Este es nuestro hospital, el hospital que puede ser el de cualquier ciudad, todos comparten la misma realidad, estado de abandono y la misma indiferencia.
Una verdad que conduele por sí misma.
Así es como llora un país.
Todos los derechos de autoría están reservados
La imagen es de nuestro IAHULA (Instituto Autónomo Hospital Universitario de los Andes) en el estado Mérida.
Fuente de la imagen:
http://www.radiomundial.com.ve/article/comisi%C3%B3n-permanente-de-desarrollo-social-integral-del-clebm-eval%C3%BAa-estatus-del-instituto
CC: @belenguerra @fendit @anasuleidy @edlili24 @mariita52 @tocho2 @steemcurator05
@venezolanossteem
@booming05
@booming02
@anthony2019
@ghandy64
@fuentesjo3006
#new #steemexclusive #steemoriginal #venezuela #steemit #spanish #introduceyourself #promosteem #steemingcurators
HOSPITAL LIFE.
This is how a country cries.
It is no secret to anyone that health care in Venezuela at the public level is a terrible sign of decline and deterioration. A vivid reflection of human pain in its cruelest expression and diminishing for those who have to walk the corridors and the stretchers of a hospital.
The most adverse circumstances are lived in that revealing space of austerity and misery. It seems that if you have not stepped on its rooms, you have not known suffering in its purest expression.
The emergency services revealed the collapse years ago, where a cardboard box on the floor is the starting point to be admitted as a patient and to be conquering according to the severity of the diagnosis: corridors, stretcher skeletons without mattresses, beds, care areas , upper floors of hospitalization and even operating rooms, which competition in a very cruel race for survival. Many do not.
On the other side of the stage, the family members, with a supplicating attitude, turn to the staff to satisfy little by little the requests for food, drinking water, medicines and disposable material that arise; waiting tirelessly, on those doorsteps, for someone in uniform to appear shouting a familiar name, behind the swinging doors that house dirt and bacteria as if to continue that endless chain of contagion.
The homeless have also found their space there, carrying their peculiar smells of bodily waste and their makeshift beds every night. They get scraps of food in the garbage and a corner where they can leave their bodies and face the merciless night cold. They may not even know that there is a life beyond. Their schizophrenic minds give them trips to fantastic and definitely opposite destinations.
The medical staff, the postgraduate residents of the different specialties, they don't rest either.
They spend the day reviewing histories, the evolution of patients, interviewing relatives, making reports and reports, checking blood pressure, discussing cases, and as it is said in our slang: << _ paying novitiate _ >> with prescriptions and diagnoses ... They spend their entire guard walking from one side to the other, feeling different and safe from all disease, because they belong to a population that seems privileged but not immune, yes.
The nursing staff, the most required by all. They are the graduates who receive the drugs, administer them, clean the patients, put probes, intravenous lines, enemas, diapers, clothe, clean wounds, lift, inject, take temperatures; always with a watch in hand and keeping track of everything. They are personnel in danger of extinction, who remain and still work with so many patients in their care, they have definitely assured heaven.
Cleaning and kitchen staff. They are the workers closest to deficiencies, who go unnoticed unless they are needed, they literally work with their nails. They are on the hunt for how much pot is somewhere, to bring food to the patients. And those who clean, believe they are doing it but without suitable products they seem to waste time and useless work.
The hospital as such survives without water services, high-tech equipment, doctors, disposable material, beds, mattresses, lingerie, kitchen utensils, cleaning materials, medicines, refrigerators, microwaves, internet, surveillance ... stop counting.
The infrastructure of that place whose architectural vision turned out to be functional, practical and modern in its time, today is dilapidated, in ruins visible to anyone who passes by, at the risk that a window may come off and fall on it.
It looks like a post-war scene or the remains of a hurricane. A sad and bleak picture that adds to the suffering of waging a fight against any disease.
It is a place where you work for life, worthy of millionaire investments to recover and sustain it, but the apathy of those responsible is greater than the problem.
Without the spirit of political discussion, I just want to show my appreciation for what I experienced and felt. I cannot be indifferent to such a reality that cries out to be shouted from the 4 winds.
This is our hospital, the hospital that can be the one in any city, they all share the same reality, state of abandonment and the same indifference.
** A truth that saddens itself **.
This is how a country cries.
All copyrights are reserved
The image is from our IAHULA (Instituto Autónomo Hospital Universitario de los Andes) in the state of Mérida.
Image source :
http://www.radiomundial.com.ve/article/comisi%C3%B3n-permanente-de-desarrollo-social-integral-del-clebm-eval%C3%BAa-estatus-del-instituto
CC: @belenguerra @fendit @anasuleidy @edlili24 @mariita52 @tocho2 @steemcurator05