Rafael Cadenas - Mi participación en Concurso Mi escritor favorito | My participation in My favorite writer contest (Esp. - Eng.)
Mi escritor contemporáneo preferido es el poeta venezolano Rafael Cadenas, considerado no solo el principal poeta vivo de la literatura venezolana, sino una de las voces fundamentales de la poesía contemporánea de habla hispana. Nació en Barquisimeto (Estado Lara, Venezuela) en 1930, por lo que tiene actualmente 90 años.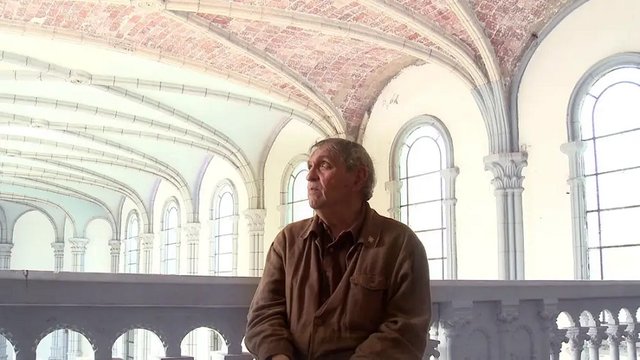 El poeta Rafael Cadenas Fuente / Source
Es autor de una obra poética de libros esenciales en la literatura hispanoamericana, como lo son: Cuadernos del destierro, Falsas maniobras, Memorial, Amante, Gestiones. También ha cultivado el ensayo, en su mejor sentido originario (al modo del padre de ese género, Michel de Montaigne), entre los cuales puedo nombrar ahora: Realidad y literatura, En torno al lenguaje, Apuntes sobre San Juan de la Cruz y la mística. Su obra literaria se ha inclinado desde hace varios años al cultivo de los textos al modo aforístico o epigramático, tal como podemos apreciar en Anotaciones, Dichos, Sobre abierto, En torno a Basho y otros asuntos. Su labor como traductor es, asimismo, de importancia, pues ha dado a conocer textos ignorados de autores como Whitman o D.H. Lawrence, y de poetas de procedencia diversa como polacos, como puede constatarse en su libro El taller de al lado. Traducciones. Favorablemente, su producción ha contado en la última década con ediciones en habla hispana muy completas, de lo que es ejemplo la edición de su Obra entera hecha por el Fondo de Cultura Económica (F.C.E:), de México, y ha sido traducido a varios idiomas.
Además de contar con el amplio afecto de lectores, académicos y críticos venezolanos, su producción literaria ha sido reconocida, entre los principales galardones, con el Premio FIL de Literatura en Lenguas Romances (que otorga la Feria del Libro de Guadalajara, México), el Premio de Poesía García Lorca (que se concede en Granada, España), y el Premio Reina Sofía de Literatura Iberoamericana. Ha sido nominado al Premio Príncipe de Asturias de las Letras, uno de los más relevantes en lengua española.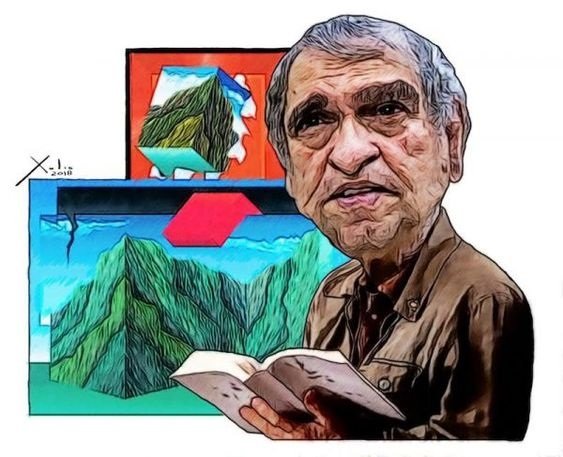 Caricatura del poeta, por Xulio Formoso | Caricature of the poet, by Xulio Formoso
Fuente | Source
La obra de Rafael Cadenas es muy particular, escapa a nomenclaturas y clasificaciones. Nutrida por la mejor tradición de la literatura de habla hispana (Cervantes, Unamuno, Ortega y Gasset, Machado, Salinas, por ejemplo), inglesa (Whitman, Lawrence, Eliot, Graves, etc.) o alemana (Kafka, Rilke, Kraus…), también tiene una fuente sustancial en la literatura y pensamiento taoísta y zen (la presencia del haiku es insoslayable). Es difícil encontrarle un par en Hispanoamérica; desde mi criterio como lector, lo más cercano sería Antonio Porchia o Roberto Juarroz (Argentina), quizás algo de José Emilio Pacheco (México) y de Ernesto Cardenal (Nicaragua).
La reciedumbre ética de la obra literaria y actitud de Cadenas constituye uno de los aspectos que más ha destacado en la Venezuela de las últimas décadas e influenciado en jóvenes escritores, sobre todo poetas, de allí el Concurso Nacional de Joven Poesía Rafael Cadenas, cumplida su 5º edición en 2020.
Soy un seguidor casi fervoroso de la obra poética y del pensamiento de Cadenas. Reconozco que su obra me ha marcado no solo literariamente, sino, más aún, en mi vida. Y cada vez que puedo honro públicamente su obra de hombre íntegro y poeta ejemplar.
He escrito y publicado varios trabajos sobre este escritor en esta plataforma. Les dejo aquí una de los últimos, un poema mío dedicado a él. En ese post pueden ver, al final, si les interesa, referencias a otros artículos propios en Steemit acerca de Rafael Cadenas.
***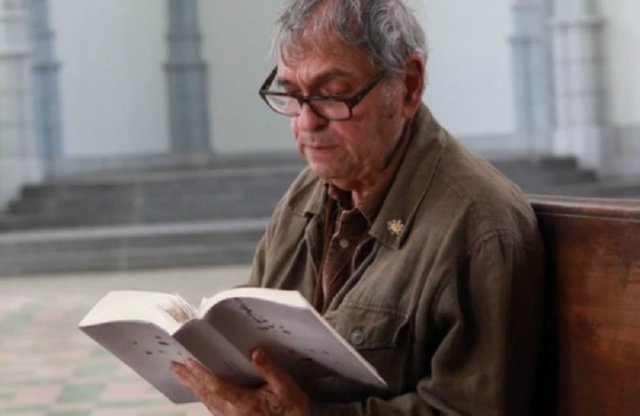 Fuente / Source
My favorite contemporary writer is the Venezuelan poet Rafael Cadenas, considered not only the main living poet of Venezuelan literature, but also one of the fundamental voices of contemporary Spanish-speaking poetry. Born in Barquisimeto (Lara State, Venezuela) in 1930, he is currently 90 years old. He is the author of a poetic work of essential books in Hispanic American literature, such as: Notebooks of exile, False maneuvers, Memorial, Lover, Managements. He has also cultivated the essay, in its best original sense (in the manner of the father of that genre, Michel de Montaigne), among which I can name now: Reality and literature, About language, Notes on San Juan de la Cruz and mysticism. His literary work has been inclined for several years to the cultivation of aphoristic or epigrammatic texts, as we can see in Annotations, Sayings, Open Envelope, About Basho and Other Matters. His work as a translator is also important, since he has made known ignored texts by authors such as Whitman or D.H. Lawrence, and poets of diverse origins such as Poles, as can be seen in his book The workshop next door
. Translations. Favorably, his production has counted in the last decade with very complete editions in Spanish, of which the edition of his Whole work made by the Fondo de Cultura Económica (F.C.E:), of Mexico, is an example, and has been translated into several languages.

In addition to the wide affection of Venezuelan readers, academics and critics, his literary production has been recognized, among the main awards, with the FIL Prize for Literature in Romance Languages (awarded by the Guadalajara Book Fair, Mexico), the García Lorca Poetry Prize (awarded in Granada, Spain), and the Queen Sofia Prize for Ibero-American Literature. He has been nominated for the Prince of Asturias Award for Literature, one of the most important awards in the Spanish language.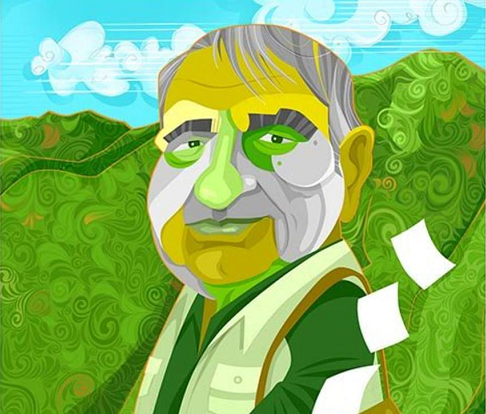 Caricatura del poeta, por EDO | Caricature of the poet, by EDO Fuente / Source
Rafael Cadenas' work is very particular, it escapes nomenclatures and classifications. Nourished by the best tradition of Spanish-language literature (Cervantes, Unamuno, Ortega y Gasset, Machado, Salinas, for example), English (Whitman, Lawrence, Eliot, Graves, etc.) or German (Kafka, Rilke, Kraus...), it also has a substantial source in Taoist and Zen literature and thought (the presence of haiku is unavoidable). It is difficult to find a peer in Spanish America; from my criteria as a reader, the closest would be Antonio Porchia or Roberto Juarroz (Argentina), perhaps something of José Emilio Pacheco (Mexico) and Ernesto Cardenal (Nicaragua).

The ethical reciedumbre of the literary work and attitude of Cadenas is one of the aspects that has stood out in Venezuela in recent decades and influenced young writers, especially poets, hence the National Youth Poetry Contest Rafael Cadenas, completed its 5th edition in 2020.

I am an almost fervent follower of Cadenas' poetic work and thought. I recognize that his work has marked me not only literary, but, even more, in my life. And whenever I can I publicly honor his work as a man of integrity and exemplary poet.

I have written and published several works about this writer on this platform. I leave you here one of the last ones, a poem of mine dedicated to him. In that post you can see, at the end, if you are interested, references to other articles of my own in Steemit about Rafael Cadenas.
Gracias por su lectura y a la comunidad #Writingreviews por darnos esta oportunidad. | Thank you for reading and to the #Writingreviews community for giving us this opportunity.
Translated with www.DeepL.com/Translator (free version)