El gallo / The rooster
Pues esta noche @writing&reviews les traigo esta anécdota curiosa, se trata del gallo; el Lunes 17 cumplió años mi tío y fuimos a cantarle cumpleaños, el vive en la cuidad de Porlamar y disculpen por no haberme presentado, soy Luisana, una medico venezolana, vivo en la Isla de Margarita; y bueno continuando con los que les estaba contando, resulta que el vive en la casa de mi abuela y es que esa es la casa de mi infancia, donde viví hasta los 13 años y no se si esta comunidad es para hacer escritos como este pero vamos a creer que si para no cortar mi inspiración.
Mis amigos ir a esa casa de nuevo después de tanto tiempo sin visitar me trajo muchas rememoranzas y es que la vi esta vez mas pequeña, claro si yo mas pequeña la veía mas grande; el hecho esta en que mi abuela falleció hace 9 años y en mi familia creo que ya es tradición respetar las cosas que deja el fallecido, creo que es el dolor por la ausencia lo que nos hace dejar las cosas intactas, y así ha pasado con las cosas de mi abuela; pero ese día en particular después de compartir con el cumpleañero, fuimos a donde mi abuela tenia unos adornos y fue en un momento entre tantas cosas que hablábamos que mi tío dice "¿Y quien se quiere llevar el gallo?" y espontáneamente dije "Yo!", mi madre luego me pregunta "¿Y eso que quisiste llevarte el gallo?", pero es que si, nadie sabia porque dije tan efusivamente que si.
Le respondí a mi madre diciéndole que ese gallo representaba mi infancia en esa casa, crecí mirando ese gallo de mi abuela en esa mesa junto a los otros adornos, siempre me pregunte que porque mi abuela tenia ese gallo, creo ahora que seria porque le gustaban los animales, ella criaba gallinas, patos, cerdos, chivos, loros, en fin le encantaban los animales, no lo se, pero no es el gallo es mi abuela, su recuerdo, cuando veo el gallo me acuerdo de ella y creo que fue ella la que de alguna manera quizo que me lo trajera.
Quizás esta anécdota les parezca algo extraña, pero mis queridos lectores de esta comunidad, se las cuento desde mi corazón, a lo mejor después les escriba algo mas, me despido amigos.
Well tonight @ writing & reviews I bring you this curious anecdote, it is about the rooster; On Monday the 17th my uncle had his birthday and we went to sing his birthday, he lives in the city of Porlamar and I'm sorry for not having introduced me, I'm Luisana, a Venezuelan doctor, I live on the island of Margarita; Well, continuing with those I was telling you, it turns out that he lives in my grandmother's house and that is the house of my childhood, where I lived until I was 13 years old and I don't know if this community is to write writings like this but we will believe that if so as not to cut my inspiration.
My friends going to that house again after not visiting for a long time brought me many memories and it is that I saw it this time smaller, of course if I saw it as bigger; The fact is that my grandmother passed away 9 years ago and in my family I believe that it is now a tradition to respect the things that the deceased leaves behind, I think it is the pain of absence that makes us leave things intact, and so it has happened with my grandmother's things; But that particular day after sharing with the birthday boy, we went to where my grandmother had some decorations and it was in a moment among so many things that we were talking that my uncle said "And who wants to take the rooster?" and spontaneously I said "I!", my mother then asked me "And what did you want to take the rooster?", but yes, no one knew why I said so effusively yes.
I answered my mother by telling her that that rooster represented my childhood in that house, I grew up looking at my grandmother's rooster on that table next to the other ornaments, I always wondered why my grandmother had that rooster, I think now it would be because she liked them the animals, she raised chickens, ducks, pigs, goats, parrots, well she loved animals, I don't know, but it's not the rooster, it's my grandmother, her memory, when I see the rooster I remember her and I think it was she the one who somehow wanted me to bring it to me.
Perhaps this anecdote seems somewhat strange to you, but my dear readers of this community, I tell you from my heart, maybe later I will write something else, I say goodbye friends.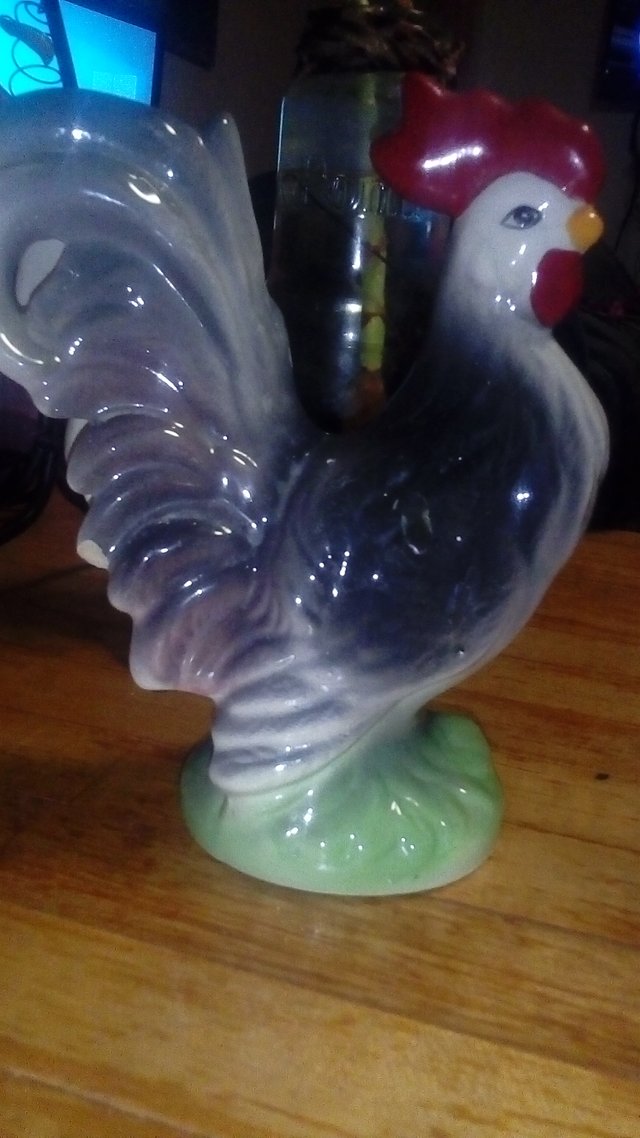 @lulibee Good vibes