April 23 Children's Day || Positive Short Stories Series #3
"Today is the day of the children. Make them happy"
The little girl, who is decorated with flowers and adds beauty to her beauty with her curly blonde hair, was taking part in the festival on April 23rd. There was a huge stage in front of the school. She will go on the stage and read the poem she wrote. The little girl attracted attention with her pink dress. She was excited because she was going to read in front of everyone. She thought, "What if I can't do it?" It was obvious that he was very excited. He was very worried. Today was his happiest day. Great leader Mustafa Kemal Ataturk had gifted this day to children. On the one hand, besides her happiness, she was experiencing anxiety and excitement. Mustafa Kemal was grateful to Atatürk. She loved her so much, his love was overflowing with her. Her friends were taking rows of stages to show their performances. Everyone was very well-groomed and beautiful.
It was his turn, and a girl from the inside read the name of the little girl and invited her to the stage. The little girl was very excited. But he took a deep breath to overcome his excitement and took to the stage. He had put aside his excitement and replaced him with pride. The audience of the scene was too much. From there, a hand was waving to him. It was her mother who waved her hand. His mother was very happy and proud. The concern on the little girl's face was replaced by a big smile. The scene became quiet and the little girl read her own poem.
"Before we came to earth
Enemies have taken everywhere.
Atatürk's enemies,
Taken out of our homeland
On April 23
Because the assembly was established,
Great feast given
Gift to children.
Let's laugh, have fun!
Let's celebrate!
Let's always hand in hand!
Let's raise the homeland !" ~ Quoted from Melahat UĞURKAN's Poem.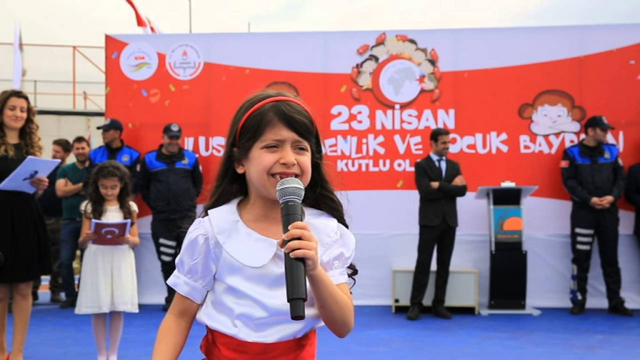 After the little girl read her poem with great enthusiasm, there was a big applause. She was very happy and proud.
She was able to both read her poetry, and a great love for homeland swelled in her. She leaned forward and thanked the audience for applauding and left the stage. The teachers praised the little girl with great pride. They appreciated this wonderful performance of the little girl. Her teachers promised that they would give the little girl a big score for her lessons. The little girl thanked them with great joy and went to her mother. Her mother hugged her daughter and kissed her hair. Her mother stated to her daughter that she was very successful and that she read her beautiful poem. She said with a big smile how proud she was. Her mother said she would give her daughter a small reward for this success. She cheerfully thanked her mother and said how much she loved her. With a big smile, her mother took her daughter's hand and took the road to her home.....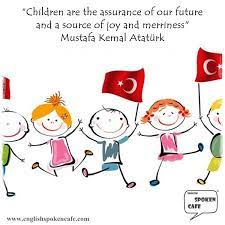 The script and writing are completely mine! Pictures are quoted from the Internet.
|| Thank you for reading my story ! <3 Yes, today is April 23 National Sovereignty and Children's Day. Great Leader Mustafa Kemal Atatürk has given this special day a gift to children. All nation we are grateful to Mustafa Kemal Ataturk! ||
|| Celebrate the holiday of children all over the world ! :))) ||
If you want different series like this, you can specify by commenting and voting!