The real character to best fictional character ❤️ || 𝐓𝐕 𝐒𝐞𝐫𝐢𝐞𝐬: 𝐒𝐡𝐞𝐫𝐥𝐨𝐜𝐤 (𝟐𝟎𝟏𝟎-𝟐𝟎𝟏𝟕) || 𝖂𝖗𝖎𝖙𝖎𝖓𝖌 & 𝕽𝖊𝖛𝖎𝖊𝖜𝖘
I hope everyone is well. I wrote in my first article about becoming From Arthur Conan Doyle to Sir Arthur Conan Doyle .. so those who have not read the previous article, go to this link and read first.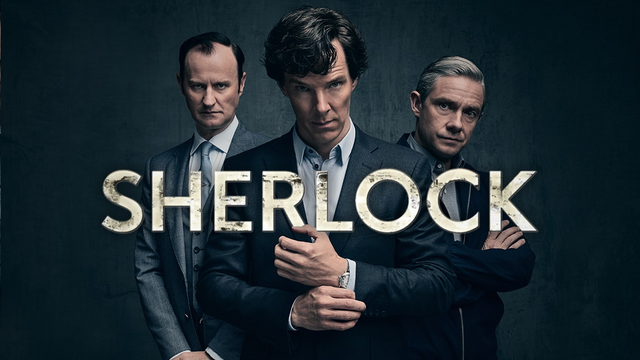 Image Source
𝐓𝐕 𝐒𝐞𝐫𝐢𝐞𝐬: Sherlock (2010-2017)
𝐂𝐫𝐞𝐚𝐭𝐞𝐝 𝐁𝐲: Mark Gatiss, Steven Moffat
𝐈𝐌𝐃𝐛 𝐑𝐚𝐭𝐢𝐧𝐠: 9.1 | TV-14
𝐆𝐞𝐧𝐫𝐞: Crime | Drama | Mystery | Thriller
𝐋𝐚𝐧𝐠𝐮𝐚𝐠𝐞: English
𝐂𝐨𝐮𝐧𝐭𝐫𝐲: UK, USA
𝐑𝐮𝐧𝐧𝐢𝐧𝐠 𝐓𝐢𝐦𝐞: 88 min
𝐍𝐮𝐦𝐛𝐞𝐫 𝐨𝐟 𝐒𝐞𝐚𝐬𝐨𝐧𝐬: 4
𝐀𝐰𝐚𝐫𝐝𝐬/𝐍𝐨𝐦𝐢𝐧𝐚𝐭𝐢𝐨𝐧𝐬: 24/42 (including Emmys, BAFTAs and a Golden Globe)
I first heard the word '𝑺𝒉𝒆𝒓𝒍𝒐𝒄𝒌' in Rakib Hasan's 'Three Detectives' series as a child. Most likely, the 'Three Detectives' leader Kishore Pasha was jokingly referred to as the 'little Sherlock' type. As I read the books, I thought, 'Who is this Sherlock?' But it was At list who guessed that there must be a big detective. However, I had the good fortune to read Satyajit Ray's 'Feluda Samagra' at the very beginning of my adolescence. Strangely, here too, I see the name 'Sherlock Holmes' coming up in the various adventures of Mr. Felu Mitti. This time my patience really broke and I was amazed! Who is this? Who is this Sherlock Holmes?
Then, one day while in high school, I spotted a black-and-white book by Sherlock Holmes at a village fair. I bought the book that day without thinking about whether the book was original or fake, what the translation would be like. There were a few stories in the book. Then I read Sherlock Holmes, the time-honored creation of the legendary writer 𝑺𝒊𝒓 𝑨𝒓𝒕𝒉𝒖𝒓. As a detective, as a milestone in espionage and investigation, I got an idea of ​​why Sherlock Holmes has been immortalized for centuries in movies, books, or people's mouths.
Let's come back to the series.
The popular British crime drama TV series '𝑺𝒉𝒆𝒓𝒍𝒐𝒄𝒌' is based on the detective stories of the famous novelist Sir Arthur Conan Doyle's time-honored detective novel Sherlock Holmes. Although produced by the British network, Sherlock is aired at the same time as a masterpiece.
Combined with Sherlock 𝒄𝒆𝒏𝒕𝒖𝒓𝒚 𝑳𝒐𝒏𝒅𝒐𝒏 city, 𝑼𝑲 𝑬𝒓𝒂-r 𝑼𝑲 /. It would be hard for a Sherlock fan to imagine Sherlock in any timeline other than the late nineteenth and early twentieth centuries. But will any historical or historical fiction limit people to a certain period of time? No, don't keep it. Sherlock is no exception. The show's creators have imagined what Sherlock Holmes would look like in the 21st century. Therefore, here in the modern city of London, we meet our ever-beloved Sherlock Holmes and his companion. We see the adventures of 𝑱𝒐𝒉𝒏 together.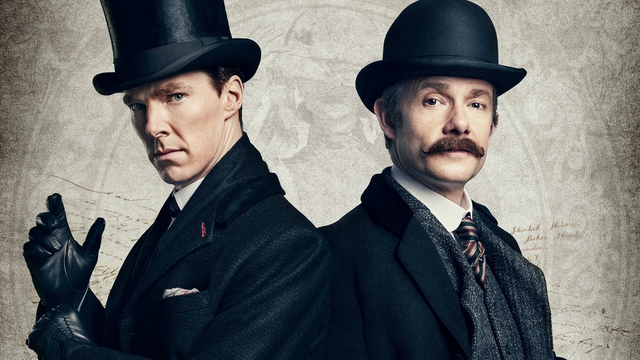 Image Source
In the Sherlock series, Sherlock Holmes, known as the "consulting detective" or "𝒄𝒐𝒏𝒔𝒖𝒍𝒕𝒊𝒏𝒈 𝒅𝒆𝒕𝒆𝒄𝒕𝒊𝒗𝒆" (in the present-day London capital) is seen solving a variety of mysteries. His assistant in this adventure of Holmes is his roommate, former military doctor John Watson, who later becomes Sherlock's best friend. Holmes, with his efficiency, skill, ingenuity, power of conjecture, and keen thinking, solves the cases of his ordinary clients and catches criminals on the ground, just as he had to be a consultant to the metropolitan police inspector. Not only that but because his brother 𝑯𝒐𝒍𝒎𝒆𝒔 𝑯𝒐𝒍𝒎𝒆𝒔 himself was a government official in an important emergency position, Holmes also called directly to the British governors to lend a helping hand in solving many national, international tasks. And Sherlock doesn't go without a case. He likes this responsibility. People feed when they are hungry. And Sherlock is hungry. And his investigation is needed to satisfy this hunger. This is an investigative case but Sherlock will not run if boring again; Must be interesting, thrilling, mysterious, and puzzling. Meanwhile, John Watson is sitting next to another shoot! The adventure of Sherlock and the two of them, he is blogging on the Internet. Holmes, who lived in secrecy and lived a simple life alone, has now become a public idol, a celebrity, a great personality. But, despite his reluctance to do anything!
Although there is a difference between the crime and the perpetrator in each episode of the series, Sherlock's arch-rival and one of the only antagonists has been seen clashing with Sherlock several times. And the whole series has this effect somehow.
Not to mention a few more notable characters in the recurring role. Among them Sherlock's Landlady .𝑯𝒖𝒅𝒔𝒐𝒏 and his associates in various cases 𝑴𝒐𝒍𝒍𝒚 𝑯𝒐𝒐𝒑𝒆𝒓, who is a pathologist at the hospital.
Although Update Homes, many of the main themes of the series are seen to be the same as the original Homes in the book. That is, each season/episode has been loosely adapted/based/inspired to match the case studies of Doyle's novel. So, we can call it an of Doyle's Sherlock.
Corona Pandemic, Lockdown, Quarantine - Sherlock was also on the small watch list I made for the TV series. The reason for keeping Sherlock is that he is a Sherlock Holmes novel lover himself, and also two Sherlock Holmes movies by the director and their 𝑹𝒐𝒃𝒆𝒓𝒕 𝑫𝒐𝒘𝒏𝒆𝒚. 𝒂𝒔 Sherlock Holmes & 𝑱𝒖𝒅𝒆 𝒂𝒔 Dr. John Watson's performance went all over Sherlock, And the rest of the reason is that Sherlock was one of the top-rated TV shows. When this is the case, is there any other way to miss the opportunity to see it? Tell me.
The 'Sherlock' series has been highly praised and praised for its great storytelling, acting, and directing. And critically positive reviews. Got enough acceptability on different sites. Among them, 𝑹𝒐𝒕𝒕𝒆𝒏 𝑻𝒐𝒎𝒂𝒕𝒐𝒆𝒔 gave their second season 6% fresh rating and 𝑴𝒆𝒕𝒂𝒄𝒓𝒊𝒕𝒊𝒄 gave 𝟗𝟏 score on their Tomatometer. A record number of people watched the series. Compared to that, though, last season's results have been down everywhere. And as you can see in the title above, the number of awards in Sherlock's bag.
A visionary like Sherlock, an intellectual superpower, clever and genius character 𝑩𝒆𝒏𝒆𝒅𝒊𝒄𝒕 with his unquestioning and flawless identity.
John Watson has acted as 𝑱𝒂𝒄𝒌𝒔𝒐𝒏 's famed franchise 𝑴𝒂𝒓𝒕𝒊𝒏. And Jim Moriarty's role in 𝑨𝒏𝒅𝒓𝒆𝒘 is completely unbelievable. Expression, impression, movement, voice, acting are all frozen. The creator of the series 𝑮𝒂𝒕𝒊𝒔𝒔 𝑮𝒂𝒕𝒊𝒔𝒔 himself has played the role of Sherlock's elder brother Mycroft Holmes in a pretty serious way. In a word, Molly Hooper's character is like a crush. Empty Sherlock doesn't care. But I was hoping to see a bar 18+ scene of Sherlock and Molly in the series. Mrs. Hudson also did sweet acting. Apart from the rest of the side characters, other important characters are also captivating and brilliant in one word. Without them, the series would seem incomplete.
Those who have read all of Doyle's Sherlock Case books will be able to better judge how successful the creators or directors have been in making or highlighting the series by imagining the characters to match the series. Whether there has been any change in the main character and who is acting.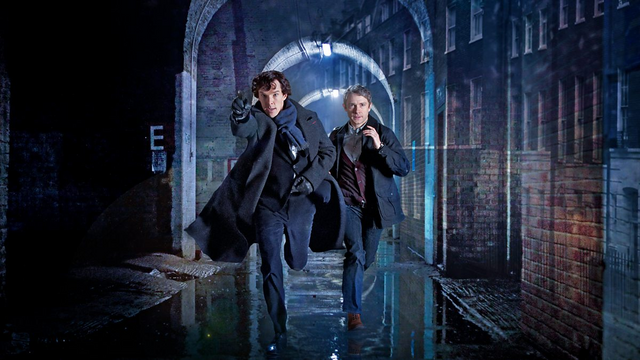 Image Source
Sherlock's music composing is also great and mind-blowing. Some other original soundtracks including film score, theme song have already been heard several times on my YouTube and Spotify. The beginnings go straight to the head and the heart. I hear often. Sounds very sweet. My favorite BGMs too. Hats off to 𝑨𝒓𝒏𝒐𝒍𝒅 𝒂𝒏𝒅 𝑴𝒊𝒄𝒉𝒂𝒆𝒍.
Each episode is like a movie of about an hour and a half. So, don't think that just starting in the end. However, the number of episodes is not high. Only three each season. 𝑨𝒔 𝑰 𝒆𝒂𝒓𝒍𝒚, 'Anthology Series'; So, understand that each season or episode will have a different story or case study. However, throughout the series, Sherlock Holmes' infamous rival aka 7/8 Jim Moriarty's dominance can be seen. The cases will also turn heads in some places.
So it was not possible for me to go fast with 6 in the next episode. However, for some interconnected topics, the individual itch episode is so thrilled that many can't wait to go to the next episode or season. A detective series full of English plus Mystery, Trilling, Scientific Investigation in British Accent; As a result, I had to solve his case with Sherlock. A lot of time has been spent to understand this.
The fourth series is mixed reviews. I personally didn't like 𝑻𝒉𝒆 𝑨𝒃𝒐𝒎𝒊𝒏𝒂𝒃𝒍𝒆 that much. The ending here is 'Noah'. So I thought 𝑼𝒏𝒏𝒆𝒄𝒆𝒔𝒔𝒂𝒓𝒚 and a little 𝑾𝒂𝒔𝒕𝒆 𝒐𝒇. Didn't look boring though. I quite enjoyed it. And in the '𝑴𝒂𝒓𝒚 𝑾𝒂𝒕𝒔𝒐𝒏 story' of the first episode of the fourth season, my mystery, trill, investigation seemed a little missing. I like the overall Sherlock a lot. The second episode was quite improved and interesting. However, I was optimistic about the new character that was brought in the final episode, but I was also a little worried. Cause, Doyle didn't have this character in his chest. Sadly, the final episode, arranged with a completely new character, is also 𝒃𝒊𝒕 Dispainting. I didn't think it was appropriate to give extra color to the new character, and it seemed a failed attempt to match the present story with the backstory. Some people may find it boring. Although I've enjoyed fairly this season.
Not to mention the two surprises of the series 7/8. Mary Watson was Martin's real-life partner. And Holmes Sibling's parents were actually Cumberbatch's actual parents.
In conclusion, I really enjoyed Sherlock's '𝑴𝒐𝒅𝒆𝒓𝒏 𝒅𝒂𝒚 𝒗𝒆𝒓𝒔𝒊𝒐𝒏' in the series. Absolutely fun watching sucking. The first three seasons are my very favorite. It's so good that I've seen an unaired pilot of the series, a mini-episode of the BBC, and another special episode before the fourth season premiere. Best to remember, a series of delicious, spicy, mindblowing. Sherlock and Watson's friendship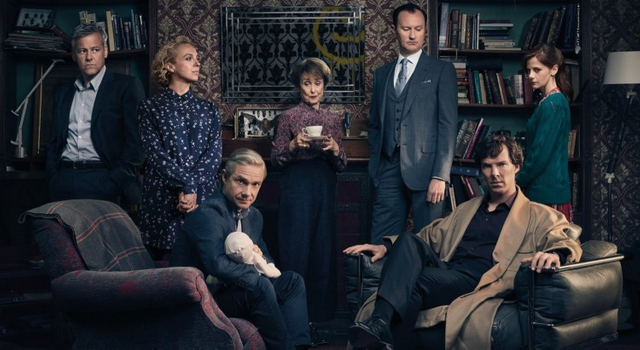 Image Source
𝐏𝐞𝐫𝐬𝐨𝐧𝐚𝐥 𝐑𝐚𝐭𝐢𝐧𝐠: 9.3
𝐐𝐮𝐨𝐭𝐞𝐬: ( I collected some favorite quotes from many online sources)
---
---
𝑻𝒉𝒆 𝒏𝒂𝒎𝒆 𝒊𝒔 𝑺𝒉𝒆𝒓𝒍𝒐𝒄𝒌 𝑯𝒐𝒍𝒎𝒆𝒔, 𝒂𝒏𝒅 𝒕𝒉𝒆 𝒂𝒅𝒅𝒓𝒆𝒔𝒔 𝒊𝒔 𝟐𝟐𝟏𝑩 𝑩𝒂𝒌𝒆𝒓 𝑺𝒕𝒓𝒆𝒆𝒕.
𝑰'𝒎 𝒂 𝒄𝒐𝒏𝒔𝒖𝒍𝒕𝒊𝒏𝒈 𝒅𝒆𝒕𝒆𝒄𝒕𝒊𝒗𝒆. 𝑻𝒉𝒆 𝒐𝒏𝒍𝒚 𝒐𝒏𝒆 𝒊𝒏 𝒕𝒉𝒆 𝒘𝒐𝒓𝒍𝒅. 𝑰 𝒊𝒏𝒗𝒆𝒏𝒕𝒆𝒅 𝒕𝒉𝒆 𝒋𝒐𝒃.
𝑮𝒊𝒓𝒍𝒇𝒓𝒊𝒆𝒏𝒅? 𝑵𝒐, 𝒏𝒐𝒕 𝒓𝒆𝒂𝒍𝒍𝒚 𝒎𝒚 𝒂𝒓𝒆𝒂.
-𝑶𝒉 𝒓𝒊𝒈𝒉𝒕 𝒕𝒉𝒆𝒏. 𝑫𝒐 𝒚𝒐𝒖 𝒉𝒂𝒗𝒆 𝒂 𝒃𝒐𝒚𝒇𝒓𝒊𝒆𝒏𝒅? 𝑾𝒉𝒊𝒄𝒉 𝒊𝒔 𝒇𝒊𝒏𝒆, 𝒃𝒚 𝒕𝒉𝒆 𝒘𝒂𝒚—
-𝑰 𝒌𝒏𝒐𝒘 𝒊𝒕'𝒔 𝒇𝒊𝒏𝒆.
𝑰 𝒕𝒉𝒊𝒏𝒌 𝒚𝒐𝒖 𝒔𝒉𝒐𝒖𝒍𝒅 𝒌𝒏𝒐𝒘 𝒕𝒉𝒂𝒕 𝑰 𝒄𝒐𝒏𝒔𝒊𝒅𝒆𝒓 𝒎𝒚𝒔𝒆𝒍𝒇 𝒎𝒂𝒓𝒓𝒊𝒆𝒅 𝒕𝒐 𝒎𝒚 𝒘𝒐𝒓𝒌 𝒂𝒏𝒅 𝒘𝒉𝒊𝒍𝒆 𝑰 𝒂𝒎 𝒇𝒍𝒂𝒕𝒕𝒆𝒓𝒆𝒅 𝒃𝒚 𝒚𝒐𝒖𝒓 𝒊𝒏𝒕𝒆𝒓𝒆𝒔𝒕 𝑰'𝒎—𝒓𝒆𝒂𝒍𝒍𝒚 𝒏𝒐𝒕 𝒍𝒐𝒐𝒌𝒊𝒏𝒈 𝒇𝒐𝒓 𝒂𝒏𝒚𝒐𝒏𝒆—
𝑰'𝒎 𝒏𝒐𝒕 𝒂 𝒑𝒔𝒚𝒄𝒉𝒐𝒑𝒂𝒕𝒉, 𝑨𝒏𝒅𝒆𝒓𝒔𝒐𝒏, 𝑰'𝒎 𝒂 𝒉𝒊𝒈𝒉-𝒇𝒖𝒏𝒄𝒕𝒊𝒐𝒏𝒊𝒏𝒈 𝒔𝒐𝒄𝒊𝒐𝒑𝒂𝒕𝒉.
"𝑻𝒉𝒆 𝑺𝒄𝒊𝒆𝒏𝒄𝒆 𝒐𝒇 𝑫𝒆𝒅𝒖𝒄𝒕𝒊𝒐𝒏".
𝑾𝒉𝒚 𝒄𝒂𝒏'𝒕 𝒑𝒆𝒐𝒑𝒍𝒆 𝒋𝒖𝒔𝒕 𝒕𝒉𝒊𝒏𝒌?
𝑰𝒔 𝒊𝒕 𝒂 𝒃𝒍𝒖𝒇𝒇, 𝒅𝒐𝒖𝒃𝒍𝒆-𝒃𝒍𝒖𝒇𝒇, 𝒕𝒓𝒊𝒑𝒍𝒆-𝒃𝒍𝒖𝒇𝒇?
𝑾𝒓𝒐𝒏𝒈! 𝑰𝒕'𝒔 𝒐𝒏𝒆 𝒑𝒐𝒔𝒔𝒊𝒃𝒍𝒆 𝒆𝒙𝒑𝒍𝒂𝒏𝒂𝒕𝒊𝒐𝒏 𝒐𝒇 𝒔𝒐𝒎𝒆 𝒐𝒇 𝒕𝒉𝒆 𝒇𝒂𝒄𝒕𝒔. 𝒀𝒐𝒖'𝒗𝒆 𝒈𝒐𝒕 𝒂 𝒔𝒐𝒍𝒖𝒕𝒊𝒐𝒏 𝒕𝒉𝒂𝒕 𝒚𝒐𝒖 𝒍𝒊𝒌𝒆, 𝒃𝒖𝒕 𝒚𝒐𝒖'𝒓𝒆 𝒄𝒉𝒐𝒐𝒔𝒊𝒏𝒈 𝒕𝒐 𝒊𝒈𝒏𝒐𝒓𝒆 𝒂𝒏𝒚𝒕𝒉𝒊𝒏𝒈 𝒚𝒐𝒖 𝒔𝒆𝒆 𝒕𝒉𝒂𝒕 𝒅𝒐𝒆𝒔𝒏'𝒕 𝒄𝒐𝒎𝒑𝒍𝒚 𝒘𝒊𝒕𝒉 𝒊𝒕.
𝑶𝒓𝒅𝒊𝒏𝒂𝒓𝒚 𝒑𝒆𝒐𝒑𝒍𝒆 𝒇𝒊𝒍𝒍 𝒕𝒉𝒆𝒊𝒓 𝒉𝒆𝒂𝒅𝒔 𝒘𝒊𝒕𝒉 𝒂𝒍𝒍 𝒌𝒊𝒏𝒅𝒔 𝒐𝒇 𝒓𝒖𝒃𝒃𝒊𝒔𝒉, 𝒂𝒏𝒅 𝒕𝒉𝒂𝒕 𝒎𝒂𝒌𝒆𝒔 𝒊𝒕 𝒉𝒂𝒓𝒅 𝒕𝒐 𝒈𝒆𝒕 𝒂𝒕 𝒕𝒉𝒆 𝒔𝒕𝒖𝒇𝒇 𝒕𝒉𝒂𝒕 𝒎𝒂𝒕𝒕𝒆𝒓𝒔!
𝑫𝒐𝒏'𝒕 𝒎𝒂𝒌𝒆 𝒑𝒆𝒐𝒑𝒍𝒆 𝒊𝒏𝒕𝒐 𝒉𝒆𝒓𝒐𝒆𝒔, 𝑱𝒐𝒉𝒏. 𝑯𝒆𝒓𝒐𝒆𝒔 𝒅𝒐𝒏'𝒕 𝒆𝒙𝒊𝒔𝒕, 𝒂𝒏𝒅 𝒊𝒇 𝒕𝒉𝒆𝒚 𝒅𝒊𝒅, 𝑰 𝒘𝒐𝒖𝒍𝒅𝒏'𝒕 𝒃𝒆 𝒐𝒏𝒆 𝒐𝒇 𝒕𝒉𝒆𝒎.
𝑫'𝒚𝒐𝒖 𝒌𝒏𝒐𝒘 𝒕𝒉𝒆 𝒃𝒊𝒈 𝒑𝒓𝒐𝒃𝒍𝒆𝒎 𝒘𝒊𝒕𝒉 𝒂 𝒅𝒊𝒔𝒈𝒖𝒊𝒔𝒆, 𝑴𝒓. 𝑯𝒐𝒍𝒎𝒆𝒔? 𝑯𝒐𝒘𝒆𝒗𝒆𝒓 𝒉𝒂𝒓𝒅 𝒚𝒐𝒖 𝒕𝒓𝒚, 𝒊𝒕'𝒔 𝒂𝒍𝒘𝒂𝒚𝒔 𝒂 𝒔𝒆𝒍𝒇-𝒑𝒐𝒓𝒕𝒓𝒂𝒊𝒕.
𝑩𝒓𝒂𝒊𝒏𝒚 𝒊𝒔 𝒕𝒉𝒆 𝒏𝒆𝒘 𝒔𝒆𝒙𝒚.
𝑨𝒍𝒍 𝒍𝒊𝒗𝒆𝒔 𝒆𝒏𝒅. 𝑨𝒍𝒍 𝒉𝒆𝒂𝒓𝒕𝒔 𝒂𝒓𝒆 𝒃𝒓𝒐𝒌𝒆𝒏. 𝑪𝒂𝒓𝒊𝒏𝒈 𝒊𝒔 𝒏𝒐𝒕 𝒂𝒏 𝒂𝒅𝒗𝒂𝒏𝒕𝒂𝒈𝒆, 𝑺𝒉𝒆𝒓𝒍𝒐𝒄𝒌.
𝑯𝒆 𝒊𝒔 𝑴𝒓. 𝑷𝒖𝒏𝒄𝒉𝒍𝒊𝒏𝒆. 𝑯𝒆 𝒘𝒊𝒍𝒍 𝒐𝒖𝒕𝒍𝒊𝒗𝒆 𝑮𝒐𝒅 𝒕𝒓𝒚𝒊𝒏𝒈 𝒕𝒐 𝒉𝒂𝒗𝒆 𝒕𝒉𝒆 𝒍𝒂𝒔𝒕 𝒘𝒐𝒓𝒅.
𝑻𝒉𝒊𝒔 𝒊𝒔 𝒚𝒐𝒖𝒓 𝒉𝒆𝒂𝒓𝒕, 𝒂𝒏𝒅 𝒚𝒐𝒖 𝒔𝒉𝒐𝒖𝒍𝒅 𝒏𝒆𝒗𝒆𝒓 𝒍𝒆𝒕 𝒊𝒕 𝒓𝒖𝒍𝒆 𝒚𝒐𝒖𝒓 𝒉𝒆𝒂𝒅.
𝒀𝒐𝒖𝒓 𝒎𝒊𝒏𝒅; 𝒊𝒕'𝒔 𝒔𝒐 𝒑𝒍𝒂𝒄𝒊𝒅, 𝒔𝒕𝒓𝒂𝒊𝒈𝒉𝒕-𝒇𝒐𝒓𝒘𝒂𝒓𝒅, 𝒃𝒂𝒓𝒆𝒍𝒚 𝒖𝒔𝒆𝒅. 𝑴𝒊𝒏𝒆'𝒔 𝒍𝒊𝒌𝒆 𝒂𝒏 𝒆𝒏𝒈𝒊𝒏𝒆, 𝒓𝒂𝒄𝒊𝒏𝒈 𝒐𝒖𝒕 𝒐𝒇 𝒄𝒐𝒏𝒕𝒓𝒐𝒍; 𝒂 𝒓𝒐𝒄𝒌𝒆𝒕 𝒕𝒆𝒂𝒓𝒊𝒏𝒈 𝒊𝒕𝒔𝒆𝒍𝒇 𝒕𝒐 𝒑𝒊𝒆𝒄𝒆𝒔, 𝒕𝒓𝒂𝒑𝒑𝒆𝒅 𝒐𝒏 𝒕𝒉𝒆 𝒍𝒂𝒖𝒏𝒄𝒉𝒑𝒂𝒅... 𝑰 𝒏𝒆𝒆𝒅 𝒂 𝒄𝒂𝒔𝒆!
𝑬𝒗𝒆𝒓𝒚 𝒇𝒂𝒊𝒓𝒚 𝒕𝒂𝒍𝒆 𝒏𝒆𝒆𝒅𝒔 𝒂 𝒈𝒐𝒐𝒅 𝒐𝒍𝒅-𝒇𝒂𝒔𝒉𝒊𝒐𝒏𝒆𝒅 𝒗𝒊𝒍𝒍𝒂𝒊𝒏. 𝒀𝒐𝒖 𝒏𝒆𝒆𝒅 𝒎𝒆 𝒐𝒓 𝒚𝒐𝒖'𝒓𝒆 𝒏𝒐𝒕𝒉𝒊𝒏𝒈 — 𝒃𝒆𝒄𝒂𝒖𝒔𝒆 𝒘𝒆'𝒓𝒆 𝒋𝒖𝒔𝒕 𝒂𝒍𝒊𝒌𝒆, 𝒚𝒐𝒖 𝒂𝒏𝒅 𝑰. 𝑬𝒙𝒄𝒆𝒑𝒕 𝒚𝒐𝒖'𝒓𝒆 𝒃𝒐𝒓𝒊𝒏𝒈. 𝒀𝒐𝒖'𝒓𝒆 𝒐𝒏 𝒕𝒉𝒆 𝒔𝒊𝒅𝒆 𝒐𝒇 𝒕𝒉𝒆 𝒂𝒏𝒈𝒆𝒍𝒔.
-𝑨𝒍𝒐𝒏𝒆 𝒊𝒔 𝒘𝒉𝒂𝒕 𝑰 𝒉𝒂𝒗𝒆. 𝑨𝒍𝒐𝒏𝒆 𝒑𝒓𝒐𝒕𝒆𝒄𝒕𝒔 𝒎𝒆.
-𝑵𝒐. 𝑭𝒓𝒊𝒆𝒏𝒅𝒔 𝒑𝒓𝒐𝒕𝒆𝒄𝒕 𝒑𝒆𝒐𝒑𝒍𝒆.
𝒀𝒆𝒔, 𝒃𝒖𝒕 𝑰'𝒎 𝒏𝒐𝒕 𝒎𝒚 𝒃𝒓𝒐𝒕𝒉𝒆𝒓, 𝒓𝒆𝒎𝒆𝒎𝒃𝒆𝒓? 𝑰 𝒂𝒎 𝒚𝒐𝒖. 𝑷𝒓𝒆𝒑𝒂𝒓𝒆𝒅 𝒕𝒐 𝒅𝒐 𝒂𝒏𝒚𝒕𝒉𝒊𝒏𝒈. 𝑷𝒓𝒆𝒑𝒂𝒓𝒆𝒅 𝒕𝒐 𝒃𝒖𝒓𝒏. 𝑷𝒓𝒆𝒑𝒂𝒓𝒆𝒅 𝒕𝒐 𝒅𝒐 𝒘𝒉𝒂𝒕 𝒐𝒓𝒅𝒊𝒏𝒂𝒓𝒚 𝒑𝒆𝒐𝒑𝒍𝒆 𝒘𝒐𝒏'𝒕 𝒅𝒐. 𝒀𝒐𝒖 𝒘𝒂𝒏𝒕 𝒎𝒆 𝒕𝒐 𝒔𝒉𝒂𝒌𝒆 𝒉𝒂𝒏𝒅𝒔 𝒘𝒊𝒕𝒉 𝒚𝒐𝒖 𝒊𝒏 𝒉𝒆𝒍𝒍? 𝑰 𝒔𝒉𝒂𝒍𝒍 𝒏𝒐𝒕 𝒅𝒊𝒔𝒂𝒑𝒑𝒐𝒊𝒏𝒕 𝒚𝒐𝒖.
𝑵𝒂𝒉 — 𝒚𝒐𝒖 𝒕𝒂𝒍𝒌 𝒃𝒊𝒈. 𝑵𝒂𝒉... 𝒚𝒐𝒖'𝒓𝒆 𝒐𝒓𝒅𝒊𝒏𝒂𝒓- 𝒀𝒐𝒖'𝒓𝒆 𝒐𝒓𝒅𝒊𝒏𝒂𝒓𝒚 — 𝒚𝒐𝒖'𝒓𝒆 𝒐𝒏 𝒕𝒉𝒆 𝒔𝒊𝒅𝒆 𝒐𝒇 𝒕𝒉𝒆 𝒂𝒏𝒈𝒆𝒍𝒔.
𝑶𝒉, 𝑰 𝒎𝒂𝒚 𝒃𝒆 𝒐𝒏 𝒕𝒉𝒆 𝒔𝒊𝒅𝒆 𝒐𝒇 𝒕𝒉𝒆 𝒂𝒏𝒈𝒆𝒍𝒔... 𝒃𝒖𝒕 𝒅𝒐𝒏'𝒕 𝒕𝒉𝒊𝒏𝒌 𝒇𝒐𝒓 𝒐𝒏𝒆 𝒔𝒆𝒄𝒐𝒏𝒅 𝒕𝒉𝒂𝒕 𝑰 𝒂𝒎 𝒐𝒏𝒆 𝒐𝒇 𝒕𝒉𝒆𝒎.
𝑰 𝒃𝒆𝒍𝒊𝒆𝒗𝒆 𝒊𝒏 𝑺𝒉𝒆𝒓𝒍𝒐𝒄𝒌 𝑯𝒐𝒍𝒎𝒆𝒔.
𝑳𝒐𝒏𝒅𝒐𝒏. 𝑰𝒕'𝒔 𝒍𝒊𝒌𝒆 𝒂 𝒈𝒓𝒆𝒂𝒕 𝒄𝒆𝒔𝒔𝒑𝒐𝒐𝒍 𝒊𝒏𝒕𝒐 𝒘𝒉𝒊𝒄𝒉 𝒂𝒍𝒍 𝒌𝒊𝒏𝒅𝒔 𝒐𝒇 𝒄𝒓𝒊𝒎𝒊𝒏𝒂𝒍𝒔, 𝒂𝒈𝒆𝒏𝒕𝒔 𝒂𝒏𝒅 𝒅𝒓𝒊𝒇𝒕𝒆𝒓𝒔 𝒂𝒓𝒆 𝒊𝒓𝒓𝒆𝒔𝒊𝒔𝒕𝒊𝒃𝒍𝒚 𝒅𝒓𝒂𝒊𝒏𝒆𝒅. 𝑺𝒐𝒎𝒆𝒕𝒊𝒎𝒆𝒔 𝒊𝒕'𝒔 𝒏𝒐𝒕 𝒂 𝒒𝒖𝒆𝒔𝒕𝒊𝒐𝒏 𝒐𝒇 𝒘𝒉𝒐, 𝒊𝒕'𝒔 𝒂 𝒒𝒖𝒆𝒔𝒕𝒊𝒐𝒏 𝒐𝒇 𝒘𝒉𝒐 𝒌𝒏𝒐𝒘𝒔.
𝑨𝒍𝒍 𝒆𝒎𝒐𝒕𝒊𝒐𝒏𝒔 𝒂𝒏𝒅, 𝒊𝒏 𝒑𝒂𝒓𝒕𝒊𝒄𝒖𝒍𝒂𝒓, 𝒍𝒐𝒗𝒆, 𝒔𝒕𝒂𝒏𝒅 𝒐𝒑𝒑𝒐𝒔𝒆𝒅 𝒕𝒐 𝒕𝒉𝒆 𝒑𝒖𝒓𝒆 𝒄𝒐𝒍𝒅 𝒓𝒆𝒂𝒔𝒐𝒏 𝑰 𝒉𝒐𝒍𝒅 𝒂𝒃𝒐𝒗𝒆 𝒂𝒍𝒍 𝒕𝒉𝒊𝒏𝒈𝒔. 𝑨 𝒘𝒆𝒅𝒅𝒊𝒏𝒈 𝒊𝒔, 𝒊𝒏 𝒎𝒚 𝒄𝒐𝒏𝒔𝒊𝒅𝒆𝒓𝒆𝒅 𝒐𝒑𝒊𝒏𝒊𝒐𝒏, 𝒏𝒐𝒕𝒉𝒊𝒏𝒈 𝒔𝒉𝒐𝒓𝒕 𝒐𝒇 𝒂 𝒄𝒆𝒍𝒆𝒃𝒓𝒂𝒕𝒊𝒐𝒏 𝒐𝒇 𝒂𝒍𝒍 𝒕𝒉𝒂𝒕 𝒊𝒔 𝒇𝒂𝒍𝒔𝒆 𝒂𝒏𝒅 𝒔𝒑𝒆𝒄𝒊𝒐𝒖𝒔 𝒂𝒏𝒅 𝒊𝒓𝒓𝒂𝒕𝒊𝒐𝒏𝒂𝒍 𝒂𝒏𝒅 𝒔𝒆𝒏𝒕𝒊𝒎𝒆𝒏𝒕𝒂𝒍 𝒊𝒏 𝒕𝒉𝒊𝒔 𝒂𝒊𝒍𝒊𝒏𝒈 𝒂𝒏𝒅 𝒎𝒐𝒓𝒂𝒍𝒍𝒚 𝒄𝒐𝒎𝒑𝒓𝒐𝒎𝒊𝒔𝒆𝒅 𝒘𝒐𝒓𝒍𝒅. 𝑻𝒐𝒅𝒂𝒚 𝒘𝒆 𝒉𝒐𝒏𝒐𝒓 𝒕𝒉𝒆 𝒅𝒆𝒂𝒕𝒉 𝒘𝒂𝒕𝒄𝒉 𝒑𝒆𝒐𝒑𝒍𝒆, 𝒕𝒉𝒂𝒕 𝒊𝒔 𝒕𝒉𝒆 𝒅𝒐𝒐𝒎 𝒐𝒇 𝒐𝒖𝒓 𝒔𝒐𝒄𝒊𝒆𝒕𝒚 𝒂𝒏𝒅, 𝒊𝒏 𝒕𝒊𝒎𝒆 𝒐𝒏𝒆 𝒇𝒆𝒆𝒍𝒔 𝒄𝒆𝒓𝒕𝒂𝒊𝒏, 𝒐𝒖𝒓 𝒆𝒏𝒕𝒊𝒓𝒆 𝒔𝒑𝒆𝒄𝒊𝒆𝒔.
𝑨𝒏𝒅 𝒄𝒐𝒏𝒕𝒓𝒂𝒔𝒕 𝒊𝒔, 𝒂𝒇𝒕𝒆𝒓 𝒂𝒍𝒍, 𝑮𝒐𝒅'𝒔 𝒐𝒘𝒏 𝒑𝒍𝒂𝒏 𝒕𝒐 𝒆𝒏𝒉𝒂𝒏𝒄𝒆 𝒕𝒉𝒆 𝒃𝒆𝒂𝒖𝒕𝒚 𝒐𝒇 𝒉𝒊𝒔 𝒄𝒓𝒆𝒂𝒕𝒊𝒐𝒏. 𝑶𝒓 𝒊𝒕 𝒘𝒐𝒖𝒍𝒅 𝒃𝒆 𝒊𝒇 𝑮𝒐𝒅 𝒘𝒆𝒓𝒆 𝒏𝒐𝒕 𝒂 𝒍𝒖𝒅𝒊𝒄𝒓𝒐𝒖𝒔 𝒇𝒂𝒏𝒕𝒂𝒔𝒚 𝒅𝒆𝒔𝒊𝒈𝒏𝒆𝒅 𝒕𝒐 𝒑𝒓𝒐𝒗𝒊𝒅𝒆 𝒂 𝒄𝒂𝒓𝒆𝒆𝒓 𝒐𝒑𝒑𝒐𝒓𝒕𝒖𝒏𝒊𝒕𝒚 𝒇𝒐𝒓 𝒕𝒉𝒆 𝒇𝒂𝒎𝒊𝒍𝒚 𝒊𝒅𝒊𝒐𝒕.
𝑻𝒉𝒆 𝒑𝒐𝒊𝒏𝒕 𝑰'𝒎 𝒕𝒓𝒚𝒊𝒏𝒈 𝒕𝒐 𝒎𝒂𝒌𝒆 𝒊𝒔 𝒕𝒉𝒂𝒕 𝑰 𝒂𝒎 𝒕𝒉𝒆 𝒎𝒐𝒔𝒕 𝒖𝒏𝒑𝒍𝒆𝒂𝒔𝒂𝒏𝒕, 𝒓𝒖𝒅𝒆, 𝒊𝒈𝒏𝒐𝒓𝒂𝒏𝒕 𝒂𝒏𝒅 𝒂𝒍𝒍-𝒓𝒐𝒖𝒏𝒅 𝒐𝒃𝒏𝒐𝒙𝒊𝒐𝒖𝒔 𝒂𝒓𝒔𝒆𝒉𝒐𝒍𝒆 𝒕𝒉𝒂𝒕 𝒂𝒏𝒚𝒐𝒏𝒆 𝒄𝒐𝒖𝒍𝒅 𝒑𝒐𝒔𝒔𝒊𝒃𝒍𝒚 𝒉𝒂𝒗𝒆 𝒕𝒉𝒆 𝒎𝒊𝒔𝒇𝒐𝒓𝒕𝒖𝒏𝒆 𝒕𝒐 𝒎𝒆𝒆𝒕. 𝑰 𝒂𝒎 𝒅𝒊𝒔𝒎𝒊𝒔𝒔𝒊𝒗𝒆 𝒐𝒇 𝒕𝒉𝒆 𝒗𝒊𝒓𝒕𝒖𝒐𝒖𝒔, 𝒖𝒏𝒂𝒘𝒂𝒓𝒆 𝒐𝒇 𝒕𝒉𝒆 𝒃𝒆𝒂𝒖𝒕𝒊𝒇𝒖𝒍 𝒂𝒏𝒅 𝒖𝒏𝒄𝒐𝒎𝒑𝒓𝒆𝒉𝒆𝒏𝒅𝒊𝒏𝒈 𝒊𝒏 𝒕𝒉𝒆 𝒇𝒂𝒄𝒆 𝒐𝒇 𝒕𝒉𝒆 𝒉𝒂𝒑𝒑𝒚.
𝑩𝒆𝒂𝒖𝒕𝒚 𝒊𝒔 𝒂 𝒄𝒐𝒏𝒔𝒕𝒓𝒖𝒄𝒕 𝒃𝒂𝒔𝒆𝒅 𝒆𝒏𝒕𝒊𝒓𝒆𝒍𝒚 𝒐𝒏 𝒄𝒉𝒊𝒍𝒅𝒉𝒐𝒐𝒅 𝒊𝒎𝒑𝒓𝒆𝒔𝒔𝒊𝒐𝒏𝒔, 𝒊𝒏𝒇𝒍𝒖𝒆𝒏𝒄𝒆𝒔 𝒂𝒏𝒅 𝒓𝒐𝒍𝒆 𝒎𝒐𝒅𝒆𝒍𝒔.
𝑴𝒆𝒓𝒓𝒚 𝑪𝒉𝒓𝒊𝒔𝒕𝒎𝒂𝒔?
𝒀𝒐𝒖 𝒉𝒂𝒕𝒆 𝑪𝒉𝒓𝒊𝒔𝒕𝒎𝒂𝒔.
𝑰'𝒎 𝒂 𝒃𝒖𝒔𝒊𝒏𝒆𝒔𝒔𝒎𝒂𝒏, 𝒂𝒄𝒒𝒖𝒊𝒓𝒊𝒏𝒈 𝒂𝒔𝒔𝒆𝒕𝒔. 𝒀𝒐𝒖 𝒉𝒂𝒑𝒑𝒆𝒏 𝒕𝒐 𝒃𝒆 𝒐𝒏𝒆 𝒐𝒇 𝒕𝒉𝒆𝒎.
𝑻𝒉𝒆 𝒈𝒂𝒎𝒆 𝒊𝒔 𝒏𝒆𝒗𝒆𝒓 𝒐𝒗𝒆𝒓, 𝑱𝒐𝒉𝒏.
𝑾𝒆 𝒂𝒍𝒍 𝒉𝒂𝒗𝒆 𝒂 𝒑𝒂𝒔𝒕, 𝑾𝒂𝒕𝒔𝒐𝒏. 𝑮𝒉𝒐𝒔𝒕𝒔. 𝑻𝒉𝒆𝒚 𝒂𝒓𝒆 𝒕𝒉𝒆 𝒔𝒉𝒂𝒅𝒐𝒘𝒔 𝒕𝒉𝒂𝒕 𝒅𝒆𝒇𝒊𝒏𝒆 𝒐𝒖𝒓 𝒆𝒗𝒆𝒓𝒚 𝒔𝒖𝒏𝒏𝒚 𝒅𝒂𝒚.
𝑭𝒆𝒂𝒓 𝒊𝒔 𝒘𝒊𝒔𝒅𝒐𝒎 𝒊𝒏 𝒕𝒉𝒆 𝒇𝒂𝒄𝒆 𝒐𝒇 𝒅𝒂𝒏𝒈𝒆𝒓. 𝑰𝒕 𝒊𝒔 𝒏𝒐𝒕𝒉𝒊𝒏𝒈 𝒕𝒐 𝒃𝒆 𝒂𝒔𝒉𝒂𝒎𝒆𝒅 𝒐𝒇.
𝑰𝒇 𝒚𝒐𝒖 𝒂𝒓𝒆 𝒓𝒆𝒇𝒆𝒓𝒓𝒊𝒏𝒈 𝒕𝒐 𝒓𝒐𝒎𝒂𝒏𝒕𝒊𝒄 𝒆𝒏𝒕𝒂𝒏𝒈𝒍𝒆𝒎𝒆𝒏𝒕, 𝑾𝒂𝒕𝒔𝒐𝒏 – 𝒘𝒉𝒊𝒄𝒉 𝑰 𝒓𝒂𝒕𝒉𝒆𝒓 𝒇𝒆𝒂𝒓 𝒚𝒐𝒖 𝒂𝒓𝒆 – 𝒂𝒔 𝑰 𝒉𝒂𝒗𝒆 𝒐𝒇𝒕𝒆𝒏 𝒆𝒙𝒑𝒍𝒂𝒊𝒏𝒆𝒅 𝒃𝒆𝒇𝒐𝒓𝒆, 𝒂𝒍𝒍 𝒆𝒎𝒐𝒕𝒊𝒐𝒏 𝒊𝒔 𝒂𝒃𝒉𝒐𝒓𝒓𝒆𝒏𝒕 𝒕𝒐 𝒎𝒆. 𝑰𝒕 𝒊𝒔 𝒕𝒉𝒆 𝒈𝒓𝒊𝒕 𝒊𝒏 𝒂 𝒔𝒆𝒏𝒔𝒊𝒕𝒊𝒗𝒆 𝒊𝒏𝒔𝒕𝒓𝒖𝒎𝒆𝒏𝒕...
... "𝒕𝒉𝒆 𝒄𝒓𝒂𝒄𝒌 𝒊𝒏 𝒕𝒉𝒆 𝒍𝒆𝒏𝒔", 𝒚𝒆𝒔.
𝒀𝒐𝒖 𝒔𝒂𝒘 𝒏𝒐𝒕𝒉𝒊𝒏𝒈. 𝒀𝒐𝒖 𝒔𝒂𝒘 𝒘𝒉𝒂𝒕 𝒚𝒐𝒖 𝒘𝒆𝒓𝒆 𝒔𝒖𝒑𝒑𝒐𝒔𝒆𝒅 𝒕𝒐 𝒔𝒆𝒆.
𝑴𝒚 𝒅𝒆𝒂𝒓 𝑾𝒂𝒕𝒔𝒐𝒏, 𝒚𝒐𝒖 𝒂𝒓𝒆 𝒂𝒍𝒍𝒐𝒘𝒊𝒏𝒈 𝒆𝒎𝒐𝒕𝒊𝒐𝒏 𝒕𝒐 𝒄𝒍𝒐𝒖𝒅 𝒚𝒐𝒖𝒓 𝒋𝒖𝒅𝒈𝒆𝒎𝒆𝒏𝒕.
𝑬𝒗𝒆𝒓𝒚 𝒈𝒓𝒆𝒂𝒕 𝒄𝒂𝒖𝒔𝒆 𝒉𝒂𝒔 𝒎𝒂𝒓𝒕𝒚𝒓𝒔. 𝑬𝒗𝒆𝒓𝒚 𝒘𝒂𝒓 𝒉𝒂𝒔 𝒔𝒖𝒊𝒄𝒊𝒅𝒆 𝒎𝒊𝒔𝒔𝒊𝒐𝒏𝒔, 𝒂𝒏𝒅, 𝒎𝒂𝒌𝒆 𝒏𝒐 𝒎𝒊𝒔𝒕𝒂𝒌𝒆, 𝒕𝒉𝒊𝒔 𝒊𝒔 𝒘𝒂𝒓. 𝑶𝒏𝒆 𝒉𝒂𝒍𝒇 𝒐𝒇 𝒕𝒉𝒆 𝒉𝒖𝒎𝒂𝒏 𝒓𝒂𝒄𝒆 𝒂𝒕 𝒘𝒂𝒓 𝒘𝒊𝒕𝒉 𝒕𝒉𝒆 𝒐𝒕𝒉𝒆𝒓. 𝑻𝒉𝒆 𝒊𝒏𝒗𝒊𝒔𝒊𝒃𝒍𝒆 𝒂𝒓𝒎𝒚 𝒉𝒐𝒗𝒆𝒓𝒊𝒏𝒈 𝒂𝒕 𝒐𝒖𝒓 𝒆𝒍𝒃𝒐𝒘, 𝒕𝒆𝒏𝒅𝒊𝒏𝒈 𝒕𝒐 𝒐𝒖𝒓 𝒉𝒐𝒎𝒆𝒔, 𝒓𝒂𝒊𝒔𝒊𝒏𝒈 𝒐𝒖𝒓 𝒄𝒉𝒊𝒍𝒅𝒓𝒆𝒏, 𝒊𝒈𝒏𝒐𝒓𝒆𝒅, 𝒑𝒂𝒕𝒓𝒐𝒏𝒊𝒔𝒆𝒅, 𝒅𝒊𝒔𝒓𝒆𝒈𝒂𝒓𝒅𝒆𝒅, 𝒏𝒐𝒕 𝒂𝒍𝒍𝒐𝒘𝒆𝒅 𝒔𝒐 𝒎𝒖𝒄𝒉 𝒂𝒔 𝒂 𝒗𝒐𝒕𝒆, 𝒃𝒖𝒕 𝒂𝒏 𝒂𝒓𝒎𝒚 𝒏𝒐𝒏𝒆𝒕𝒉𝒆𝒍𝒆𝒔𝒔, 𝒓𝒆𝒂𝒅𝒚 𝒕𝒐 𝒓𝒊𝒔𝒆 𝒖𝒑 𝒊𝒏 𝒕𝒉𝒆 𝒃𝒆𝒔𝒕 𝒐𝒇 𝒄𝒂𝒖𝒔𝒆𝒔, 𝒕𝒐 𝒑𝒖𝒕 𝒓𝒊𝒈𝒉𝒕 𝒂𝒏 𝒊𝒏𝒋𝒖𝒔𝒕𝒊𝒄𝒆 𝒂𝒔 𝒐𝒍𝒅 𝒂𝒔 𝒉𝒖𝒎𝒂𝒏𝒊𝒕𝒚 𝒊𝒕𝒔𝒆𝒍𝒇. 𝑺𝒐 𝒚𝒐𝒖 𝒔𝒆𝒆, 𝑾𝒂𝒕𝒔𝒐𝒏, 𝑴𝒚𝒄𝒓𝒐𝒇𝒕 𝒘𝒂𝒔 𝒓𝒊𝒈𝒉𝒕. 𝑻𝒉𝒊𝒔 𝒊𝒔 𝒂 𝒘𝒂𝒓 𝒘𝒆 𝒎𝒖𝒔𝒕 𝒍𝒐𝒔𝒆.
𝑮𝒐𝒅 𝒊𝒔 𝒂 𝒍𝒖𝒅𝒊𝒄𝒓𝒐𝒖𝒔 𝒇𝒊𝒄𝒕𝒊𝒐𝒏, 𝒅𝒓𝒆𝒂𝒎𝒕 𝒖𝒑 𝒃𝒚 𝒊𝒏𝒂𝒅𝒆𝒒𝒖𝒂𝒕𝒆𝒔 𝒘𝒉𝒐 𝒂𝒃𝒏𝒆𝒈𝒂𝒕𝒆 𝒂𝒍𝒍 𝒓𝒆𝒔𝒑𝒐𝒏𝒔𝒊𝒃𝒊𝒍𝒊𝒕𝒚 𝒕𝒐 𝒂𝒏 𝒊𝒏𝒗𝒊𝒔𝒊𝒃𝒍𝒆 𝒎𝒂𝒈𝒊𝒄 𝒇𝒓𝒊𝒆𝒏𝒅.
𝑰 𝒅𝒆𝒍𝒆𝒕𝒆 𝒂𝒏𝒚 𝒕𝒆𝒙𝒕 𝒕𝒉𝒂𝒕 𝒃𝒆𝒈𝒊𝒏𝒔 "𝑯𝒊."
𝑨𝒔 𝒆𝒗𝒆𝒓, 𝑾𝒂𝒕𝒔𝒐𝒏, 𝒚𝒐𝒖 𝒔𝒆𝒆 𝒃𝒖𝒕 𝒅𝒐 𝒏𝒐𝒕 𝒐𝒃𝒔𝒆𝒓𝒗𝒆. 𝑻𝒐 𝒚𝒐𝒖, 𝒕𝒉𝒆 𝒘𝒐𝒓𝒍𝒅 𝒓𝒆𝒎𝒂𝒊𝒏𝒔 𝒂𝒏 𝒊𝒎𝒑𝒆𝒏𝒆𝒕𝒓𝒂𝒃𝒍𝒆 𝒎𝒚𝒔𝒕𝒆𝒓𝒚, 𝒘𝒉𝒆𝒓𝒆𝒂𝒔, 𝒕𝒐 𝒎𝒆, 𝒊𝒕 𝒊𝒔 𝒂𝒏 𝒐𝒑𝒆𝒏 𝒃𝒐𝒐𝒌. 𝑯𝒂𝒓𝒅 𝒍𝒐𝒈𝒊𝒄 𝒗𝒆𝒓𝒔𝒖𝒔 𝒓𝒐𝒎𝒂𝒏𝒕𝒊𝒄 𝒘𝒉𝒊𝒎𝒔𝒚 – 𝒕𝒉𝒂𝒕 𝒊𝒔 𝒚𝒐𝒖𝒓 𝒄𝒉𝒐𝒊𝒄𝒆. 𝒀𝒐𝒖 𝒇𝒂𝒊𝒍 𝒕𝒐 𝒄𝒐𝒏𝒏𝒆𝒄𝒕 𝒂𝒄𝒕𝒊𝒐𝒏𝒔 𝒕𝒐 𝒕𝒉𝒆𝒊𝒓 𝒄𝒐𝒏𝒔𝒆𝒒𝒖𝒆𝒏𝒄𝒆𝒔. 𝑵𝒐𝒘, 𝒇𝒐𝒓 𝒕𝒉𝒆 𝒍𝒂𝒔𝒕 𝒕𝒊𝒎𝒆, 𝒊𝒇 𝒚𝒐𝒖 𝒘𝒂𝒏𝒕 𝒕𝒐 𝒌𝒆𝒆𝒑 𝒕𝒉𝒆 𝒓𝒂𝒕𝒕𝒍𝒆, 𝒅𝒐 𝒏𝒐𝒕 𝒕𝒉𝒓𝒐𝒘 𝒕𝒉𝒆 𝒓𝒂𝒕𝒕𝒍𝒆.
𝑻𝒉𝒆 𝒘𝒐𝒓𝒍𝒅 𝒊𝒔 𝒘𝒐𝒗𝒆𝒏 𝒇𝒓𝒐𝒎 𝒃𝒊𝒍𝒍𝒊𝒐𝒏𝒔 𝒐𝒇 𝒍𝒊𝒗𝒆𝒔, 𝒆𝒗𝒆𝒓𝒚 𝒔𝒕𝒓𝒂𝒏𝒅 𝒄𝒓𝒐𝒔𝒔𝒊𝒏𝒈 𝒆𝒗𝒆𝒓𝒚 𝒐𝒕𝒉𝒆𝒓. 𝑾𝒉𝒂𝒕 𝒘𝒆 𝒄𝒂𝒍𝒍 𝒑𝒓𝒆𝒎𝒐𝒏𝒊𝒕𝒊𝒐𝒏 𝒊𝒔 𝒋𝒖𝒔𝒕 𝒎𝒐𝒗𝒆𝒎𝒆𝒏𝒕 𝒐𝒇 𝒕𝒉𝒆 𝒘𝒆𝒃. 𝑰𝒇 𝒚𝒐𝒖 𝒄𝒐𝒖𝒍𝒅 𝒂𝒕𝒕𝒆𝒏𝒖𝒂𝒕𝒆 𝒕𝒐 𝒆𝒗𝒆𝒓𝒚 𝒔𝒕𝒓𝒂𝒏𝒅 𝒐𝒇 𝒒𝒖𝒊𝒗𝒆𝒓𝒊𝒏𝒈 𝒅𝒂𝒕𝒂, 𝒕𝒉𝒆 𝒇𝒖𝒕𝒖𝒓𝒆 𝒘𝒐𝒖𝒍𝒅 𝒃𝒆 𝒆𝒏𝒕𝒊𝒓𝒆𝒍𝒚 𝒄𝒂𝒍𝒄𝒖𝒍𝒂𝒃𝒍𝒆. 𝑨𝒔 𝒊𝒏𝒆𝒗𝒊𝒕𝒂𝒃𝒍𝒆 𝒂𝒔 𝒎𝒂𝒕𝒉𝒆𝒎𝒂𝒕𝒊𝒄𝒔.
𝑾𝒉𝒆𝒏 𝒅𝒐𝒆𝒔 𝒕𝒉𝒆 𝒑𝒂𝒕𝒉 𝒘𝒆 𝒘𝒂𝒍𝒌 𝒐𝒏 𝒍𝒐𝒄𝒌 𝒂𝒓𝒐𝒖𝒏𝒅 𝒐𝒖𝒓 𝒇𝒆𝒆𝒕? 𝑾𝒉𝒆𝒏 𝒅𝒐𝒆𝒔 𝒕𝒉𝒆 𝒓𝒐𝒂𝒅 𝒃𝒆𝒄𝒐𝒎𝒆 𝒂 𝒓𝒊𝒗𝒆𝒓 𝒘𝒊𝒕𝒉 𝒐𝒏𝒍𝒚 𝒐𝒏𝒆 𝒅𝒆𝒔𝒕𝒊𝒏𝒂𝒕𝒊𝒐𝒏? 𝑫𝒆𝒂𝒕𝒉 𝒘𝒂𝒊𝒕𝒔 𝒇𝒐𝒓 𝒖𝒔 𝒂𝒍𝒍 𝒊𝒏 𝑺𝒂𝒎𝒂𝒓𝒓𝒂. 𝑩𝒖𝒕 𝒄𝒂𝒏 𝑺𝒂𝒎𝒂𝒓𝒓𝒂 𝒃𝒆 𝒂𝒗𝒐𝒊𝒅𝒆𝒅?
𝑰 𝒅𝒊𝒅𝒏'𝒕 𝒔𝒂𝒚 𝒂𝒏𝒚𝒕𝒉𝒊𝒏𝒈.
𝒀𝒐𝒖 𝒘𝒆𝒓𝒆 𝒕𝒉𝒊𝒏𝒌𝒊𝒏𝒈. 𝑰𝒕'𝒔 𝒂𝒏𝒏𝒐𝒚𝒊𝒏𝒈.
𝒀𝒐𝒖'𝒓𝒆 𝒇𝒐𝒓𝒎𝒖𝒍𝒂𝒕𝒊𝒏𝒈 𝒂 𝒒𝒖𝒆𝒔𝒕𝒊𝒐𝒏, 𝒊𝒕'𝒔 𝒑𝒉𝒚𝒔𝒊𝒄𝒂𝒍𝒍𝒚 𝒑𝒂𝒊𝒏𝒇𝒖𝒍 𝒘𝒂𝒕𝒄𝒉𝒊𝒏𝒈 𝒚𝒐𝒖 𝒕𝒉𝒊𝒏𝒌.
𝑻𝒉𝒊𝒔 𝒊𝒔 𝒎𝒚 𝒈𝒂𝒎𝒆 𝒇𝒂𝒄𝒆. 𝑨𝒏𝒅 𝒕𝒉𝒆 𝒈𝒂𝒎𝒆 𝒊𝒔 𝒐𝒏.
𝑰𝒕'𝒔 𝒏𝒐𝒕 𝒐𝒌𝒂𝒚.
𝑵𝒐...𝑩𝒖𝒕 𝒊𝒕 𝒊𝒔 𝒘𝒉𝒂𝒕 𝒊𝒕 𝒊𝒔.
𝑰 𝒉𝒂𝒗𝒆 𝒕𝒉𝒊𝒔 𝒕𝒆𝒓𝒓𝒊𝒃𝒍𝒆 𝒇𝒆𝒆𝒍𝒊𝒏𝒈 𝒇𝒓𝒐𝒎 𝒕𝒊𝒎𝒆 𝒕𝒐 𝒕𝒊𝒎𝒆 𝒕𝒉𝒂𝒕 𝒘𝒆 𝒎𝒊𝒈𝒉𝒕 𝒂𝒍𝒍 𝒋𝒖𝒔𝒕 𝒃𝒆 𝒉𝒖𝒎𝒂𝒏.
𝑻𝒉𝒊𝒔 𝒊𝒔 𝒘𝒉𝒂𝒕 𝑰 𝒅𝒐:
𝟏. 𝑰 𝒐𝒃𝒔𝒆𝒓𝒗𝒆 𝒆𝒗𝒆𝒓𝒚𝒕𝒉𝒊𝒏𝒈.
𝟐. 𝑭𝒓𝒐𝒎 𝒘𝒉𝒂𝒕 𝑰 𝒐𝒃𝒔𝒆𝒓𝒗𝒆, 𝑰 𝒅𝒆𝒅𝒖𝒄𝒆 𝒆𝒗𝒆𝒓𝒚𝒕𝒉𝒊𝒏𝒈.
𝟑. 𝑾𝒉𝒆𝒏 𝑰'𝒗𝒆 𝒆𝒍𝒊𝒎𝒊𝒏𝒂𝒕𝒆𝒅 𝒕𝒉𝒆 𝒊𝒎𝒑𝒐𝒔𝒔𝒊𝒃𝒍𝒆, 𝒘𝒉𝒂𝒕𝒆𝒗𝒆𝒓 𝒓𝒆𝒎𝒂𝒊𝒏𝒔, 𝒏𝒐 𝒎𝒂𝒕𝒕𝒆𝒓 𝒉𝒐𝒘 𝒎𝒂𝒅 𝒊𝒕 𝒎𝒊𝒈𝒉𝒕 𝒔𝒆𝒆𝒎, 𝒎𝒖𝒔𝒕 𝒃𝒆 𝒕𝒉𝒆 𝒕𝒓𝒖𝒕𝒉.
𝑬𝒗𝒆𝒓𝒚𝒕𝒉𝒊𝒏𝒈 𝑰 𝒉𝒂𝒗𝒆 𝒕𝒐 𝒔𝒂𝒚 𝒉𝒂𝒔 𝒂𝒍𝒓𝒆𝒂𝒅𝒚 𝒄𝒓𝒐𝒔𝒔𝒆𝒅 𝒚𝒐𝒖𝒓 𝒎𝒊𝒏𝒅.
𝑷𝒆𝒐𝒑𝒍𝒆 𝒅𝒐𝒏'𝒕 𝒓𝒆𝒂𝒍𝒍𝒚 𝒈𝒐 𝒕𝒐 𝒉𝒆𝒂𝒗𝒆𝒏 𝒘𝒉𝒆𝒏 𝒕𝒉𝒆𝒚 𝒅𝒊𝒆. 𝑻𝒉𝒆𝒚'𝒓𝒆 𝒕𝒂𝒌𝒆𝒏 𝒕𝒐 𝒂 𝒔𝒑𝒆𝒄𝒊𝒂𝒍 𝒓𝒐𝒐𝒎 𝒂𝒏𝒅 𝒃𝒖𝒓𝒏𝒆𝒅.
𝒀𝒐𝒖 𝒎𝒂𝒚, 𝒉𝒐𝒘𝒆𝒗𝒆𝒓, 𝒓𝒆𝒔𝒕 𝒂𝒔𝒔𝒖𝒓𝒆𝒅 𝒕𝒉𝒆𝒓𝒆 𝒂𝒓𝒆 𝒏𝒐 𝒈𝒉𝒐𝒔𝒕𝒔 𝒊𝒏 𝒕𝒉𝒊𝒔 𝒘𝒐𝒓𝒍𝒅. 𝑺𝒂𝒗𝒆 𝒕𝒉𝒐𝒔𝒆 𝒘𝒆 𝒎𝒂𝒌𝒆 𝒇𝒐𝒓 𝒐𝒖𝒓𝒔𝒆𝒍𝒗𝒆𝒔.
𝑻𝒉𝒆𝒓𝒆 𝒂𝒓𝒆 𝒄𝒂𝒓𝒔 𝒕𝒉𝒂𝒕 𝒑𝒂𝒔𝒔 𝒍𝒊𝒌𝒆 𝒈𝒉𝒐𝒔𝒕𝒔, 𝒖𝒏𝒔𝒆𝒆𝒏, 𝒖𝒏𝒓𝒆𝒎𝒆𝒎𝒃𝒆𝒓𝒆𝒅. 𝑻𝒉𝒆𝒓𝒆 𝒂𝒓𝒆 𝒑𝒆𝒐𝒑𝒍𝒆 𝒘𝒆 𝒕𝒓𝒖𝒔𝒕, 𝒂𝒍𝒘𝒂𝒚𝒔, 𝒘𝒉𝒆𝒏 𝒘𝒆'𝒓𝒆 𝒂𝒍𝒐𝒏𝒆, 𝒘𝒉𝒆𝒏 𝒘𝒆'𝒓𝒆 𝒍𝒐𝒔𝒕, 𝒘𝒉𝒆𝒏 𝒘𝒆'𝒓𝒆 𝒅𝒓𝒖𝒏𝒌. 𝑾𝒆 𝒏𝒆𝒗𝒆𝒓 𝒔𝒆𝒆 𝒕𝒉𝒆𝒊𝒓 𝒇𝒂𝒄𝒆𝒔, 𝒃𝒖𝒕 𝒆𝒗𝒆𝒓𝒚 𝒅𝒂𝒚 𝒘𝒆 𝒅𝒊𝒔𝒂𝒑𝒑𝒆𝒂𝒓 𝒊𝒏𝒕𝒐 𝒕𝒉𝒆𝒊𝒓 𝒄𝒂𝒓𝒔 𝒂𝒏𝒅 𝒍𝒆𝒕 𝒕𝒉𝒆 𝒕𝒓𝒂𝒑 𝒄𝒍𝒐𝒔𝒆 𝒂𝒓𝒐𝒖𝒏𝒅 𝒖𝒔.
𝑶𝒏𝒆 𝒕𝒉𝒊𝒏𝒈 𝒂𝒃𝒐𝒖𝒕 𝒃𝒆𝒊𝒏𝒈 𝒂 𝒄𝒂𝒃𝒃𝒊𝒆: 𝒚𝒐𝒖 𝒂𝒍𝒘𝒂𝒚𝒔 𝒌𝒏𝒐𝒘 𝒂 𝒏𝒊𝒄𝒆 𝒒𝒖𝒊𝒆𝒕 𝒔𝒑𝒐𝒕 𝒇𝒐𝒓 𝒂 𝒎𝒖𝒓𝒅𝒆𝒓.
𝑫𝒐𝒏'𝒕 𝒔𝒐𝒍𝒗𝒆 𝒕𝒉𝒆 𝒎𝒖𝒓𝒅𝒆𝒓. 𝑺𝒂𝒗𝒆 𝒕𝒉𝒆 𝒍𝒊𝒇𝒆.
𝑻𝒉𝒆𝒓𝒆 𝒊𝒔 𝒂𝒍𝒘𝒂𝒚𝒔 𝒂 𝒎𝒂𝒏 𝒂𝒕 𝒂 𝒘𝒆𝒅𝒅𝒊𝒏𝒈 𝒘𝒉𝒐 𝒊𝒔 𝒏𝒐𝒕 𝒊𝒏 𝒂𝒏𝒚 𝒑𝒉𝒐𝒕𝒐𝒈𝒓𝒂𝒑𝒉 𝒃𝒖𝒕 𝒄𝒂𝒏 𝒈𝒐 𝒂𝒏𝒚𝒘𝒉𝒆𝒓𝒆, 𝒂𝒏𝒅 𝒆𝒗𝒆𝒏 𝒄𝒂𝒓𝒓𝒚 𝒂𝒏 𝒆𝒒𝒖𝒊𝒑𝒎𝒆𝒏𝒕 𝒃𝒂𝒈 𝒂𝒓𝒐𝒖𝒏𝒅 𝒘𝒊𝒕𝒉 𝒉𝒊𝒎 𝒊𝒇 𝒉𝒆 𝒍𝒊𝒌𝒆𝒔, 𝒂𝒏𝒅 𝒚𝒐𝒖 𝒏𝒆𝒗𝒆𝒓 𝒆𝒗𝒆𝒏 𝒔𝒆𝒆 𝒉𝒊𝒔 𝒇𝒂𝒄𝒆. 𝒀𝒐𝒖 𝒐𝒏𝒍𝒚 𝒆𝒗𝒆𝒓 𝒔𝒆𝒆 𝒕𝒉𝒆 𝒄𝒂𝒎𝒆𝒓𝒂.
𝑰 𝒅𝒐𝒏'𝒕 𝒌𝒏𝒐𝒘. 𝑰 𝒅𝒐𝒏'𝒕 𝒍𝒊𝒌𝒆 𝒏𝒐𝒕 𝒌𝒏𝒐𝒘𝒊𝒏𝒈.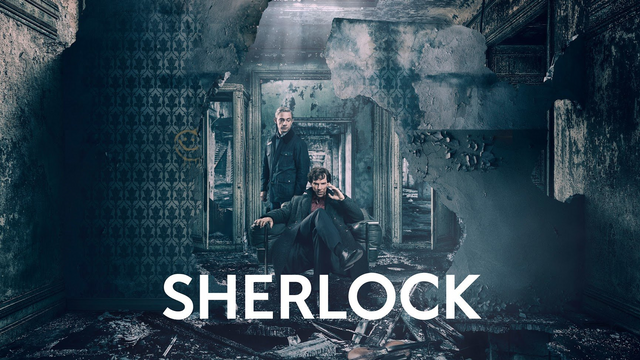 Image Source
𝑯𝒂𝒑𝒑𝒚 𝒘𝒂𝒕𝒄𝒉𝒊𝒏𝒈.
---
---
---
Special Thanks to :- @fendit , @belenguerra , @writingnreviews
---
---
---
Thank you for reading the post
©@ripon0630
All right reserved