📚 New contest: BOOK REVIEW!! // 📚 Nuevo concurso: RESEÑA DE LIBRO!!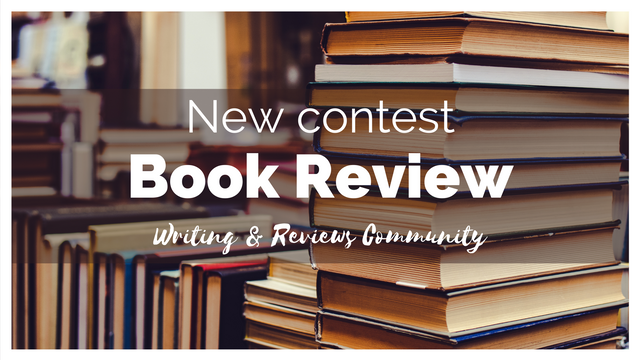 This week we are going to do something new. We'll take a break about Oscars and we are going to turn our contest into a Literature topic. This time you should pick a book, whatever you want, and make a review. So...
📚 New contest: Book Review
---
Feel free to choose any book, it can be your favourite, the one that your read at high school and let you learning for life, the one that you have read maybe 2 or 3 times. That's on you!
---
Rules are the following:
Any language is welcome. Your entry should be at least 300 words long.
Resteem this post, so that more people find out about this contest
Your entry should be posted in this community. Make sure to tag us (@belenguerra, @writingnreviews & @fendit)!
Share the link of your post in a comment. We won't consider entries that aren't in this post.
Share your post on Twitter, tagging @steemit or on any social media you want (you should be able to show proof!)
---
Entries will be received until March 4th, 23.59 Argentina time
---
Prizes:
Prizes will be as follows:
1st place: 9 Steem
2nd place: 7 Steem
3rd place: 5 Steem
4th place: 3 Steem
5th place: 1 Steem
---
---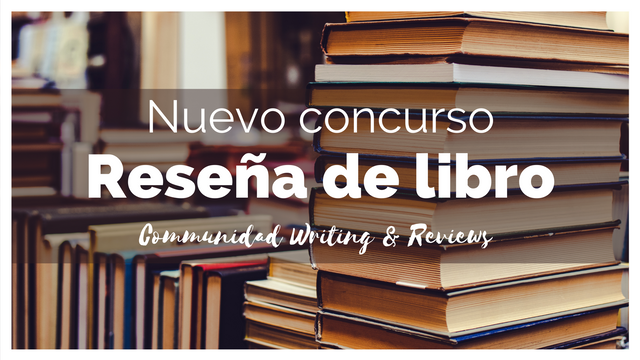 [Español]
Esta semana vamos a hacer algo nuevo. Haremos una pausa sobre los Oscars y vamos a llevar nuestro concurso en un tema de Literatura. Esta vez debes elegir un libro, lo que quieras, y hacer una reseña. Asi que...
📚 Nuevo concurso: Reseñas de libro
---
Siéntete libre de elegir cualquier libro, puede ser tu favorito, el que leíste en la escuela secundaria y te dejó con una enseñanza de por vida, el que has leído quizás 2 o 3 veces. ¡Lo que quieras!
---
Las reglas son las siguientes:
Aceptamos publicaciones en cualquier idioma. Tu posteo deberá contener como mínimo 300 palabras.
Resteemea esta publicación, así más personas se enteran del concurso.
Tu publicación debe estar posteada en esta comunidad y asegúrate de etiquetarnos (@belenguerra, @writingnreviews & @fendit)!
Comparte el link de tu publicación en un comentario. No tendremos en cuenta las entradas que no se encuentren anunciadas en este posteo.
Comparte tu publicación en Twitter, etiquetando a @steemit, o en cualquier red social que prefieras (deberás mostrar prueba de ello!)
---
Las publicaciones se aceptarán hasta el 4 de Marzo, 23.59 hora de Argentina
---
Premios:
Los premios serán los siguientes:
1er lugar: 9 Steem
2do lugar: 7 Steem
3er lugar: 5 Steem
4to lugar: 3 Steem
5to lugar: 1 Steem
---
Team Writing & Reviews