Winer Announcement The Diary game contest Season 1,week 1 steem passion community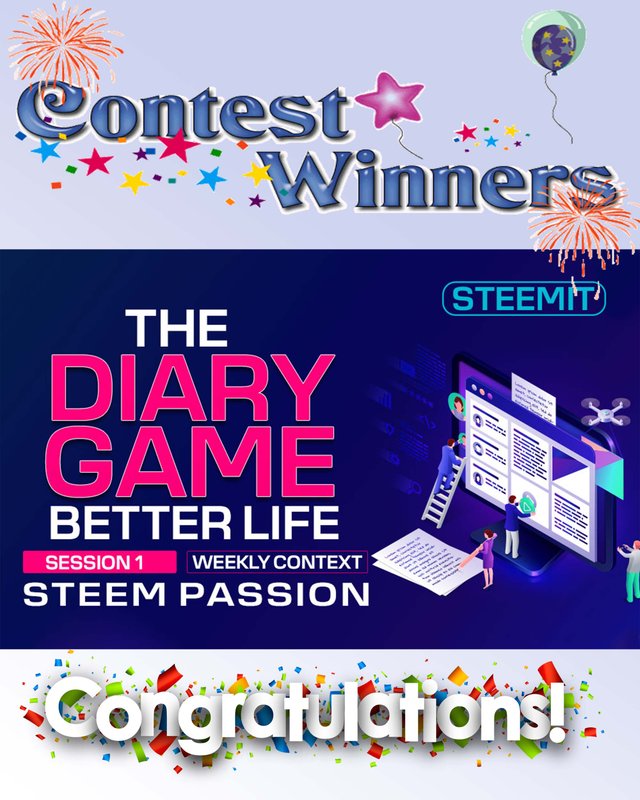 Hello friends, our contest has completed one week. Many members of our community took part in this contest and some people even included their friends in this contest. This was the first contest in our community so some users Could not understand but still a lot of people put their diary game in this contest it took me some time to make the result because a lot of people participated in this contest it was very important to know their posts
Many people worked hard to make their diary game and I congratulate those who succeeded in this contest and those members who were not selected for the name continue their efforts one day will surely succeed
The purpose of this contest is for all of you to write the best content. In this, users try to make the best post by looking at each other's posts and one user thinks that my post is the best post.
That is why we decided. What's more, we will continue this contest
Steem Prize Distribution Table.
Proof of Steem distribution

I want to tell all the users in my community that this contest will continue like this and you can post your diary game in week2 and this week2 also has the same rules that we had in the first week.week one post or rules
Next Plan.
Following the success of this contest, the Mod @shahab1998 and Admin @ahmadcmk of this community has decided that we are going to introduce another contest. The turn of this community will be to post it very soon and will inform you about this contest. I will run two contests in a week which will not disappoint the people working in this community and they will participate in it more and more and they will also improve the quality of their posts.
And I pray to Allah Almighty to save us from this disease like covid19. Amen