MY STEEM STORY- Iniciative| Journey through the depths of Steemit.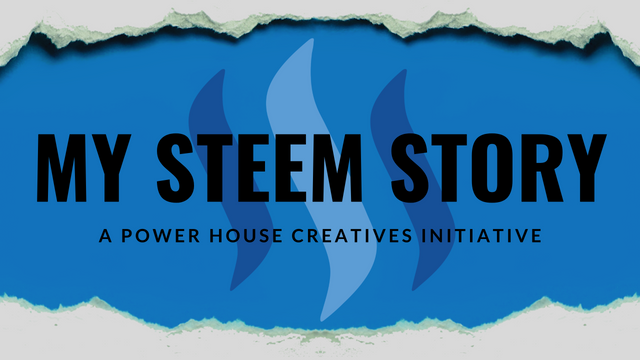 MY STEEM STORY
A Power House Creatives Initiative

Everyone has a story – and all our stories have something in common… we all started from nothing and knew nothing. People want to hear stories. They want to hear OUR stories — they want to know who we are, where we are from, what we are doing, who and what we love, what we have learnt and where we are going. People also want us to hear their story! Being a part of the Steem network is an individual journey for every single one of us and through this initiative we will share our stories not only with all who are already here – hopefully inspiring, guiding and informing them… but doing the same for everyone else in the world too. Through our stories we will prick the curiosity of those who have not yet arrived and illuminate and widen the already open doors to our one in a million blockchain.
We invite and encourage each and every one of you to participate and share your stories too! You can find the "how to" details at the end of this post.


Journey through the depths of Steemit.
This journey began when my daughter-in-law told me "Arelis, you do crafts; create your account at Steemit so you can earn money. So, I did. Then came the big dilemma of how that worked. She had someone to guide her; her brother, her stepfather and her mother. Also, I think other family members. So, I always asked her when she had doubts. Eventually, she left the platform disappointed but her family remained.
After my daughter-in-law left the platform, I was helped by her mother @zeleiracordero. I participated in every contest I saw; the low votes discouraged me but one day I got up and when I turned on the computer, I found that I had been voted @Sancho.panza de @cervantes'. That was my greatest joy. Time went by to feel that emotion again and I was about to leave disappointed but I was advised not to.
---

I continued and then, when I began to make friends I let myself be carried away by them. I was on the #steemschools server and others like @minotaurototal and @radiosteemit. In the latter, I found shelter and stayed. I went in, then in @proyectocrecer and met @Dariuska2008, @Mariart1, @Aremontilla and @psi1826, I had a lot of fun with them. María helped me a lot with the layout and use of fonts and with Dari I learned a little about the server. At the same time, I participated in the @samic contests and learned to admire their work about photography. That's how I made my group of friends. In @minotaurototal, I had many friends and from them remains @zhanavic. It was she who gave me the name Toñita.

Then the Weku platform appeared and most of us emigrated there. I left Steemit and with the protection and guidance of Dari and Samic I opened my account there and another one for handicrafts. This is a long story but I sum it up in a beautiful learning experience. The group broke up. Dari didn't come back and I stayed with Samic until recently.
I returned to Steemit, very disoriented. I started again. I remembered @radiosteemit for their good music and people. @Avellana received me cordially and said "Now I won't let you go" and here I am still. Now I belong to the great team of @Club12 which is made up of wonderful women.

My blog is varied because I don't like to be pigeonholed because it bothers me to write about the same genre; however, in Weku I dedicated myself to writing poems. That's me, a real contradiction. Ha ha ha.

Basically, my contents are about family, reflections, poems, contests and very rarely about health and fitness. I always liked to put images to my publications; at some point I was given a smart phone and I started to appropriate my personal photos. Now I find it difficult, to use images of others but when necessary, I do it from Pixabay, Unplash and several others.
I usually look for those details in other users posts to adopt them.Now, I'm not complaining about my luck, it's all been learning and on this deep sea voyage, I found in #Powerhousecreatives another family. Family that I rely on. I share in several communities and with some frequency I pass by to say hello. Some of them offer help to the little fishes to increase their Sp; for example @stemitasclub. I love you

I can say that I am still in diapers with respect to the blockchain and the world of crypts, it is a topic that must be studied to be able to understand. Just now, let's say that since last year I have dedicated myself to increase my Sp by doing power up in the Advanced settings but not in all the publications because I am Venezuelan and I need money.(Laughs again)

Currently I have been digging around here and there, with the help of @slwzl and @belkisa758. I feel that I have grown in knowledge and it is what allows me to help others. I firmly believe that knowledge is meant to be shared, not kept, but what is learned and where is the contribution to the world.
I recommend that new users and those who are still wandering, go to the server and place themselves in one or two communities, just to start, where they feel at home so that through their friends they can get informed and educated. Everything according to what your blog or vlog identifies, that they are in the same tune.

Doing this reminder, I have realized how long the road has been, it is two years. Here I leave some users and some of the communities I follow that are important to me. I thank all of them for the support they have given me.
This journey is not over yet.

For this great initiative of "My Steem Story" I invite to participate cordially to @yeceniacarolina, @mafalda2018, @mariita52, @issymarie, @belkisa758, @drakernoise and @zeleiracordero.

Recommended visits on this trip. Welcome.
I invite you to visit these valuable bloggers.
I also suggest visiting these communities.
Sorry for the omission of some user friends and friendly communities.

GENERAL INSTRUCTION:
-Create a post titled: "My Steem Story – By @your.user.name"
-The first three tags in order are to be as follows:
#hive-114105
#powerhousecreatives
#mysteemstory
-ONLY make use of the cover image provided in this post.
-Keep the same formatting and placement (intro, footer
instructions etc.)
-Replace the personal photo with one of your own.
-Tag 5 people to join in on the initiative.
-Share your post to twitter.
-Share your twitter link and Steem post link in the comments of @jaynie's "Steem Story" post.

POST INSTRUCTION:
Write a post which shares and gives adequate response to the following headings:
• Where my Steem Journey began
(How you first discovered Steem and your very first thoughts and impressions "as you landed".)
• My initial challenges & how I overcame them
(Share a bit about the difficulties you faced at the beginning, whether it was navigation, post creation, engagement – whatever – how you resolved them and how differently you feel about it now)
• My Steem blockchain knowledge
(Give a little bit of background on your blockchain knowledge when you began your Steem journey versus now.)
• My Steem favourites
(What are the things you do mostly on the blockchain – is it blogging, vlogging? What front ends do you like to make use of and what content genre's do you generally focus on?)
• My golden nugget advice
(What advice would you offer to those that are unfamiliar or new to this space)
• My Steem hood & its peeps
(Share a little about the communities you belong to, discord servers you frequent and perhaps a handful of the awesome people you follow)

---

https://twitter.com/arelisrh1/status/1230176073746436096?s=20