MY STEEM STORY - by @glotokens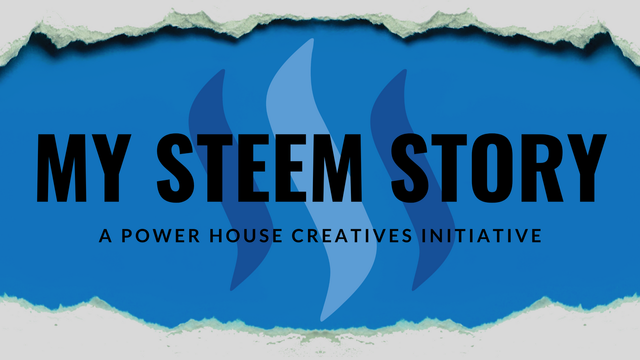 Everyone has a story – and all our stories have something in common… we all started from nothing and knew nothing. People want to hear stories. They want to hear OUR stories — they want to know who we are, where we are from, what we are doing, who and what we love, what we have learnt and where we are going. People also want us to hear their story! Being a part of the Steem network is an individual journey for every single one of us and through this initiative we will share our stories not only with all who are already here – hopefully inspiring, guiding and informing them… but doing the same for everyone else in the world too. Through our stories we will prick the curiosity of those who have not yet arrived and illuminate and widen the already open doors to our one in a million blockchain.
We invite and encourage each and every one of you to participate and share your stories too! You can find the "how to" details at the end of this post.
MY STEEM STORY - BY @GLOTOKENS.
- Where my steem journey began.
Yes like I always say I wouldn't have known anything about steem if not of my friend and Boss @uyobong in 2018.
A passion driven man, never relenting effort, always scavenging or discovering the good and let it out freely for others.
When he told me about steem the first impression I had was that, its just something that people spend time and money ams then it will fold up, but to be sincere the reverse is the case.
Since I joined this platform its just learning of new things all through.
- My initial Challenges and how I overcame them
My initial challenge was believing in myself that my services will be needed on the blockchain. I was afraid of writing because I felt I couldn't even write good content for someone to read and enjoy or learn, but thanks to @uyobong for the push which made me able to overcome the phobia for writing.
Another thing I faced was the aspect of steem cleaners and all other of the plagiarism guys.
I can remember vividly hijacking content from Facebook to come post here and the down voting guys came around, it was really disappointing and frustrating, I lost hope which I relented effort to post for sometimes, but still thanks to @uyobong which made me see it as a spring board to enable me be a good content creator.
Well I actually heed to his advice and now I can create good content, ranging from Christian write-ups to poetry, stories etc.
Now i feel knowing that I cannot only create food content on steem alone but also on other platforms, all thanks to steem.
- My steem blockchain knowledge
Well to be frank the first time I heard the word blockchain was when I was introduced to steem, I was imagining what it meant, but gradually I got to understand more of it and now I would say I can teach or enlighten people on blockchain with the little I know. We learn everyday and so I am sure to learn more.
I can proudly say that I am better now, my knowledge on the steem blockchain has really improved better than the last few years.
- My steem favourites.
Well i do most of blogging than vlogging, the front ends I used mostly is Partiko and Esteem, the content I mostly create is Christian post and poetry, and some Investment post.
I also delve into @threespeak and it was a nice experience.
I also use a new platform called @peeranha where only questions are asked and answered to get some peer tokens.
- My golden nugget advice
My nugget is
1 :- patience
We need patience to succeed without patience, forbearance and longsuffering you won't succeed.
2 :- Perseverance
You need to Persevere to be untop, if you are not ready to persevere then you can't succeed anywhere, no matter what or how steem will be whether good or bad you just need to persevere till it turns better.
Again if you are here for just the earnings then I advice you to pack your load, there is more to earning money on steem than what you sew, of cause I am a living testimony, because aside the earnings I have Improved In my writing skills.
- My steem hood and its peeps
Well I took time to talk about this In one of my last post on who I follow on steem and why
Of course if you were me who would you have followed, definitely the person who introduced me to steem, so the first person I follow here on steem is @uyobong, like I said he is a passionate writer, one zealous for God and lastly one who is out to try new things, then share the good news. I heart you Boss💓
Second person I follow is @theycallmedan- I most times envy this man, he is persistent here on steem has made many like me yearn to learn more, thanks so much.
@anomadsoul- a good man ready to reward when something is done well.
@Olawalium- a good writer.
@josediccus- a writer that knows how to capture the heart of its readers.
@maxdevalue- One of our @steemchurch leaders.
@maxwellmarcusart- a wonderful artist which is good at his work.
Other people I follow to enable me engage in their contest is @blocktrades, @appreciator, and @ocdb, @travelfeed
There are other people I follow and but these are he few I can list out.
I won't be able to exhaust my steem story but I hope this will go a long way.
Least i forget Shout out to
@evegrace
@imaluv54
@imadear
@tomlee
@abasbrave
Come try this out, but you must follow the laid down rules.
I am
glotokens
Thanks for engaging in my blog
HOW TO JOIN IN:
GENERAL INSTRUCTION:
Create a post titled: "My Steem Story – By @your.user.name"
The first three tags in order are to be as follows: #hive-114105 #powerhousecreatives #mysteemstory
ONLY make use of the cover image provided in this post.
Keep the same formatting and placement (intro, footer instructions etc.)
Replace the personal photo with one of your own.
Tag 5 people to join in on the initiative - @for91days, @sina-adventure, @riverflows, @wanderein, @robmolecule
Share your post to twitter.
Share your twitter link and Steem post link in the comments of @jaynie's "Steem Story" post.
POST INSTRUCTION:
Write a post which shares and gives adequate response to the following headings:
• Where my Steem Journey began
(How you first discovered Steem and your very first thoughts and impressions "as you landed".)
• My initial challenges & how I overcame them
(Share a bit about the difficulties you faced at the beginning, whether it was navigation, post creation, engagement – whatever – how you resolved them and how differently you feel about it now)
• My Steem blockchain knowledge
(Give a little bit of background on your blockchain knowledge when you began your Steem journey versus now.)
• My Steem favourites
(What are the things you do mostly on the blockchain – is it blogging, vlogging? What front ends do you like to make use of and what content genre's do you generally focus on?)
• My golden nugget advice
(What advice would you offer to those that are unfamiliar or new to this space)
• My Steem hood & its peeps
(Share a little about the communities you belong to, discord servers you frequent and perhaps a handful of the awesome people you follow)