Back To The Future!
Shock now abated, let's take off the shoes escape reality for awhile! Writing is therapeutic, walking the beach even more so!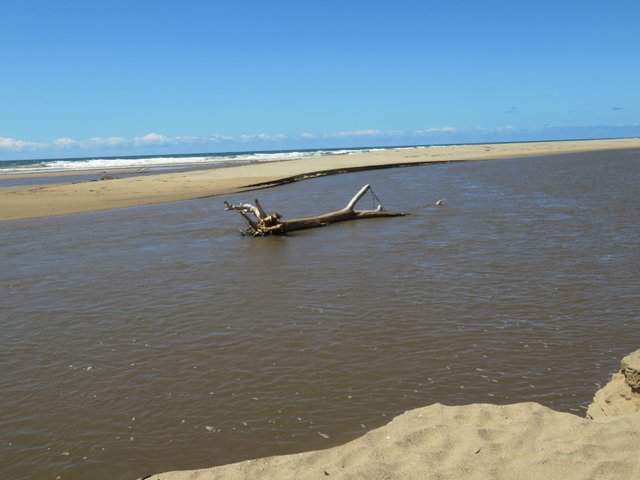 No, I am not going to tell you about the reading, research and upset caused by sale of Steemit, nor speak of the Corona virus, the rolling black-outs we are once more enduring, not even the roller coaster ride of bitcoin over that past couple of weeks, enough already. There is always a time when one must switch off, accept what is happening and deal with the knock-on effects in the best way possible.

Feeling the heat from more than one direction, this summer we have had some hellish hot days, planning a beach walk preferably after some rain with no wind before the sun gets unbearably hot. Rain makes the sand easier to walk on, don't feel like a sand blasting when wind picks up, enjoy walking barefoot without scorching the soles of your feet, always method in madness in timing.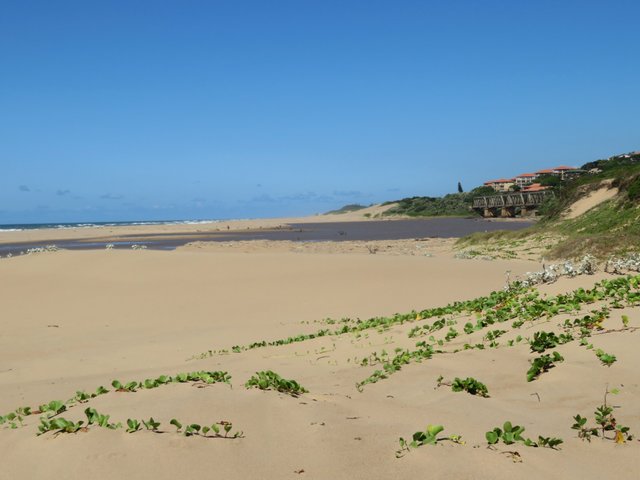 We arrived on the beach to beautiful Ipomoea pes-caprae, also known as bayhops, beach morning glory or goat's foot in flower reclaiming the dunes this plant has adapted quickly where massive dune erosion occurred about fifteen years ago (natural event from full moon and spring tide coinciding).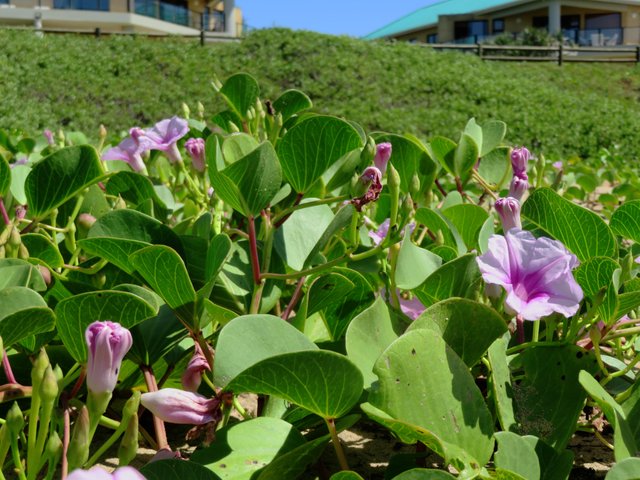 Closer to the river you notice patches of Arctotheca populifolia, or Beach Pumpkin, Beach Daisy, Coast Capeweed a pretty silver leaf with yellow flowers which were not flowering at the moment. These grow into clumps of plants on dunes in extremely sandy conditions.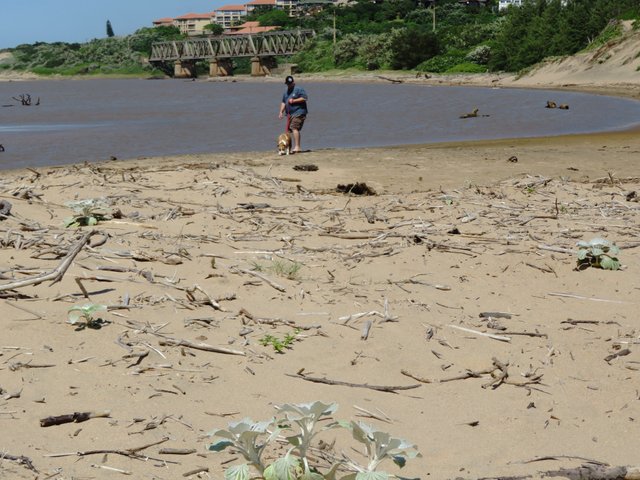 Zigzag at full tilt, an extremely excited 4-legged friend, six foot forward, half a dozen back again, oops forgot to smell that bush. We try avoid walking on the dune vegetation so as not to cause damage to plants, of late walking dogs on a leash only is permitted, one does tend to get led astray. Animals don't really care about human rules, (actually I think they have fun off leash), it's all about where his nose takes them.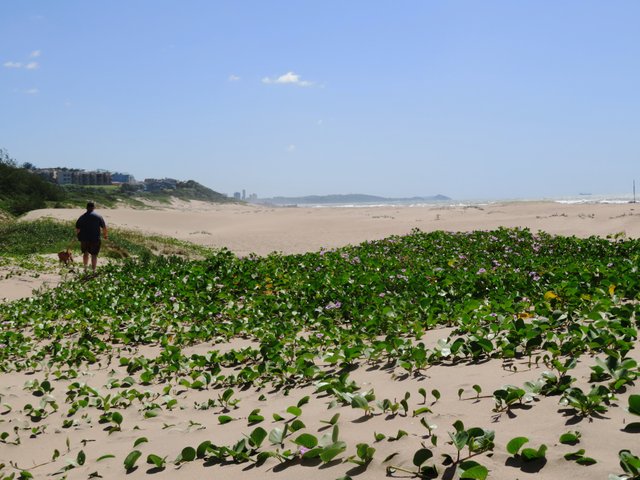 Recent rains have washed down trees, sugar cane and human trash. Take a look what do you see?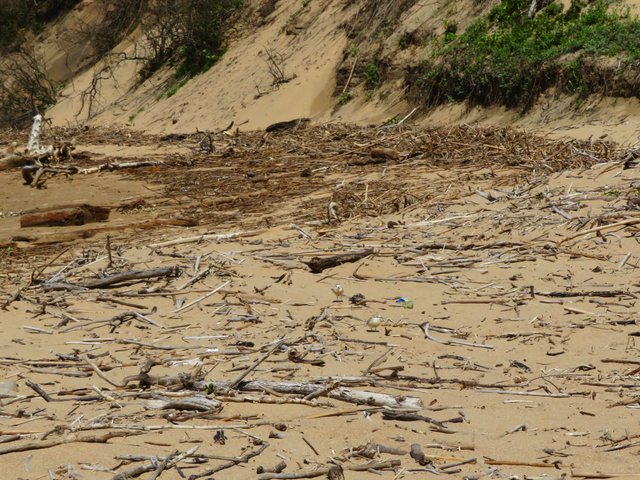 Little White-fronted Plovers in between the driftwood are well camouflaged, slowly I zoomed in to show you these two little birds together enjoying the morning, then a real zoom in to show you how pretty this little bird is. No you would normally not notice them standing absolutely still blending in with their surroundings not drawing attention to themselves.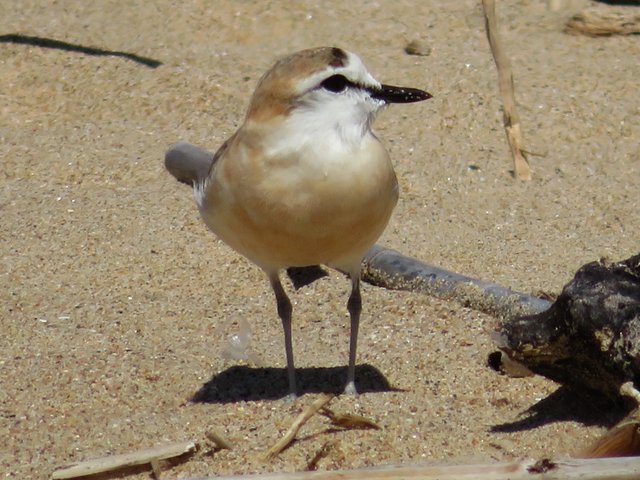 White-fronted Plover (Charadrius marginatus), usually seen in pairs or small flocks, the White-fronted Plover is a small (50g, wingspan 40cm) wading bird inhabiting mudflats, sandy beaches, and the shorelines of estuaries, large lakes and rivers, where it feeds on worms, snails, insects and crustaceans.
White-fronted Plovers nest in shallow scrapes in the sand, often quite exposed and usually far above the high-water mark. Pairs are monogamous and often stay together, in the same area, for many years. Nesting has been recorded throughout the year, but there is a definite peak in the spring and summer. Clutches consist of 1-3 eggs and are incubated by both parents for around a month. When threatened at the nest, the parents will cover the eggs with sand before fleeing. The precocious chicks feed themselves from birth and fledge when they are about 6 weeks old. Source

After the river we went to the sea, Woody did not enjoy the waves on his first visits down on the beach, today was the day he braved it venturing into the water (brown from rivers washing down), hoping this is the start of something good for the winter months when more leisure time is enjoyed on our gorgeous shores.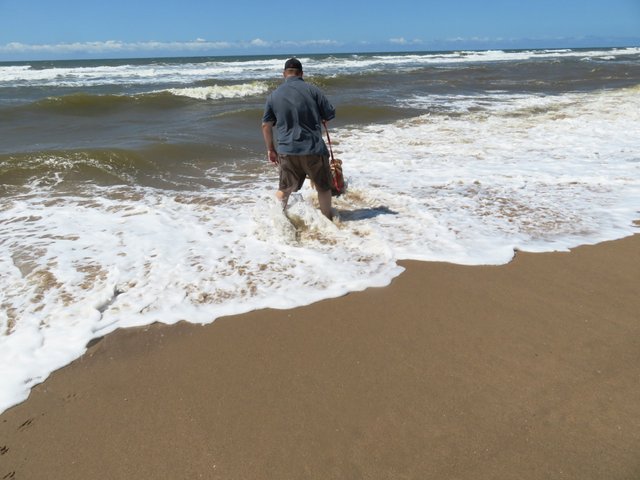 Leaving for home the wind starting up and almost eleven o'clock, packed up with a bag of plastics found on the beach for the refuse bin supplied near the entrance we moved on up. A lovely walk, much needed with the bombardment of events happening.
Wishing you a wonderful Wednesday Walk (or any day), stay safe, find places to enjoy life not fear the unknown all the time, whatever comes around the next corner we face it, deal with it in the best manner possible.

Missing in action for over a week (quietly supporting all the time), I am playing catchup on a post sharing new hive information from SteemPeak.
Beautiful Sunday, host0 @ace108 hive-128083
Sublime Sunday, host @c0ff33a hive-183770
Always A Flower, host @dswigle hive-154065
Feathered Friends, host @melinda010100 hive-106444
Wednesday Walk, host @tattoodjay - hive-155530
Amazing Nature, host @adalger - hive 127788
---
All photography is my own using a Canon PowerShot SC730 HS, resized for easier loading, writing is my own.
---
All photography is my own using a Canon PowerShot SC730 HS, resized for easier loading, writing is my own.
Thought for Today "The river does not move straight because it is alone." - African Proverb
---
Communities I Support: #qurator #steemitbloggers #steemsa #steemitbasicincome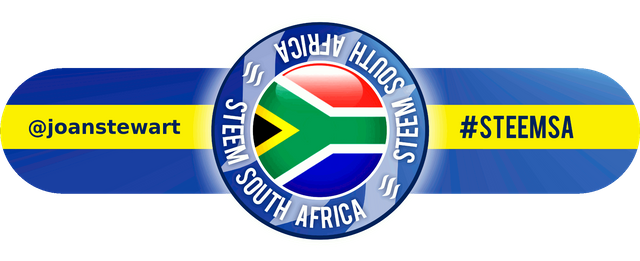 Connecting the people of #STEEM across South Africa. #steemsa
JOIN US HERE