New Rule Applicable from Today || Steeming India Rules
Hello Friends,
Now as we know that our community is growing and more newcomers are joining the community. So to make sure that each and everyone gets fair support from us as well as supports each other within the community.
We as an Admin of this community make some rules to achieve this goal. These rules are going to applicable from today i.e. 1st March 2021.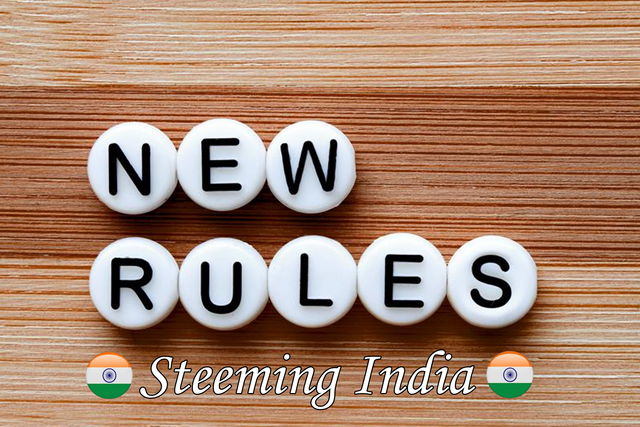 RULES From 1st March 2021
User accounts after July 2020, Make Sure You have Completed Achievements Level 6.
Users who are under 2000 SP, support will receive if a post is set for 100% Power Up.
To Receive Support on a Post, You Will Also Need To Support On Other's posts.
Make a Daily 3 Vote To Active Users of This Community.
Your Vote Need to Be Rotate On Daily Basis To Support All Active Users & It Should Not Look to a Specific.
Make Sure To Publish Decent & Valuable Post.
Post Need Minimum of 250 Words(Diary Game Post Need Minimum 300 Words.)
Hate speech is strictly prohibited.
We make this rule while taking the thoughts of growth of Steemit as well as the community and members of the community.
Making the post 100% payout helps you only because it gives you more control over your post payouts and allows you to earn a good curation reward and as you all know that now Tron wallet is also integrated with Steem wallet and the amount of Tron reward is directly proportional to number SP redeem. It gives you a good opportunity to Increase your Level, Voting Value while earning a good amount of liquid assets which you can transfer anywhere at any time.
Hope you all follow the rules while posting within the community.
Thank You

Cc:-
@steemitblog
@steemcurator01
@steemcurator02
Note: Pictures used in the post are taken from the internet & perform photoshop.