Mi Top Dance Favorito de "Dance and have fun week 129" /MY Favorite Top Dance For "Dance and have fun Week #129 "por @mariajruizb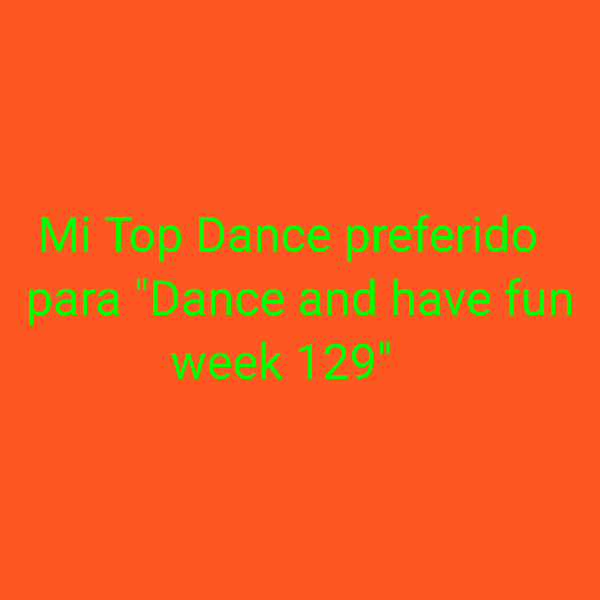 Querida comunidad de
#danceandmusic
es un placer una vez más anunciarles mi Top preferido de "Dance and have fun en su semana #129". Ha sido emocionante y divertido visitar el blog de los usuarios que seleccioné, aunque participe en colaboración en dos de ellos, no es lo mismo saber que estás grabando a ver el video listo, es como que nos vemos en otro plano porque mientras grabamos solo estamos pendiente de hacerlo lo mejor posible, sin embargo la diversión nunca falta. Escuchar el canto y ver esas sonrisas es una señal de que todos están disfrutando mucho esta iniciativa. Mi amigo
@donatello
, gracias por Abrir esta ventana para que respire nuestro espíritu y recuperemos parte de nuestra felicidad, Dios te bendiga, por cierto tu entrada también estuvo maravillosa. De igual forma agradezco el apoyo de
@steemcurator01
por estar siempre adornando cada post con su bendecido voto, así que bendiciones para ti también, todo lo bueno que sembramos también lo recibimos. 🤗😘
---
      Dear

#danceandmusic

community, it is a pleasure once again to announce my favorite Top of "Dance and have fun in its week # 129". It has been exciting and fun to visit the blog of the users I selected, although I collaborate in two of them, it is not the same to know that you are recording to see the video ready, it is like we see each other in another plane because while we are recording we are only pending to do the best possible, however the fun is never lacking. Hearing the song and seeing those smiles is a sign that everyone is enjoying this initiative very much. My friend

@donatello

, thank you for opening this window so that our spirit breathes and we recover part of our happiness, God bless you, by the way your entry was also wonderful. In the same way, I appreciate the support of

@steemcurator01

for always adorning each post with his blessed vote, so blessings for you too, all the good that we sow we also receive. 🤗😘
---
MI Top Dance preferido para "Dance and have fun week #129"
---
MY Favorite Top Dance For "Dance and have fun Week #129
---
https://steemit.com/hive-118409/@dianakyv/dance-and-have-fun-week-189-baile-los-gorilas-by-dianakyv
---
      MI querida
@dianakyv
este baile me fascinó, la alegría de la bebita me llegó al corazón y cuando salieron los gorilas bailando me reí mucho, esos gorilas si tienen Swin jajajjajaja, fue un hermoso trabajo. Bailar con los niños es un momento que ellos jamás olvidarán y nos sentimos como ellos, libres y alegres. Que hermoso fue verlas bailar juntas, se ve que se divirtieron mucho. Transmitíste una gran alegría. Gracias por mostrarnos un lindo trabajo que a la vez es creativo. 😘❤️💝👏👏👏👏.
---
      MY dear

@dianakyv

this dance fascinated me, the joy of the baby touched my heart and when the gorillas came out dancing I laughed a lot, those gorillas do have Swin hahahahaha, it was a beautiful job. Dancing with children is a moment that they will never forget and we feel like them, free and happy. How beautiful it was to see them dance together, you can see that they had a lot of fun. You transmitted great joy. Thank you for showing us a nice piece of work that is creative at the same time. 😘❤️💝👏👏👏👏.
---
https://steemit.com/hive-118409/@cesar24/dance-and-have-fun-week-129-my-entry-having-fun-with-my-little-brother-by-cesar24
---
@cesar24
en esta pequeña quiero felicitarte por la gran motivación y constancia que has tenido en cada iniciativa y en este baile me gustó mucho tu carisma. Lo que más me alegra de este momento es que estás con tu hermano y se ve que se divierten mucho juntos y disfrutan la música. Me alegra verlos así. Les deseo mucho éxito para esta entrada. Un abrazoooo. 😘💝
---
      @cesar24

in this little girl I want to congratulate you for the great motivation and perseverance that you have had in each initiative and in this dance I really liked your charisma. What makes me most happy about this moment is that you are with your brother and you can see that they have a lot of fun together and enjoy music. Glad to see you like this. I wish you much success for this entry. A hugooo. 😘💝

---

https://steemit.com/hive-118409/@morenaluna/dance-and-have-fun-week-129-baile-de-tambores-venezolanos-por-morenaluna

---

      MI querida

@morenaluna

no sabes cuanto me divertí contigo en estos carnavales en mi casa, bailamos para

#danceandmusic

y fue toda una fiesta. Este baile de verdad que me encantó. Disfruté mucho verte tan feliz al igual que las niñas. Esa canción de tambor te quedó como anillo al dedo para esta entrada porque fue muy divertida. Gracias por mostrar nuevamente un video que nos contagia alegría. Te adoro. 😘👏👏👏👏👏

---

      MY dear

@morenaluna

you don't know how much fun I had with you in these carnivals at my house, we danced for

#danceandmusic

and it was quite a party. This dance I really loved. I really enjoyed seeing you so happy just like the girls. That drum song fit the bill for this post because it was so funny. Thank you for showing again a video that infects us with joy. I adore you. 😘👏👏👏👏👏

---

https://steemit.com/hive-118409/@danieldedosd2/dance-and-have-fun-week-129-san-martin-by-danieldedosd2

---

      @danieldedosd2

de verdad que esto si fue una gran diversión, y formar parte nuevamente de tu elección de baile fue muy especial para mi. Me hiciste reír mucho sobre todo con eso que decidiste colocarte en tu cabeza, me gusta que seas así, tan espontáneo y que disfrutes la vida, siempre estaré a tu lado amor, ya los niños se están tomando esto en serio pero lo mas lindo es que se divierten mucho. Bravooo. 👏👏👏😘

---

      @danieldedosd2

really, this was great fun, and being part of your dance choice again was very special for me. You made me laugh a lot especially with what you decided to put yourself in your head, I like that you are like that, so spontaneous and that you enjoy life, I will always be by your side love, and the children are taking this seriously but the most beautiful thing is having a lot of fun. Bravooo. 👏👏👏😘

---

https://steemit.com/hive-118409/@mariluna/dance-and-have-fun-week-129-porfi-jimenez-y-su-orquesta-muevete-muevete

---

      @mariluna

siempre nos sorprendes con tu baile, llevas muy bien el ritmo de la música y la disfrutas mucho. Me alegró muchísimo verte bailar con la niña, me divertí al verla dar todas esas vueltas jajajaja, tan bella, gracias por compartir este baile con tanta alegría con tu niña. Bendiciones para ambas. 😘👏👏👏👏

---

      @mariluna

you always surprise us with your dance, you take the rhythm of the music very well and you enjoy it a lot. I was very happy to see you dance with the girl, I had fun seeing her take all those turns hahahaha, so beautiful, thank you for sharing this dance with such joy with your girl. Blessings for both of you. 😘👏👏👏👏

---

https://steemit.com/hive-118409/@anitavasquez/dance-and-have-fun-week-129-baile-mayonesa-by-anitavasquez

---

      Hola mi amiga

@anitavasquez

, gracias por compartir este tema me trae muchos recuerdos, incluso antes de que mis hijos nacieran aún estaba sonando jajajaja, me encantaba bailarlo. Ya que comentó lo del baile quería decirte amiga que bailas muy hermoso, siempre llevas un ritmo maravilloso en todos los temas que has mostrado para la comunidad, de verdad que te felicito y me alegra que disfrutes esta iniciativa.¡ Bate que bate, que bate chocolate! 🤗🤭👏👏👏👏👏❤️💃

---

      Hello my friend

@anitavasquez

, thanks for sharing this topic brings me many memories, even before my children were born it was still playing hahahaha, I loved to dance it. Since he commented about the dance I wanted to tell you friend that you dance very beautiful, you always have a wonderful rhythm in all the themes that you have shown for the community, I really congratulate you and I am glad that you enjoy this initiative. chocolate! 🤗🤭👏👏👏👏👏❤️💃

---

¡ Vamos chicos rumbo a la semana #130. Un abrazo para todos. Recuerden que es importante apoyar a nuestros compañeros con nuestros comentarios, es su alma y espíritu que baila y eso tiene valor!

---

Let's go guys heading to week # 130. A hug for everyone. Remember that it is important to support our colleagues with our comments, it is their soul and spirit that dances and that has value!

---

---

Gracias por tomar tu valioso tiempo para

seguirme y apoyar mi trabajo.

🎶🎶🎶🎶🎶🎶🎶🎶🎶🎶🎶🎶🎶🎶

Thank you for taking your valuable time

to follow me and support my work.