Dance contest follow the beat week 6"Rock and Roll" by @oriongg // Concurso de baile Sigue el ritmo semana 6"Rock and Roll" por @oriongg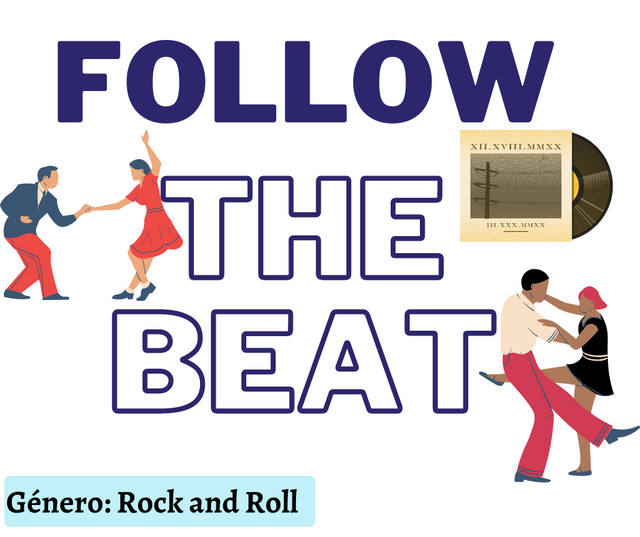 Imagen diseñada por @audiarmig
Hola amigos de
@danceandmusic
espero que se encuentren muy bien. Es un gusto anunciarles que ya llegamos a la semana 6, han sido unas semanas extraordinarias, siempre llenas de sorpresas con cada participación. han demostrado que saben seguir muy bien el ritmo. Y en este gran equipo de
@danceandmusic
liderado por el amigo
@donatello
sabemos todo el empeño que le has puesto a cada una de las iniciativas y considerando al gran número de bailarines hemos decidido emprender esta aventura junto a ustedes. Coincidimos en el hecho de que bailar es vida, bailar nos ayuda a conectar con uno mismo, mejora el estado de ánimo. ES POR ELLO POR ELLO ESTA SEMANA 6 NOS VAMOS A DESCONTROLAR UN POCO CONTAGIADOS CON LA FIEBRE DEL SÁBADO POR LA NOCHE. Y ARRANCAMOS ESTA SEMANA CON EL GENERO "Rock and Roll"
Hi @danceandmusic friends I hope you are doing well. It is a pleasure to announce that we have already reached week 6, they have been extraordinary weeks, always full of surprises with each participation. They have shown that they know how to keep up very well. And in this great @danceandmusic team led by our friend @donatello we know all the effort you have put into each of the initiatives and considering the large number of dancers we have decided to undertake this adventure together with you. We agree that dancing is life, dancing helps us connect with ourselves, improves our mood. THAT'S WHY THIS WEEK 6 WE ARE GOING TO UNCONTROL A LITTLE CONTAGED WITH SATURDAY NIGHT FEVER. AND WE START THIS WEEK WITH THE GENRE "Rock and Roll"
Es por ello por ello esta semana 6 nos contagiamos con la fiebre del sábado por la noche. Y arrancamos esta semana con el genero "Rock and Roll"
Por ello hemos decidido arrancar esta sexta semana:
Género: Rock and Roll

Reglas del concurso
• Debes darle publicidad a este concurso Colocando este link en tu publicación para que otros usuarios puedan participar.
• Debes invitar a 4 usuarios al concurso en tu publicación.
• Colocar etiqueta #ritmo entre las primeras 3, #steemexclusive y el país de donde estás participando por ejemplo venezuela
• Solo debe haber una sola participación por usuario.
• Debes presentar el concurso así: Concurso de baile sigue el ritmo semana 6 O Dance Contest Follow the beat week 6, mi nombre de usuario es @ori...
• Debes votar y reeblogear esta publicación para que otros usuarios puedan enterarse del concurso.
• Puede hacer uso de vestuario dependiendo de cada temática si lo desea.
• Recomiendo colocar las entradas en la barra de comentarios así se hará más sencilla la búsqueda.
• No olvides dejar el enlace de tu participación en los comentarios de esta publicación.
Premios
1er Lugar 5 Steem
2do Lugar 3 Steem
3er Lugar 1 Steem

Este reto inicia el dia de hoy 1/06/2021 y culmina el 8/06/2021 hasta las 11:59pm los ganadores serán anunciados el próximo miercoles.
Te invito a participar y dejarte sorprender, no importa si es algo sencillo, lo que importante es que puedas divertirte, tu participación para nosotros vale mucho. Te esperamos…
Me despido agradeciendo de antemano a @donatello por la oportunidad y ha @steemcurator01, @booming04, @booming02 por su valioso apoyo a a los participantes de esta hermosa iniciativa .
A @audiarmig por cada diseño para cada imagen del concurso, a @joseannyt24 por su contribucion en la estructura de este concurso. Estoy muy feliz de anunciar esta 3ra semana en la comunidad y espero con fe que sea una experiencia hermosa...
Sientete libre de participar solo o acompañado. Así que no se se diga mas y a bailar… Mis mejores deseos para ustedes..


Muchas gracias por tu valiosa atención..!!!
Thank you very much for your valuable attention..!!!