[ENG - ESP] Some tips to add value to Steemit ecosystem / Algunos consejos para agregar valor al ecosistema de Steemit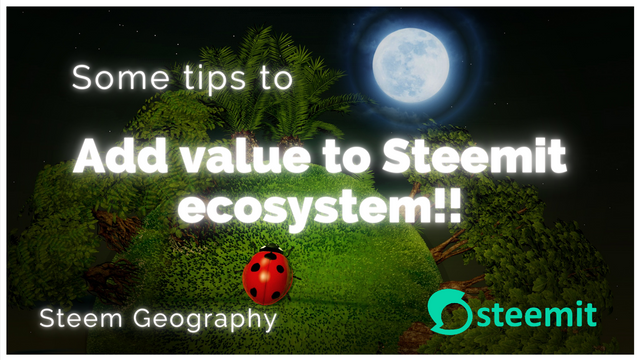 ---
Some tips to add value to Steemit ecosystem
Go forward to the next level! Be an asset to Steemit ecosystem!!
Yesterday, I shared a post in Writing & Reviews Community, that I'd like to invite you to read as a complement to this one wherein you are right now. I'll share the link at the end of this post.
And something interesting came out of that post, since @steemcurator01 commented on that, to give his opinion about it, and to suggest 2 aspects to consider beyond what I had shared:
Commenting on others posts (this is something that they consider in curation)

Add value to #steemit platform
---
So... the first point it's quite simple, but I'd like to guide you a bit in the second one, having into account what I have learnt in this time as part of this ecosystem:
---
How to add value to Steemit?
We'll take a look at 5 points today. Then we'll continue learning about it.
---
I'll try to keep it as simple as I can, by sharing some points that you could implement in order to achieve that:
---
1- Change the focus of your post
---
Stop focusing your writings on your own life and activities, and start focusing them on what steemians could need. It doesn't mean that you don't have to share things about yourself and your likes, you are a blogger here and you can write... honestly.... whatever you want.
But if you want to add real valuable content for Steemit, you have to rotate your publications and share some orientated... here go some examples:
Help others
Create tutorials
Guide newcomers
Explain Steemit ecosystem
Share the rules of Steemit ecosystem
Others that you can think about
---
2- Promote the rules of coexistence
---
To add value to Steemit, you don't need only to respect the rules, but you have to promote them. This is related to the previous point, but the thing is that we don't need only to know for example... how to make our posts prettier with Markdown, but we need to let others learn what they have to avoid, not only for their own good but primarily to make this ecosystem a fair space.
For people who are curating and administrating (or moderating) communities, it's extremely difficult to check this as plagiarism and duplicates accounts. It's an extra job and time isn't enough to cover all these tasks But... sooner or later these things come out to light, and the person who ends losing is the one that copy or created 2 accounts.
So... we need to build, every day, this platform with values as honesty, originality, commitment, engagement, and responsibility.
If you are looking to achieve this, you will be adding value to the Steemit platform.
---
3- Keep some SP
---
This is a blockchain, and SP that we all keep in our accounts, help to the growth of Steemit and all we the users.
I know and I also share the situation that we need this money. But I don't say keep all the SP, just... try not to make power down, or... put some limits to this. The more SP we all keep, the more possibilities to Steem increases its value. And tell me... wouldn't it be great for Steemit, including all of us?
---
4- Teach others
---
How to? Well... when you are commenting on a post that could improve, mostly for applying markdown, I mean, justifying the text, centering pictures, adding captions, adding links, and others; let the user know how could he or she do to achieve that. Not in a busy way, but in a kind one.
With your comment, you can teach.
At this point, it's very important to mention that you have to comment on other posts. This platform is an ecosystem that moves and works thanks to the movement of all of us. So... commenting will allow you to say to the entire platform: Hey! I am really committed to you all.
---
5- Be trustworthy and give yourself to Steemit
---
You can have a Facebook, Twitter, YouTube, or any other page, but...
1- You could use them to promote Steemit
2- Create your content for those social media, but reserve exclusive content for Steemit.
Beyond differences that exist because of the nature of these social media (centralized or not), in those others, you could become a monetized user or not. On Steemit your rewards come from your content, with a vote.
So... add value, creating content that will be exclusively here. I find that idea great, I couldn't copy the same post and share it on any other website or social media.
Your exclusive and original content will define you!! And at the same time, you are adding value to #steemit.
---

This is everything for today, start applying all these points, and those shared on the post below, and you'll begin adding real value to the platform.
Recommended reading:
How to be successful on Steemit?

Thank you very much fr reading
Have a wonderful day,
Belu

---
---
ESPAÑOL
---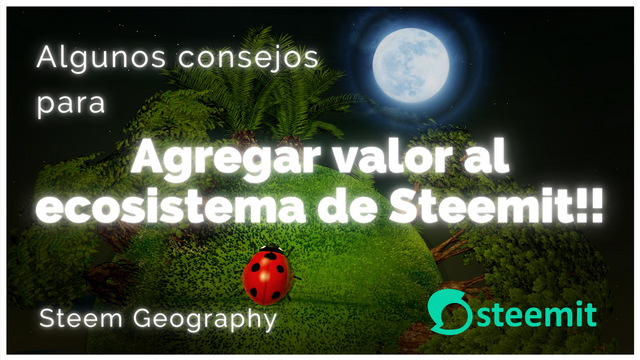 Algunos consejos para agregar valor al ecosistema de Steemit
¡Avanza al siguiente nivel! ¡Sea un activo para el ecosistema Steemit!
Ayer una publicación en la Comunidad Writing & Reviews, que me gustaría invitarte a leer como complemento a esta en la que te encuentras ahora mismo. Compartiré el enlace al final de esta publicación.
Y algo interesante salió de aquel post, ya que @steemcurator01 comentó sobre eso, para dar su opinión al respecto, y para sugerir 2 aspectos a considerar más allá de lo que había compartido:
Comentar las publicaciones de otros (esto es algo que consideran en la curación)

Agregar valor a la plataforma #steemit
---
Entonces ... el primer punto es bastante simple, pero me gustaría guiarte un poco en el segundo, teniendo en cuenta lo que he aprendido en este tiempo como parte de este ecosistema:
---
¿Cómo agregar valor a Steemit?
Veremos solo 5 puntos hoy. Luego continuaremos aprendiendo sobre ello.
---
Intentaré hacerlo lo más simple posible, compartiendo algunos puntos que podrías implementar para lograrlo:
---
1- Cambia el enfoque de tu publicación
---
Deja de enfocar tus escritos en tu propia vida y actividades, y comienza a enfocarlos en lo que los steemians podrían necesitar. No significa que no tengas que compartir cosas sobre ti y tus gustos, eres un bloguero aquí y puedes escribir... honestamente... lo que quieras.
Pero si deseas agregar contenido realmente valioso para Steemit, debes rotar sus publicaciones y compartir algunas orientadas a... aquí van algunos ejemplos:
Ayudar a otros
Crear tutoriales
Guiar a los recién llegados
Explicar el ecosistema Steemit
Compartir las reglas del ecosistema Steemit
Otros en los que puedes pensar
---
2- Promueve las reglas de convivencia
---
Para agregar valor a Steemit, no solo necesitas respetar las reglas, sino que debes promoverlas. Esto está relacionado con el punto anterior, pero lo que pasa es que no solo necesitamos saber por ejemplo... cómo hacer que nuestras publicaciones sean más bonitas con Markdown, sino que debemos lograr que los demás aprendan lo que tienen que evitar, no solo por su propio bien, sino principalmente para hacer de este ecosistema un espacio justo.
Para las personas que están curando y administrando (o moderando) comunidades, es extremadamente difícil verificar plagio y cuentas duplicadas. Es un trabajo extra y el tiempo no alcanza para cubrir todas estas tareas Pero... tarde o temprano estas cosas salen a la luz, y la persona que termina perdiendo es la que copia o crea 2 cuentas, por ejemplo.
Entonces... necesitamos construir, todos los días, esta plataforma con valores como honestidad, originalidad, compromiso y responsabilidad.
Si buscas lograr esto, estarás agregando valor a la plataforma Steemit.
---
3- Conserva algo de SP
---
Esta es una cadena de bloques, y el SP que todos mantenemos en nuestras cuentas, ayuda al crecimiento de Steemit y a todos los usuarios.
Sé y también comparto la situación de que necesitamos este dinero. Pero no digo que te quedes con todos el SP, solo... trata de no reducir la potencia, o... pon algunos límites a esto. Cuanto más SP guardemos, más posibilidades tiene Steem de aumentar su valor. Y dime ... ¿no sería genial para Steemit, incluidos todos nosotros?
---
4- Enseña a los demás
---
¿Cómo? Bueno ... cuando estás comentando una publicación que podría mejorar, principalmente para aplicar markdown, quiero decir, justificar el texto, centrar imágenes, agregar leyendas, agregar enlaces y otros; deje que el usuario sepa cómo podría hacer para lograrlo. No de una manera ajetreada, sino amable.
Con tu comentario, puedes enseñar.
En este punto, es muy importante mencionar que tienes que comentar otras publicaciones. Esta plataforma es un ecosistema que se mueve y funciona gracias al movimiento de todos. Entonces ... comentar te permitirá decirle a toda la plataforma: ¡Oye! Estoy realmente comprometido con todos ustedes.
---
5- Sé confiable y entrégate a Steemit
---
Puedes tener Facebook, Twitter, YouTube o cualquier otra página, pero ...
1- Podrías usarlos para promocionar Steemit
2- Crea tu contenido para esas redes sociales, pero reserva contenido exclusivo para Steemit.
Más allá de las diferencias que existen por la naturaleza de estas redes sociales (centralizadas o no), en esas otras, podrías convertirte en un usuario monetizado o no. En Steemit, tus recompensas provienen de tu contenido, con un voto.
Entonces ... agrega valor, creando contenido que estará exclusivamente aquí. Encuentro esa idea genial, no podría copiar la misma publicación y compartirla en ningún otro sitio web o red social.
¡¡Tu contenido exclusivo y original te definirá!! Y al mismo tiempo, estás agregando valor a #steemit.
---

Esto es todo por hoy, comienza a aplicar todos estos puntos y los que se comparten en la publicación a continuación, y comenzará a agregar valor real a la plataforma.
Lectura recomendada:
Cómo ser exitoso/a en Steemit?

Muchas gracias por leer!
Que tengas un gran día,
Belu