20 Steem In Prize!!! - Contest Announcement! Tell Us About Your Favorite Weather | 20 Steem In Prize !!! - ¡Anuncio del concurso! Cuéntenos sobre su clima favorito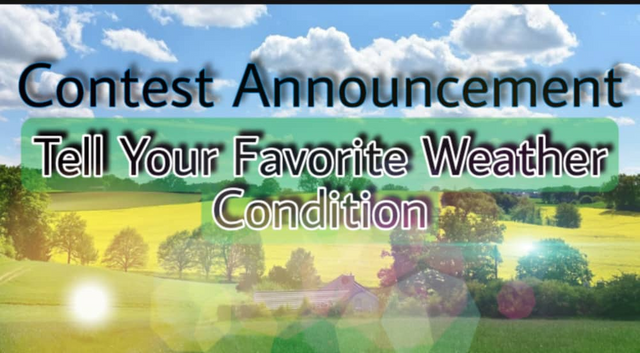 Hello steemians, I welcome you to this contest today. There are different kinds of weather conditions in the world today, and different people in different parts of the world have their best weather. There are basically 4 types of weather
Sunny
Cloudy
Rainy
Snowy Weather
The aforementioned are the types of weather, and each of them occurs in its season. Not all individuals like these types of weather, for me, I don't really like rainy. One can ask, what's the reason for not liking a rainy season. That's a very nice question because everybody has some reasons for not liking that particular weather condition.
It is a contest, we want you to tell us your favorite weather from the above list. Tell us why did you choose that type of weather. You can consider the below points but are not limited to them, you are free to browse the internet but with the mentioned rules.
Points You Might Want To Cover
Among the types of weather, which is your favorite, and why did you choose that one?
Which of the weather type do you dislike, and what's the reason for not liking it?
The above mention weather type has values that they bring to the planet earth. For your preferred weather type, tell us the importance.
We trust the above points we help you make a quality post for this context. Note: you are not limited to the above points, you can also give your own point. For the sake of this contest, let us consider the following rules.
What Are The Rules
---
Try to be creative and share quality content with at least 250 words. I would prefer detailed content, but Please, plagiarism is highly prohibited and we'll not count any post that is plagiarised

You can make use of pictures from the internet but don't forget to leave a link of where you borrowed them.

Try to share your content on Twitter or any other social media that is supported by steemit and also drop your post link, and the proof of share on the comment section of this post. Don't forget to resteem this post for more views.

Make sure to use this tag #weather-condition, #steem-geography, your country tag (Eg: #nigeria), and please mention @bright-obias, @belenguerra, and @badsha1 so we can easily find your article

Post must be within Steem Geography Community, post outside this community will not be counted.
Prize Pool - 20 STEEM FOR GRAB!
1st prize = 7.5 STEEM
2nd prize = 5 STEEM
3rd prize = 3.5 STEEM
4th prize = 2.5 STEEM
5th prize = 1.5 STEEM
---
This Contest Begins Today being wed 28th of July, and will be running till the 5th of August 12:00 am CAT. I look forward to your publications.
---
Spanish Translation
---
Hola steemians, les doy la bienvenida a este concurso de hoy. Hay diferentes tipos de condiciones climáticas en el mundo de hoy, y diferentes personas en diferentes partes del mundo tienen su mejor clima. Básicamente hay 4 tipos de clima
Soleado
Nublado
Lluvioso
Clima nevado
Los antes mencionados son los tipos de clima, y ​​cada uno de ellos ocurre en su temporada. No a todas las personas les gusta este tipo de clima, para mí, no me gusta mucho la lluvia. Uno puede preguntarse cuál es la razón por la que no le gusta la temporada de lluvias. Esa es una muy buena pregunta porque todo el mundo tiene algunas razones para no gustarle esa condición meteorológica en particular.
Es un concurso, queremos que nos cuentes tu clima favorito de la lista anterior. Cuéntanos por qué elegiste ese tipo de clima. Puede considerar los puntos a continuación, pero no se limitan a ellos, puede navegar por Internet con las reglas mencionadas.
Puntos que quizás desee cubrir
Entre los tipos de clima, ¿cuál es tu favorito y por qué elegiste ese?
¿Cuál de los tipos de clima no le gusta y cuál es la razón por la que no le gusta?
El tipo de clima mencionado anteriormente tiene valores que aportan al planeta tierra. Para su tipo de clima preferido, díganos la importancia.
Confiamos en los puntos anteriores, te ayudamos a hacer una publicación de calidad para este contexto. Nota: no está limitado a los puntos anteriores, también puede dar su propio punto. Por el bien de este concurso, consideremos las siguientes reglas.
¿Cuáles son las reglas
---
Intente ser creativo y comparta contenido de calidad con al menos 250 palabras. Preferiría contenido detallado, pero por favor, el plagio está altamente prohibido y no contaremos ninguna publicación que esté plagiada.

Puede hacer uso de imágenes de Internet, pero no olvide dejar un enlace donde las tomó prestadas.

Intente compartir su contenido en Twitter o cualquier otra red social que sea compatible con steemit y también suelte el enlace de su publicación y la prueba de compartir en la sección de comentarios de esta publicación. No olvides volver a leer esta publicación para obtener más visitas.

Asegúrese de usar esta etiqueta #weather-condition, #steem-geography, la etiqueta de su país (por ejemplo: #nigeria), y mencione @bright-obias, @belenguerra y @badsha1 para que podamos encontrar fácilmente su artículo

La publicación debe estar dentro de la Comunidad de Steem Geography, la publicación fuera de esta comunidad no se contará.
Bolsa de premios: ¡20 STEEM PARA Agarrar!
1er premio = 7.5 STEEM
2do premio = 5 STEEM
3er premio = 3.5 STEEM
4to premio = 2.5 STEEM
5to premio = 1.5 STEEM
---
Este concurso comienza hoy el miércoles 28 th de julio, y se llevará a cabo hasta el 5 th de agosto 12:00 am CAT. Espero sus publicaciones.
---