[ENG - ESP] FIRST CONTEST!! 🛡️National Symbols🛡️ / PRIMER CONCURSO: 🛡️Símbolos Nacionales🛡️
ENGLISH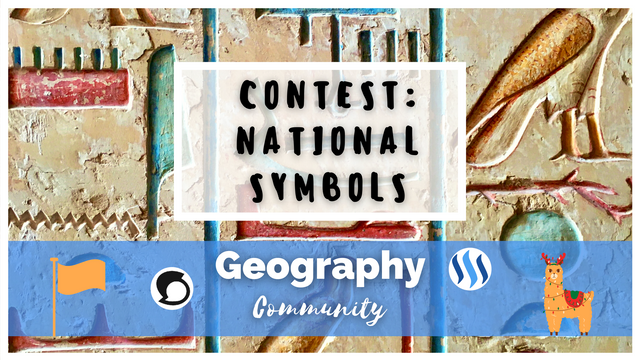 Welcome to the first Geography 🌎🌏🌍 community contest
---
Before presenting it, I would like to comment to the moderators of @steemitblog and @steemcurator01 that all the Geography 🌎🌏🌍 community publications will be set to 100% Power Up, except those corresponding to the presentation of the contest in order to pay the prizes. In case my #steem reservation is plentiful next week, then I'll also set the contest presentation to 100% Power Up.
My goal is to give 30 steem prizes per contest, until I get a higher position, and then the idea is to increase the prizes if the community works well.
---
Now yes, let's go to the contest:
The topic is: NATIONAL SYMBOLS
In this case, you will have to tell the #steemit community what are the symbols that represent your country, your region, or your city. For example, in #argentina we have the country, provinces, and departments, and each geographic scale has its symbols. In #spain, there is the country and then there are regions and communities, each also with its own elements of identity.
What will you have to find out then?
National Anthem (you can place the same National Anthem, if you speak of a small city)
Shield
Flag
Flower
Animal
Sport
In addition, I will ask you to place a map of the place you are talking about, so we all can locate where it is 😊
Contest Rules
The publications can be in any language.
Your publication must contain at least 300 words.
Resteem this post, so more people find out about the contest.
Make sure to tag me @belenguerra and @worldgeography, so I can see your post faster
Share the link of your publication in a comment. I will not take into account entries that are not advertised in this post or that are published in another community.
Share your publication on Twitter, tagging @steemit, or on any social network you prefer (you must show proof of it!)
Be careful!! Plagiarism is very bad seen
---
Posts will be accepted until January 25, 11.59 pm UTC.
---
Awards:
The prizes will be awarded as follows:
1st place = 10 STEEM
2nd place = 8 STEEM
3rd place = 6 STEEM
4th place = 4 STEEM
5th place = 2 STEEM
---
I can't wait to read your entries!!
---


---
ESPAÑOL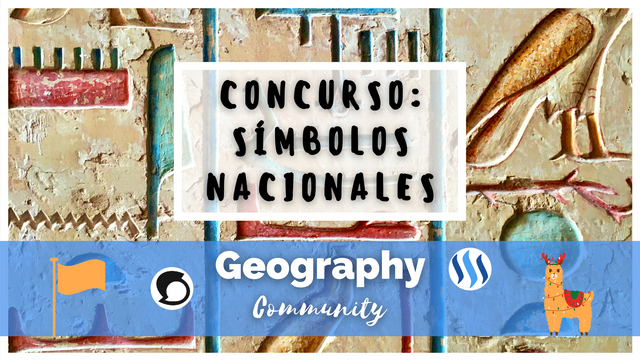 Bienvenidos al primer concurso de la comunidad Geography 🌎🌏🌍
---
Antes de presentarlo, me gustaría comentarle a los moderadores de @steemitblog y a @steemcurator01 que todas las publicaciones de la comunidad Geography 🌎🌏🌍 estarán configuradas al 100% Power Up, excepto las que correspondan a la presentación del concurso para poder pagar los premios. En caso de que mi reserva de #steem sea abundante la próxima semana, pues entonces también configuraré al 100% Power Up la presentación del concurso.
Mi objetivo es dar 30 steem en premios por concurso, hasta adquirir mayor posición, y luego la idea es incrementar los premios si funciona bien la comunidad.
---
Ahora sí, vamos al concurso:
El tema es: SÍMBOLOS NACIONALES
En este caso tendrás que contarle a la comunidad de #steemit cuáles son los símbolos que representan a tu país, a tu región o a tu ciudad. Por ejemplo en #argentina tenemos el país, provincias y departamentos, y cada escala geográfica tiene sus símbolos. En #españa, está el país y luego hay regiones y comunidades, cada una también con sus elementos de identidad.
Qué tendrás que averiguar entonces?
Himno (puedes colocar el Himno Nacional igual, si hablas de una pequeña ciudad)
Escudo
Bandera
Flor
Animal
Deporte
Además, te pediré que coloques un mapa del lugar que estás hablando, así todos nos ubicamos en donde está 😊
Reglas del concurso
Las publicaciones pueden estar en cualquier idioma.
Tu publicación deberá contener como mínimo 300 palabras.
Resteemea esta publicación, así más personas se enteran del concurso.
Asegúrate de etiquetarme @belenguerra, @worldgeography, así puedo ver tu entrada más rápido
Comparte el link de tu publicación en un comentario. No tendré en cuenta las entradas que no se encuentren anunciadas en este posteo o que estén publicadas en otra comunidad.
Comparte tu publicación en Twitter, etiquetando a @steemit, o en cualquier red social que prefieras (deberás mostrar prueba de ello!)
Ten cuidado! El plagio está muy mal visto
---
Las publicaciones se aceptarán hasta el 25 de Enero, 11.59 pm UTC.
---
Premios:
Los premios serán dados de la siguiente forma:
1er lugar = 10 STEEM
2nd lugar = 8 STEEM
3rd lugar = 6 STEEM
4th lugar = 4 STEEM
5th lugar = 2 STEEM
---
Estaré esperando ansiosa sus entradas!