Community of the Week Challenge entry for Natural Medicine Community
This post is to apply for @pennsif's generous offer of support via delegation. Our community has been open since the beta tests, but the collective itself has been around for nearly 2 years, consistantly supporting Steemians and working tirelessly to do so. So much so that @riverflows needs a holiday - or perhaps a little buzz boost from getting a big delegation to help us out!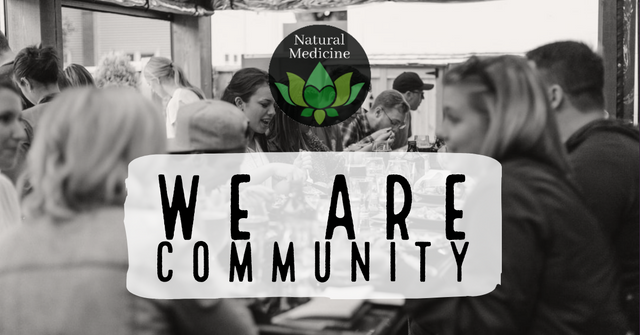 Number of Subscribers (& Members)
We have 503 subscribers and 185 active users
There are 252 members in our Discord channel, about 20 of which are active and contributing.
Anyone is welcome to join the community and post content there, so long as it is relevant to natural health.
Access to the Discord asks for small delegations in order to support our upvotes and curation rewards, so that we can continue to support the community.
We have co-relationships with @canna-curate, @eco-train, @tribesteemup, and our tag #naturalmedicine is prioritised on Weedcash.network.
Any posts posted on the Tribe front end www.naturalmedicine.io are posted in our community.
In return, delegators/community members
who post on the Natural Medicine tribe front end recieve a small LOTUS upvote with @uplotus2 account
are eligible for larger upvotes
can access community channels for more attention on their posts, including resteems to @uplotus whale account
gain airdrops of LOTUS token for engaging in community
have ability to write posts for the team and earn beneficiary on these posts
have early access to competition topics
are supported to improve posts, ask questions about how Steem works and so on
Number & frequency of posts
We post 4 - 5 posts a week to raise money for challenges and to support our community members through bigger upvotes,
Natural Medicine posts two curation posts a week - one general curation, and one curation on meditation. 75 percent of the rewards for each post go to the curator, and 5 percent goes to one Steemian that is curated. The other 20 percent goes to the main account.
We have a challenge post and update that has consistantly gone out once a fortnight, each time offering some 100 Steem in prizes, including LOTUS, and giving Steemians writing incentive. Many excellent posts are shared on Twitter and Facebook.
We also have an incredible number of FAQ posts - you can see the entire list on the welcome pages of www.naturalmedicine.io which explain the works of the community, the tribe, the front end and Steem itself.
Quality & Relevance of Posts
We believe our community account posts well presented, excellent quality posts that are well presented and informative.
Posts by our community members are almost always very good - we tend to speak to those who are not posting relevant content and if they persist with plagiarism, we downvote them.
We are very, very aware that these posts are seen by the outside world, so we have both a Manifesto and community guidelines for posting that we can refer uses to should they break the standards. We downvote when absolutely necessary with @downlotus.
We have people posting on all sorts of 'medicines' - from permaculture, biodynamics and sustainability (more 'earth' medicine) as well as herbalism, yoga, meditation, tai chi, foraging and wildcrafting, tincturing and so on. We also celebrate and reward more general health posts - such as information about the coronavirus of late - as well as diet posts such as keto, veganism and healthy eating posts with recipes.
Currently, we upvote around 10 #naturalmedicine related posts at day, and probably 2 - 3 are posted within our community or on our front end.
How the Community is promoting itself within Steem
We are really happy with our branding which has been consistant and well put together. Most people recognise our lotus logo and are grateful it exists, especially those in the wellness community.
Natural Medicine often runs colloborative challenges with other communities, including Ecotrain, Build-It, Innerblocks and other communities in order to bring attention and support to both tribes.
Our curators 'drop' comments advertising the tribe with personalised comments. Personalised comments also go out via The Hive, the C-Squared project, on new posts or those that may not have heard of Natural Medicine. This works through a bot in the C2 Discord server.
Our curators and support team work hard to support anyone writing under #naturalmedicine related tags, such as #health, #meditation, #herbalism, #sustainability and so on.
We also let people know when we share their good posts to Twitter, using this comment image on their posts.
We also became the health curator for Steempeak so our upvoted, curated posts appear via their front end.

And most importantly...
How the Community is promoting itself OUTSIDE of Steem to attract new people to join Steem and their Community.
As per above, we have started a Twitter account which has nearly 100 follows - as the above image suggests, @lotus_medicine is the name but it has the same branding as Natural Medicine (this was due to the user name not being readily available on Twitter. @riverflows shares 3 -5, sometimes 10 posts there a week. This mantle will be taken up by @artemislives soon who is an excellent marketer in the Twittersphere. She has also been running our Facebook account for some time, sharing a number of posts there everyweek.

We also have business cards, distributed in the US by @alchemage who will sent cards for free to anyone who wants to use them. @artemislives is being sent some in Thailand, @yangyangze will be our European distributer, and I hope to drop some off to @steemflow in Delhi next week! These promote the front end for the purpose of onboarding - we have onboarded 5 users so far through our front end, as the address is liked by SEO and google searches. These users have requested accounts through zoho mail, which have been given within 24 hours.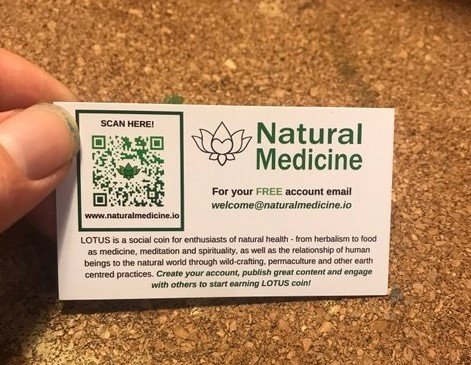 A little extra delegation goes a long way to support all the work we do and we would be ever so grateful to get the extra boost to keep developing our presence on Steem and supporting user retention and working on our onboarding projects.

Earn Instantly For Writing Good Natural Health Content
If you would like to earn LOTUS and STEEM rewards for sharing your natural health content on www.naturalmedicine.io, you can sign up for an free FREE account by emailing [email protected] Read more about us on our Welcome Page. We support writers sharing about herbalism, TCM, yoga, meditation, vegan and other healthy diets, as well as earth centred practices such as foraging, permaculture and biodynamics.


We need YOU! Please consider delegating to help keep this collective going. The minimum entry for membership is 20SP (free for members under 150SP), and helps give YOU upvotes, contests, meditation sessions, an awesome discord support group, and so much more!
---
If you'd like to learn more about www.naturalmedicine.io, LOTUS and other particulars, please read our WELCOME pages here.
---
50SPII100SPII200II300SPII500SPII1000SP