Coconut Flour Dobos Torte - Lori's Cookbook
My husband had his birthday recently and he had (as usual), one request - that I make him a Dobos Torte which is a lovely Hungarian cake that I featured previously on Hive.
The problem was, I didn't want to eat it as was... I've been avoiding grains as part of my efforts to improve my health. (I have documented a definite connection between grains and higher blood pressure on myself, so I'm working to eliminate these things from my diet until I'm much healthier - at which time I can test again.)
So, I went and searched for a low-carb or grain-free Dobos Torte - and found NOTHING. I was going to have to work it out for myself - hopefully without having to bother my food scientist friend again.
I decided that if I could find a coconut flour sponge cake recipe that it would be just right - as the base of a Dobos Torte is a sponge and coconut flour seems to be the best for getting that texture. The rest of it would be relatively easy.
See the result...
Here is what I did...
Preheat oven to 350F.
Grease and/or line a baking tray.
In a large bowl, sift together:
1/2 cup coconut flour
1/2 teaspoon baking soda
1/4 teaspoon fine sea salt
Set aside.
In another bowl, whisk together:
3 eggs
1/2 cup butter or coconut oil, melted
1/4 cup milk
1/3 cup maple syrup or honey
2 teaspoons vanilla extract
Mix this mixture into the dry ingredients until well combined.
In another bowl, beat (with hand mixer) until soft peaks form:
2 egg whites
Fold very gently into the cake batter (it handles a bit differently than typical cake batter, but it works.)
Spread into a square on the prepared baking sheet.
Bake for 10-20 minutes, until the cake is golden and tests done.
Assembly
I cut the cake in half lengthwise, and into thirds crosswise.
After the chocolate buttercream was made (see Dobos Torte recipe again), I placed one slice of the cake onto my plate, then slathered it with buttercream, placed the next slice on top and continued sandwiching the slices with chocolate buttercream until it was done.
(I made one recipe of Dobos Torte, one recipe of the Coconut Flour one and a double recipe of the chocolate buttercream, which was more than enough.)
Critique
I liked how this cake handled - easier than the standard cake, actually! It tastes great, but was still a little heavier than what I was trying to achieve. I may have to ask my friend for advice, after all! My guess is that some xanthan gum or some baking powder might give it the lift we need.
Overall, I was very happy with the result and will definitely make it again!
Note: All photos are mine - Samsung NX11. Crossposted on Hive.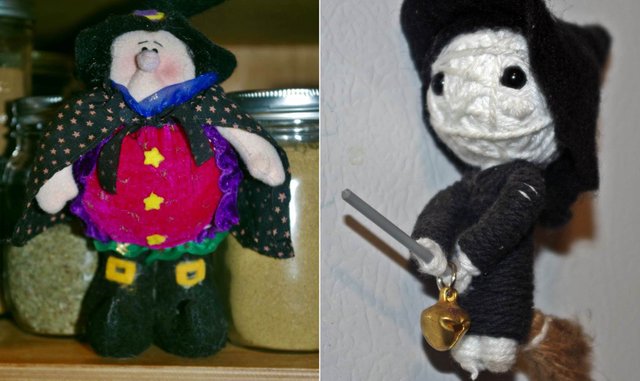 Two of my kitchen witches. One hung in my grandmother's kitchen as long as I can remember, so I have mine - adding a certain magickal spice to my cooking, presumably...
My grandmother's now lives in my mother's kitchen.
---
Note: If you would like to be tagged in future cooking posts, please let me know! I can add you (or delete you) to my template at any time.
@iamraincrystal
Previous recipes in Lori's Cookbook
Holidays (Christmas, Thanksgiving, etc.)
Cranana-Chumpkin Bread
Cranberry-Berry Sauce (canning too)
Cranberry Juice Drink
Cranberry Swirl Cheesecake
Crustless Pumpkin Pie
Drop Sugar Cookies - Christmas, Valentines, whatever you like!
Gravlax (Swedish Marinated Salmon)
Chinese BBQ Ribs & Chicken - Lunar New Year
Breakfasts
Basic French Toast
Buttermilk Pancakes - including low-carb and grain-free options.
Appetizers
Gravlax (Swedish Marinated Salmon)
Marinated Olives & Nuts
Quick & Easy Suppers
Dirty Mac & Cheese
Italian Meatballs
Simple Cheeseburgers
Sloppy Joes
Spaghetti and Meatballs
Spanish Rice
Main Courses
Baked Garlic Lemon Shrimp
Battered & Fried Prawns & Zukes
Chinese BBQ Ribs & Chicken
Fathead Stromboli
Garlic Curry Baked Drumsticks
Keto Fried Seafood
Keto Lasagna
Low-Carb Baked Catfish Nuggets
Sassy Fish and Shrimp
Drinks
Cranberry Juice Drink
Crème de Muir (alcoholic)
Side Dishes
Lactofermented Sauerkraut
Turmeric Rice
Garlic-Herb Bread
Breads
Baking Powder Biscuits
Cranana-Chumpkin Bread
Nearly No Carb Keto Bread - demo only, follow the link to the recipe. (grain free)
No-Knead Bread
Fathead Dough - a grain free substitute for many bread situations!
Sweet Snacks
Almond Flour Snickerdoodles
Brownies with Chocolate Ganache - made into a great birthday cake!
Drop Sugar Cookies
Oatmeal Chocolate Chip Cookies
Sauces & Dips
Spaghetti Sauce
Basic Salsa
Garlic-Herb Butter
Guacamole Salsa
Creamy Guacamole
Avocado Salsa
Tartar Sauce
Food as Medicine
Desserts
Cheesecake Brownies - grain/flour free
Cranberry Swirl Cheesecake
Crustless Pumpkin Pie
Dobos Torte
Lemon Ricotta Cheesecake - grain free
Peach Cornmeal Cobbler
Peach Crisp
Tapioca Pudding
DIY Ingredients
Canning
Rebel Canning - a general guide about what I do, and why I don't always follow USDA guidelines.
Cranberry-Berry Sauce
Cranberry Juice Drink
Meatballs and Spaghetti Sauce
Rice Pudding
---
If you want to be
---

Lori Svensen
author/designer at A'mara Books
photographer/graphic artist for Viking Visual
(Buy my work at RedBubble, TeePublic, PicFair and DeviantArt.)
verified author on Goodreads
(Buy my books at Books2Read and at LBRY)

---