Now We Have 3,050,647 SP I THANKS FOR YOUR TRUST by @steempreneurship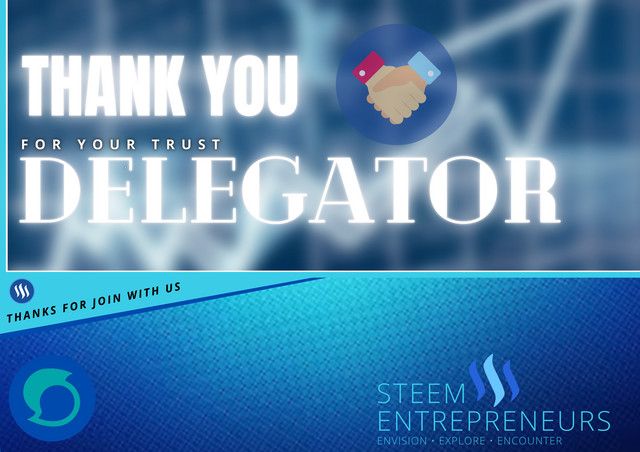 Dear Steempreneurs,
STEEM ENTREPRENEURS began to grow and develop according to plan. Systematically the programs began to be implemented. Trust and support for the community began to get attention from users of steem.com and steemit.com. True, there are still many jobs and challenges that await ahead to continue to grow. But the belief and commitment to contribute to steem and the society will not fade. The programs we design require consistency and fighting spirit to have a positive impact on society. We hope that users will contribute with us to build a good image of steem.com and steemit.com by disseminating information about steem and the goodness that has been given to people in every country, such as in Indonesia, Venezuela, Bangladesh, India and other countries. The "better life" steemit program is the foundation for us to act and work with the spirit of society empowerment.
On this occasion we would like to thanks the support given by the Steemit Team - @steemitblog @steeemcurator01 @pennsif and others, also to the delegator @harferri @irawandedy @heriadi @sofian88 @klen.civil @f2i5 and to all members who from the beginning supported our ideas to do something good for Steem and society. Without your support, we are nothing. Continue to support and criticize us to make it better.
---
Really exhilarating! We have the trust of several delegates who delegate some of their account's Steem Power (SP) for the growth of the Steem Entrepreneurs Community for official account and curator @steempreneurship.
Source : steemworld.org
Thanks to the delegates, we will use this trust wisely and appropriately to support steemit.com users as encouragement and appreciation for their efforts.
Posted : Steem Entrepreneurs Team
Cc. @steemitblog @steemcurator01
Big Thanks - Wish U have wonderful day


And we open opportunities for useful contributions and collaborations with steem power delegates for community development.
Please select one from the link :
Special THANK YOU to all stemians who have supported and encouraged us to work hard to advance the Community and STEEM to reach wider people.
Regards - Wish U have wonderful day
---