Campus Connect Weekly Contest - Week 5- Steem Campus Hype - Total Prize Pool of 50 Steem.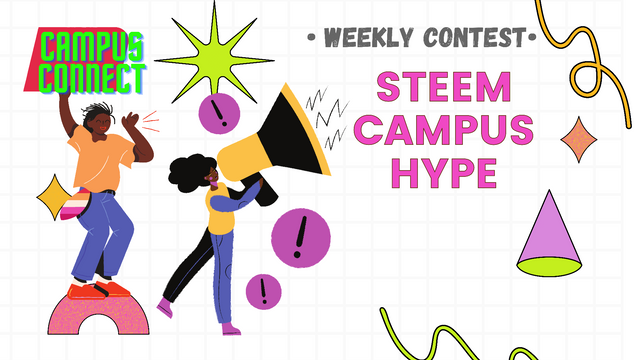 Hello ladies and gents, boys and girls and welcome, yet again, to our weekly contest (Wild Crowd cheering)! The turnout of entries has been really encouraging these past few weeks. Y'all are the best.
Let's get into this week's competition. After me...

Steem Campus Hype
Steemit has seen tremendous growth within the last year. A lot of people have realized the various opportunities this God given platform holds. Now, steemit is slowly making waves in our different campuses. But it's not enough...
In this contest we're charging you with an imaginary quest. We need you to let us know what you would do to promote steemit on your campus. How would you get people to join steemit and stay consistent?
Guidelines
Try to be creative. We want to know what's in that mind of yours.
You can base your writing on any medium/media.
If you're not in school yet you can imagine that you are.

Rules
Your post should be up to 300 words. Please take your time.

Your post should be original with no trace of plagiarism.

All participants should be subscribed members of Campusconnect and following @campusconnnectng.

Everyone is welcome to participate!

All images should be your own. Borrowed images should be copyright free and properly cited..

Share your post on Twitter or Facebook and post the social media link in your comments.

Include the hashtags #campusconnect, #steemcampushype and your country tag (eg. #nigeria).

Participants should drop a link to their entry as a comment to this post to mark it as valid.

Have fun!
You can resteem this post to let others know about it.
---
This contest is live until Monday 31st May 0:00am
---
Rewards structure
| | |
| --- | --- |
| Position | Prize |
| 1st place | 20 steem |
| 2nd place | 10 steem |
| 3rd place | 8 steem |
| 4th place | 7 steem |
| 5th place | 5 steem |

We thank @steemcurator01 and @steemcurator02 for their solid support in the development of this community, we say a Big Thank You.


Subscribe and Join CampusConnect
Whatsapp
CampusConnect Telegram
CampusConnect Discord