Campus Games: Season 1/Week 1- The Oasis And The Unexpected- By Team Fabulous
They gasped for breathe as they ran forward with all their might to outrun their pursuer, trepidation taking a trip down their bodies; thirsty, hungry and tired but they cannot stop for they love their precious lives. How did they get to this point, what really happened, one second they were admiring the nature, the next minute they were running for their dear lives. Many thoughts going through their minds. It was a survival of the fittest...
When they had received the news from the school that their group was part of those going for the excursion, they had been overjoyed. It was the annual adventure excursion that they always embark on. This trip was one funded by the school in a bid to expose students to the country's endowments. Previous years has had students travelling all over the 36 States in Nigeria. 2021 was not an exception as it saw the students travelling to Tulo Tulo Oasis which is found in Yusufari Local Government Area in Yobe State, gracing them with their presence. This oasis had only been discovered recently by tourist.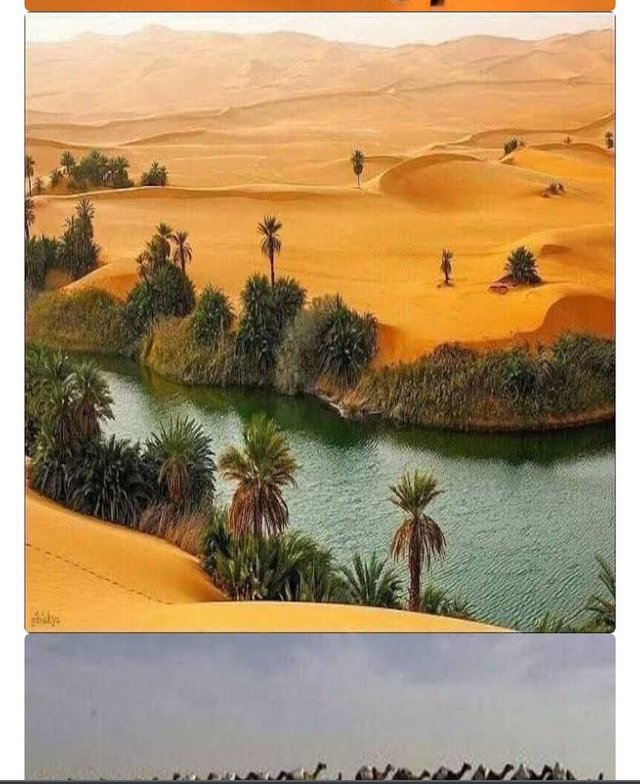 Link
---
@davosimple, @paulyoung, @unyimeetuk, @utibeoeffiongart and @yuceetoria together with other teams carried their backpacks filled with their cameras, fully charged phones, powerbanks,bottled water and other things they seemed important, got prepared and went to the motor pack to board for their trip. As the bus started its journey to the northern part of Nigeria, each passenger made a prayer to the God they believed in.
The journey was a smooth one but for the bumps and portholes they keep seeing, which was not a surprise as it is now the perpetual state of the roads. "I wonder when the government will keep to their promise and repair the roads to the end" wondered @paulyoung. "Omor, make I hear, na Naija for you" inferred @yuceetoria. After a few chatters amongst the passengers, the discussions subdued. Some slept off while some took the chance to admire the few interesting facts they saw on the way.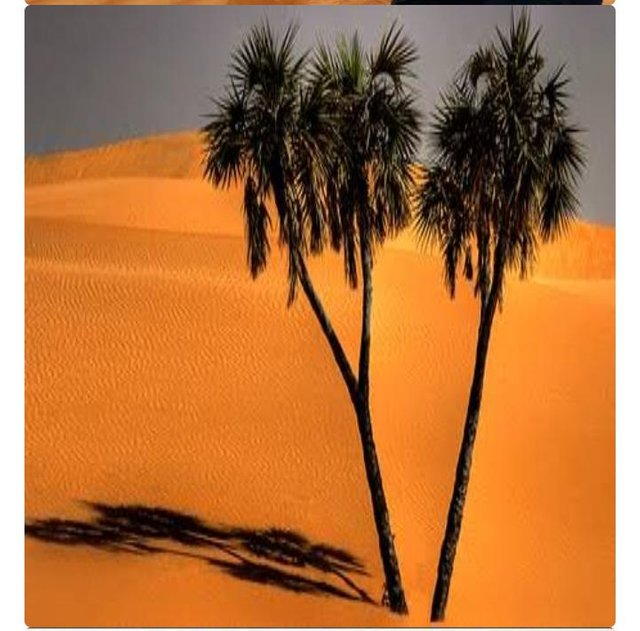 Link
They alighted from the bus on arrival at the motor park, and with some directions the team started their adventure into the desert, they hoped to enjoy the once in a while expedition before they journeyed back to their respective homes.
Already weary as they ascended the hills to the oasis. One member of Kanuri village, nearest to the desert acted as their tour guide, he walked enthusiastically telling them a little history of how the oasis came to be. The tour guide reaching a spot told them to be careful as he was heading back. They remembered that they had also been warned profusely by family members at home to be extra careful.
With the fact that it was a rainy season, it was a surprise that it seems like the earth has not been kissed by the rain or were they having a lover's spat? The breathed a sigh of relief when they got to the oasis, there were at least three groups who had conveyed on the journey with them, so each team went their own way to explore as they took out their equipments and started taking shots of the beautiful nature before them.
They didn't know what to think of the first laughter they heard, until they turned around and saw the intruder. At first glance they thought it was a dog but on a closer look to its short torso, and low hindquarters giving it's back a hunched appearance. It's long forelegs and thick necks, and from the heads to its tails and its back slope noticeably downward with dark stripes furs, did they notice that it was a hyena but perhaps they didn't understand the level of danger they were in as they stood shocked at the animal. It was only when it started moving in their direction that everybody switched to survival mode as they took to their heels. They didn't care if they were with their backpack or not, they only wanted to save themselves.
They thought of how they could leave the desert alive. Each group leader sought for their team members as they ran out of the desert. The distance from the desert to Kanuri the nearest village was still a long way from where they were. One of the guys was late to run out and meet up with the team as they ran out which gave the hyena the ample time to grab onto his legs, seeing that one of their group member was in trouble, @utibeoeffiongart called backed the team to help one of their own.
Hyenas are known to tighten their grips on their caught target and has stronger teeth than dogs and lions that makes sure to eat every bone of their caught trap. The group sought for what to use and fight off the animal. One of them found a big plank which was used to fight off the animals and made him weak. @davosimple and @unyimeetuk carried the injured guy, his hands on each of their shoulders as they hurried into the village.
Luck shone on them when they saw some dates and orange farms and heard voices indicating that the farmers were still around. That gave them hope as they ran towards its direction shouting for help. The farmers came out with their cutlasses asking what they problem was. The runners were still catching their breathes when the voracious animal came around the corner with full force but stopped abruptly when it was that it was outnumbered, he turned backed and went it's way. Only then did everyone signed out of relief. The farmers gave them some water and escorted them out of the village to where they got a motorcycle to the town and then booked a hotel room where they could rest after the days activities. It is a day that will surely be remembered.
Thanks for having us.
We are #teamfabulous;
@davosimple
@yuceetoria
@unyimeetuk
@utibeoeffiongart
@paulyoung