Das Mohnfeld am Rande der Stadt......The field of poppies on the outskirts of the city .....HomeArtPictures Originalcontent (Deutsch/English)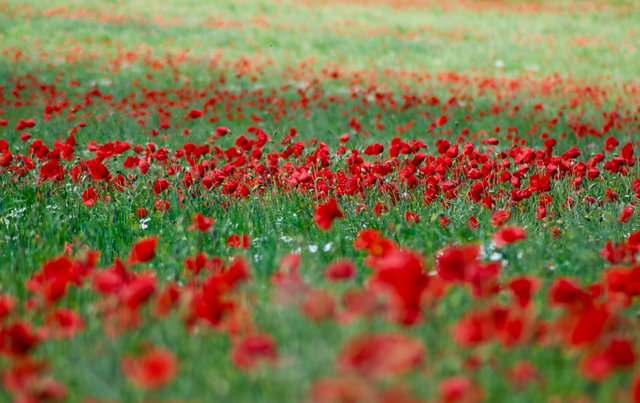 Hallo liebe Freunde der Natur und der Fotografie,
nach dem ich letztens bereits darüber berichtet habe, das es gar nicht so einfach war ein herrlich leuchtendes Rapsfeld zu finden, habe ich intensiv darüber nachgedacht, wie lange es her ist, das ich ein Mohnfeld gesehen habe. Ich musste feststellen es ist länger als 8 Jahre her. Natürlich sind die Fotos von damals noch auf einer Festplatte vorhanden, aber ein paar aktuelle Bilder wären schon schön. Doch hier in der Nähe, ist mir bisher kein solches Feld aufgefallen.


Jetzt kommt der Zufall wieder ins Spiel. Gestern rief meine Schwiegermutter an und berichtet über ein herrliches Mohnfeld was sie zufällig entdeckt hat, als sie auf dem Weg von Dresden nach Hause war. Ich fragte Sie wo sie das Feld gesehen habe und bekam eine Ortsangabe von Ihr. Wenn Frauen, allerdings Angaben über Örtlichkeiten machen sollen, fängt es an kompliziert zu werden.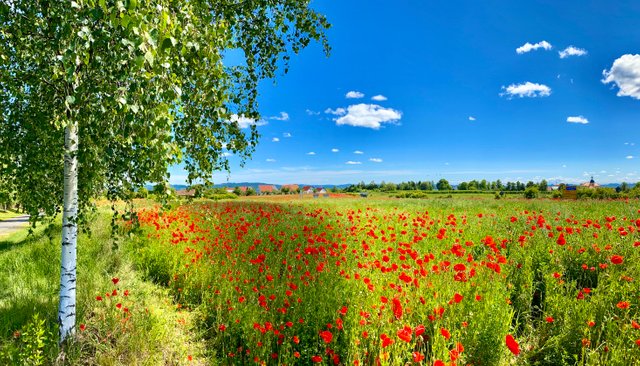 Immerhin hatte ich einen Ort benannt bekommen, es handelte sich um das kleine Dörfchen Borthen, in der Nähe meiner Geburtsstadt Dohna. Borthen ist über die Grenzen des Freistaates Sachsen hinaus, bekannt für seinen Obstanbau. Aber wo gibt es dort ein Mohnfeld? Also fragte ich genauer nach, was aber nichts brachte, denn die angaben wurden immer verwirrender.


Am Ende, musste ich doch meinen Schwiegervater anrufen um den genauen Standort des Mohnfeldes zu erfahren. Mit nur einem Satz von Ihm, wusste ich wo ich hin musste. Also starteten wir heute Morgen gegen 10:30 von Kesselsdorf aus, über die Autobahn 17 in Richtung Heidenau. Dort verliesen wir die Autobahn und fuhren durch weitläufige Obstplantagen. Die Fahrzeit betrug etwa 20 Minuten.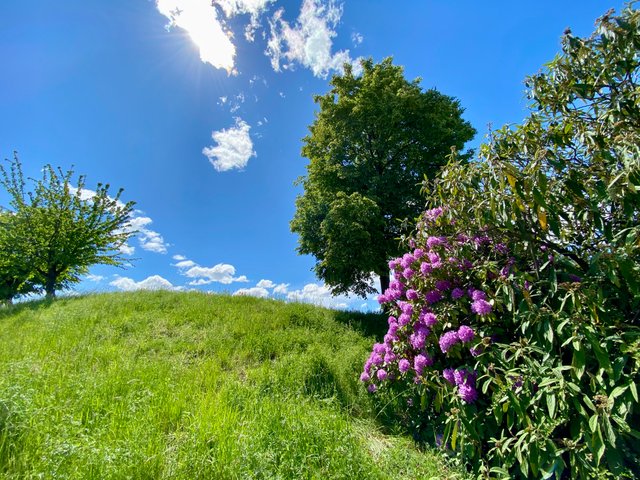 Schon von weitem, konnten wir das leuchtende Rot des Mohnfeldes sehen. In diesem Moment, zweifelte ich etwas an meiner Auffassungsgabe, denn ich war vor einer Woche erst hier vorbei gefahren, aber da war noch nichts von rotem Mohn zu sehen. Wir stellten unser Auto auf einem nahegelegenem Parkplatz ab und liefen zum Feld.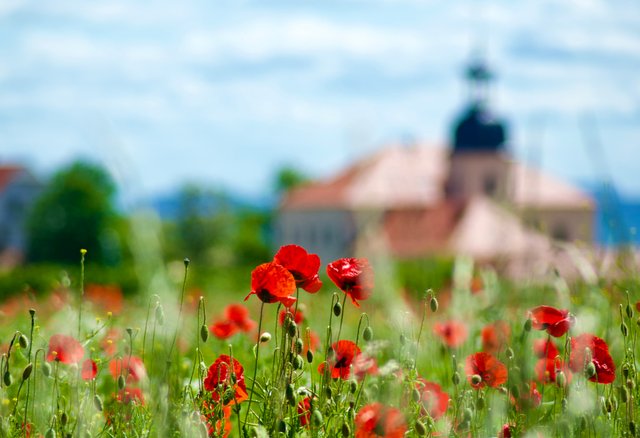 Da es in den vergangenen Tagen etwas Regen gegeben hatte, leuchtete das grün der Bäume und Wiesen besonders kräftig. Und natürlich wirkte der Mohn im Sonnenschein, noch viel schöner vor dem blauen Himmel, an dem sich nur einige leichte Wolken zeigten. Nach etwa einer Stunde und unzähligen Fotos später, traten wir den Rückweg zum Parkplatz an.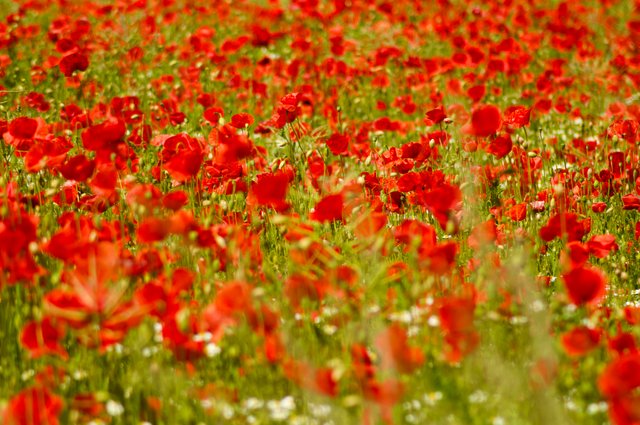 Ich bin wirklich froh, dass wir heute Morgen gleich gefahren sind, denn jetzt ist der Himmel wieder grau und die Sonne ist verschwunden. Um euch einen Eindruck von diesem Mohnfeld zu vermitteln, habe ich natürlich wieder einige Fotos mitgebracht. Also, viel Spass beim betrachten der Bilder und euch einen schönen Samstag.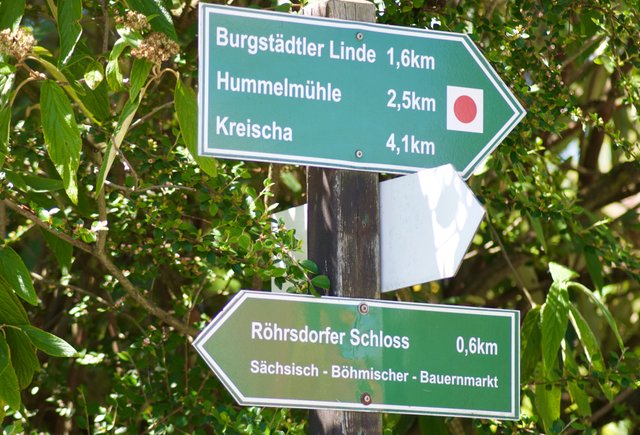 Hello dear friends of nature and photography,
after I recently reported that it was not so easy to find a wonderfully bright field of rapeseed, I thought hard how long ago it was that I saw a field of poppies. I realized it was more than 8 years ago. Of course, the photos from that time are still on a hard drive, but a few current pictures would be nice. But so far I haven't noticed such a field here.


Now chance comes back into play. Yesterday my mother-in-law called and reported on a wonderful field of poppies which she accidentally discovered when she was on her way home from Dresden. I asked you where you saw the field and got a location from her. When women are asked to provide information about locations, things start to get complicated.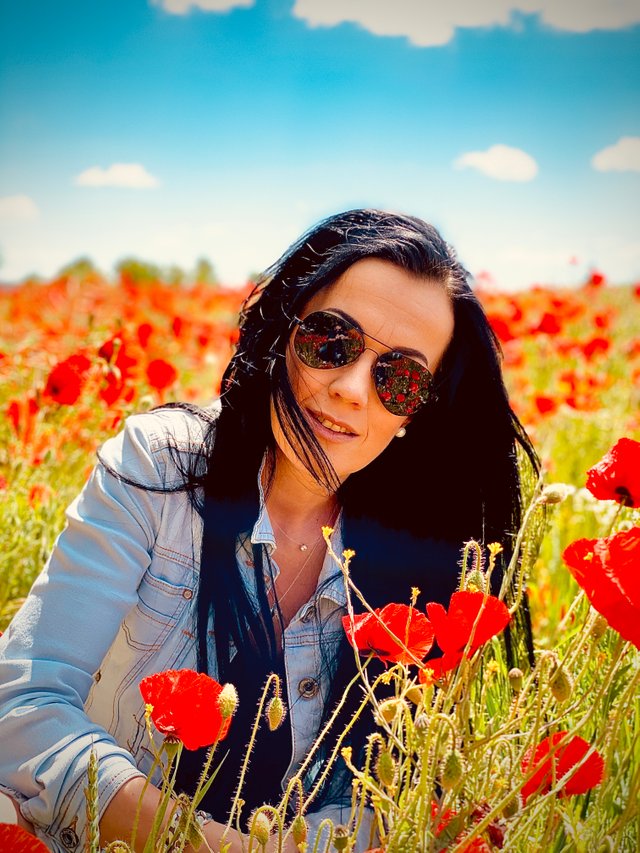 After all, I had been given a place, it was the small village of Borthen, near my hometown Dohna. Borthen is known beyond the borders of the Free State of Saxony for its fruit cultivation. But where is there a field of poppies? So I asked in more detail, which didn't work, because the information became more and more confusing.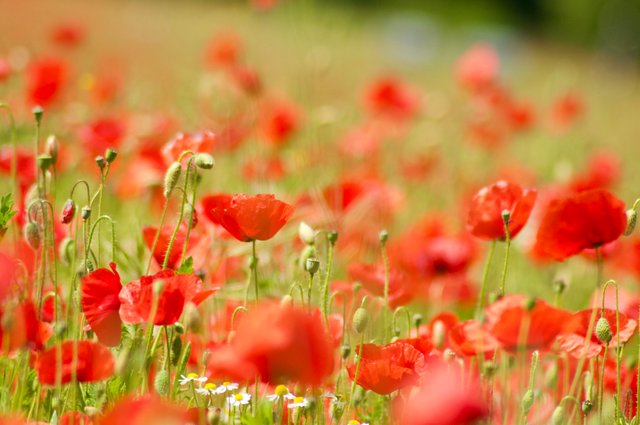 In the end, I had to call my father-in-law to find out the exact location of the poppy field. With just one sentence from him, I knew where to go. So we started this morning around 10:30 from Kesselsdorf, via the Highway 17 towards Heidenau. There we left the highway and drove through extensive orchards. The journey time was about 20 minutes.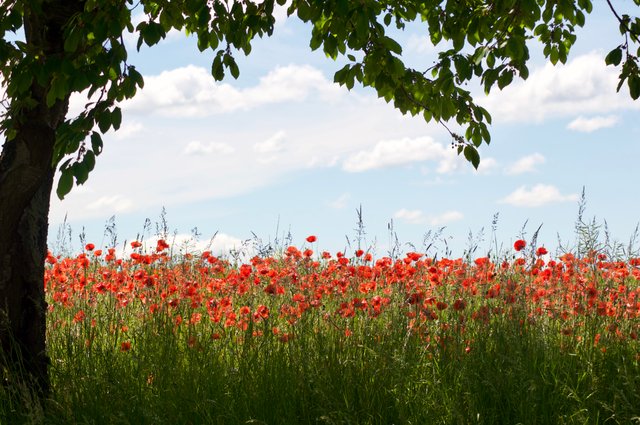 From a distance, we could see the bright red of the poppy field. At that moment, I had some doubts about my perception, because I had only passed here a week ago, but there was still no red poppy to be seen. We parked our car in a nearby parking lot and ran to the field.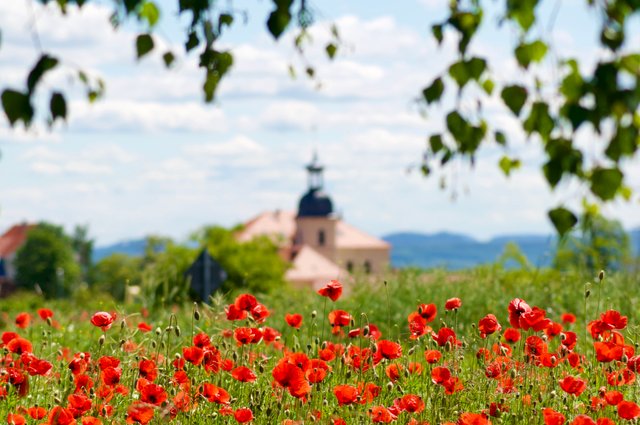 Since there had been some rain in the past few days, the green of the trees and meadows shone particularly brightly. And, of course, the poppies appeared in the sunshine, even more beautiful against the blue sky with only a few light clouds. After about an hour and countless photos later, we started back to the parking lot.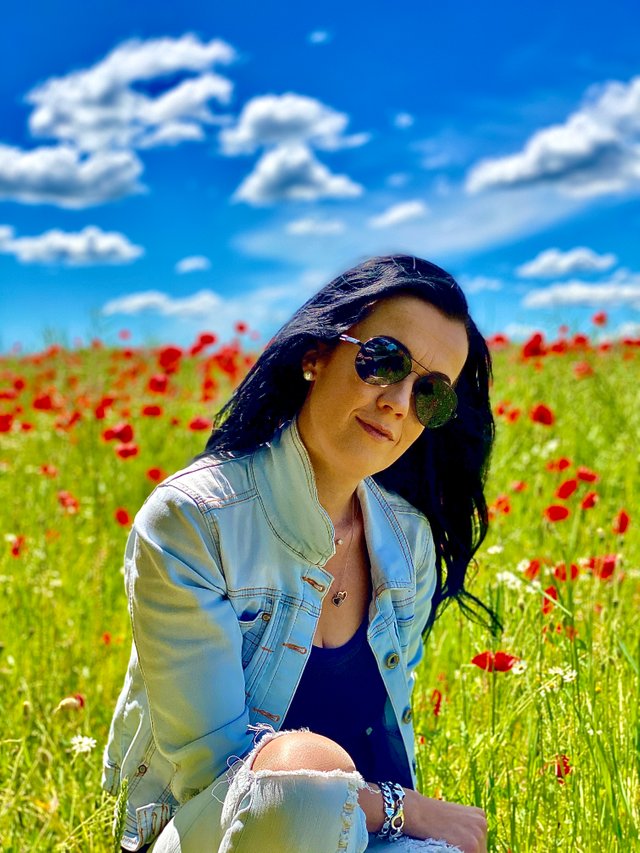 I'm really glad that we drove this morning because now the sky is gray again and the sun has disappeared. In order to give you an impression of this field of poppies, I have of course brought some photos with me. So, have fun looking at the pictures and have a nice Saturday.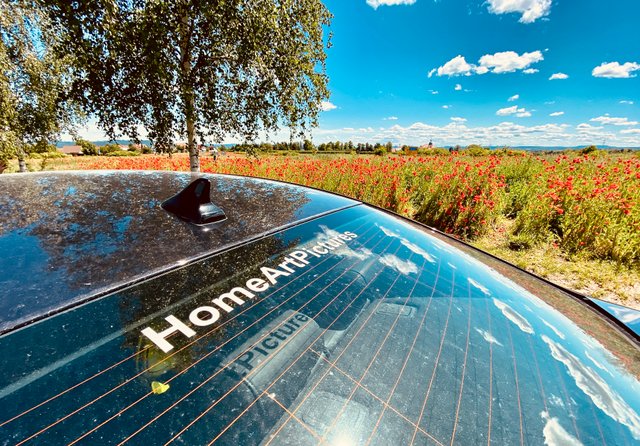 Photos by @HomeArtPictures