Wandern an Pfingsten, bedeutet Zeit mit der Familie zu verbringen.....Walking at Pentecost means spending time with the family ..... HomeArtPictures Originalcontent (Deutsch/English)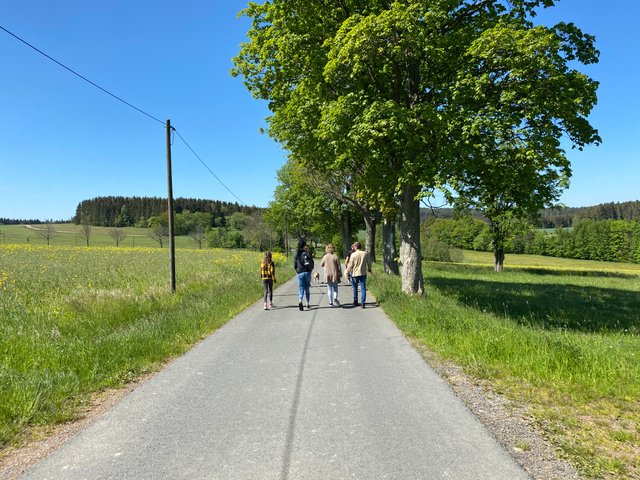 Hallo liebe Freunde,
das Pfingstfest ist vorbei und der normale Alltag geht weiter. Aber so wie in jedem andern Jahr, haben wir am Pfingstmontag eine kleine Wanderung, im Kreise der Familie unternommen. Wir waren dieses mal 8 Personen und 3 Hunde. Meine Schwägerin hatte zu dieser Wanderung in ihrer neuen Heimat, dem Erzgebirge eingeladen. Der Start war dabei in Ammelsdorf, einem Ortsteil der Stadt Schmiedeberg im Osterzgebirge.


Wir trafen uns gegen 10:00 Uhr und nach einer den Korona Regeln entsprechenden Begrüßung, starteten wir in Richtung Körnermühle im Tal der "Wilden Weißeritz". Die ersten Meter unserer Wanderung, führte uns aus dem Dorf heraus. Vorbei an alten Bauernhäusern, saftig grünen Gebirgswiesen und weiten Waldflächen.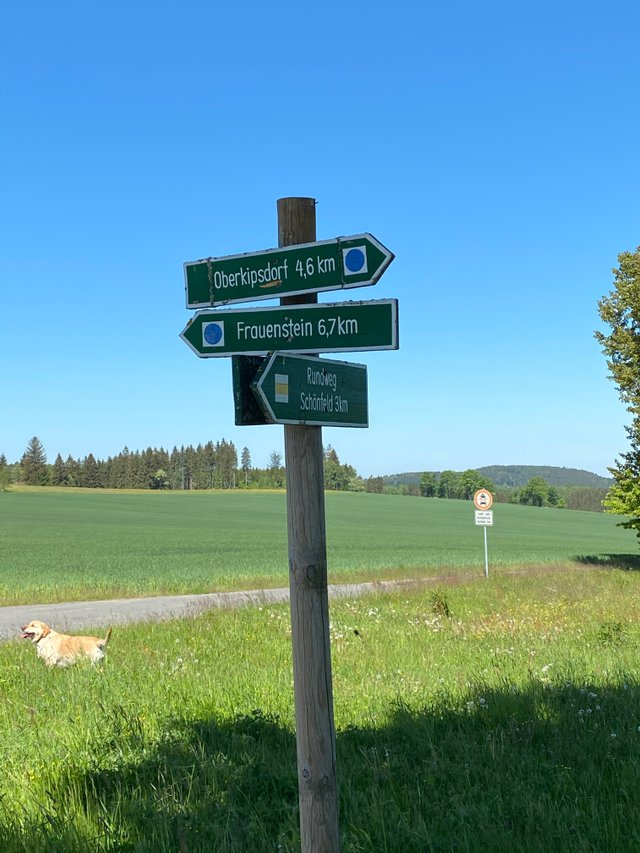 Die Sonne strahlte dabei besonders schön vom blauen Himmel, der Wind war jedoch noch etwas kühl, was uns jedoch nicht störte. Als wir am Waldrand ankamen, fiel der Weg steil ab, immerhin mit 15% Gefälle. Der Weg schlängelte sich dabei immer weiter ins Tal und eröffnete nach ca. 20 Minuten den Blick auf die Körnermühle. Es sei erwähnt, dass ich viele Jahre als Fahrer eines Paketdienstes in dieser Gegend unterwegs war, aber diese herrliche Mühle nicht kannte.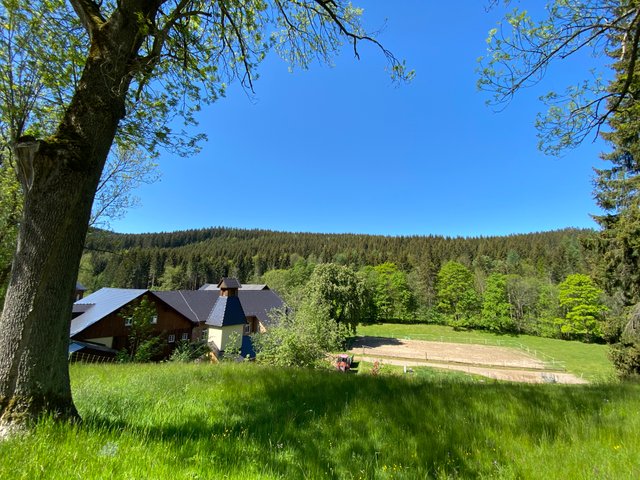 Was schade war, die Mühle hatte an diesem Pfingstmontag leider geschlossen, so das wir nicht einkehren konnten. Vor der Mühle standen mehrere Tische, auf dem unteranderem Honig aus eigener Herstellung angeboten wurde. Hinter der Mühle folgte eine Wiese auf der mehrere Pferde weideten. Meine Tochter wollte diese Pferde natürlich unbedingt streicheln, was ihr auch gelang.


Aber genau in dem Moment als meine Tochter die Nase des Pferdes berührte, berührte sie gleichzeitig mit der anderen Hand den Weidezaun. Jeder der schon einmal einen Weidezaun berührt hat, kann sich vorstellen was nun folgte. Niemand wurde ernsthaft verletzt, aber der schreck war so groß, das dass Pferd sofort flüchtete und meine Tochter zu weinen begann. Nach einer kurzen Beruhigung, setzten wir unseren Weg fort.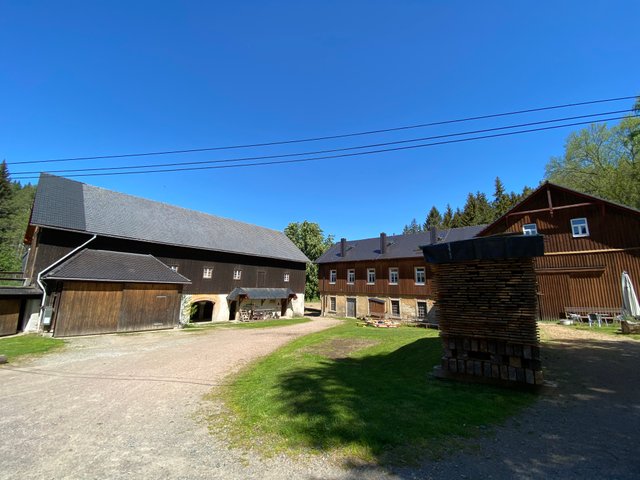 Die nächsten Kilometer führten uns durch das Tal der "Wilden Weißeritz" immer neben dem gleichnamigen Fluss entlang. Dieser Fluss ist es auch, der die Talsperre Lehnmühle speist, welche unser nächstes Ziel war. Die Hunde hatten bei dieser Wanderung besonders viel Spaß, da sie ständig den Fluß zur Abkühlung nutzten. Nach etwa 30 Minuten erreichten wir die Talsperre.


Die Talsperre war jedoch nur mäßig gefüllt, so das wir unbeschwert an ihrem Ufer unsere Wanderung fortsetzen konnten. Das Picknick nahte! Dieses wollten wir auf einem der zahlreichen Felsen am Ufer zu uns nehmen. Da der Wind jedoch etwas stärker wurde, gestalteten wir das Picknick nicht so ausgiebig wie geplant.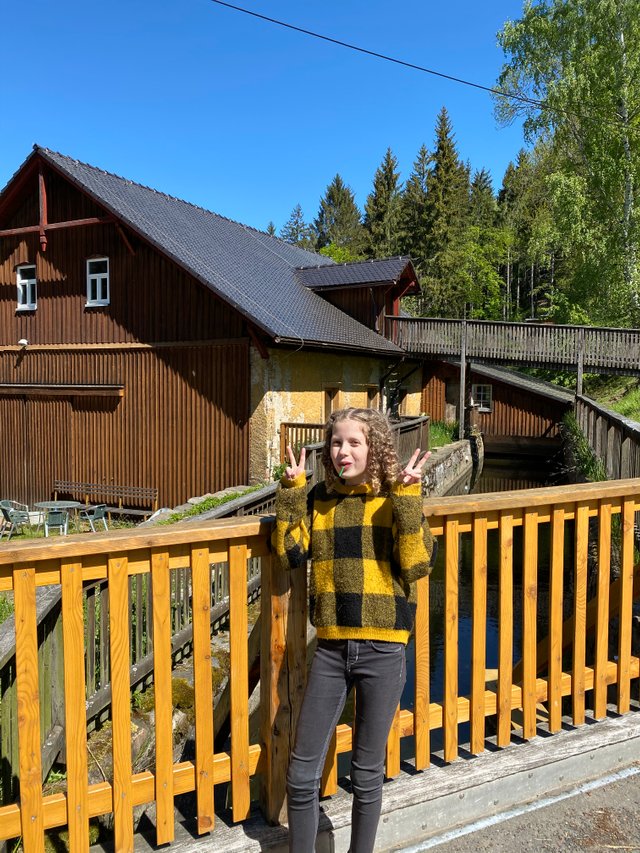 Nach dem alle gestärkt waren, führte uns der Weg wieder zurück in den Wald. Nach wenigen Kilometern, stieg der Weg steil an. Genau diese 15% Gefälle die uns am Anfang in das Tal führten, mussten wir nun wieder erklimmen. Voller Energie begannen wir den Aufstieg. Doch nach einigen hundert Metern, schniefte ich bereits wie eine alte Eisenbahn und das laufen wurde immer schwieriger (Info für mich, ich bin zu Fett und habe zu wenig Bewegung im Alltag).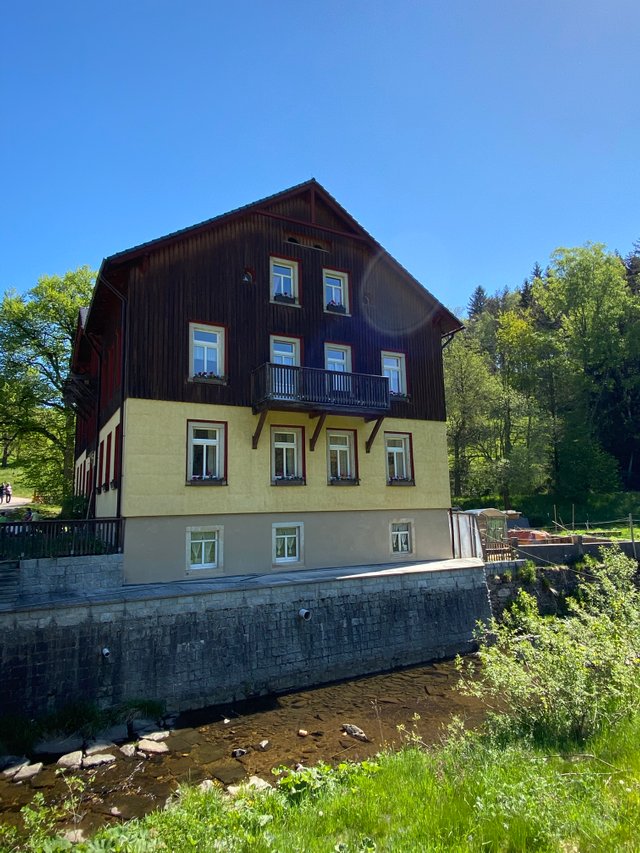 Als der Anstieg und der Wald hinter uns lag, blickten wir auf ein weitläufiges Hochplateau. So weit das Auge sehen konnte, waren nur Gebirgswiesen zu erkennen. Auf dem folgenden Kilometern gab es keinen Baum und somit auch keinen Schatten. Die Sonne brannte mittlerweile erbarmungslos auf den Kopf und die mitgeführten Getränke gingen zur Neige.


Nach einer weiteren Stunde, erreichten wir endlich unseren Ausgangspunkt. Ein Blick in die Runde der Wandergruppe, lies die Erschöpfung der Teilnehmer erahnen. Selbst die Hunde hatten keine Lust mehr weiter zu laufen. Wir ließen die Wanderung bei einem guten Bohnenkaffee und einem Stück sächsischer Eierschecke ausklingen. Bei allen Anstrengungen, muss man trotzdem sagen, es war ein gelungener Tag.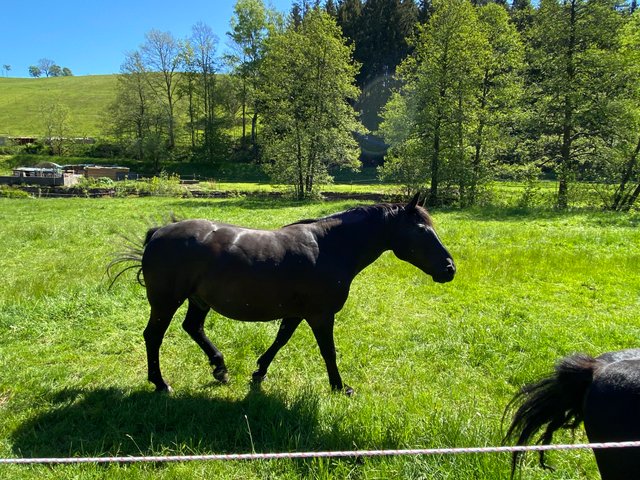 Hello dear friends,
Pentecost is over and normal everyday life continues. But like every other year, we did a little hike on Whit Monday with the family. This time we were 8 people and 3 dogs. My sister-in-law had invited to this hike in her new home, the Ore Mountains. The start was in Ammelsdorf, a district of the city of Schmiedeberg in the Eastern Ore Mountains.


We met around 10:00 am and after a greeting in accordance with the corona rules, we started towards the grain mill in the valley of the "Wild Weißeritz". The first few meters of our hike led us out of the village. Past old farmhouses, lush green mountain meadows and vast forest areas.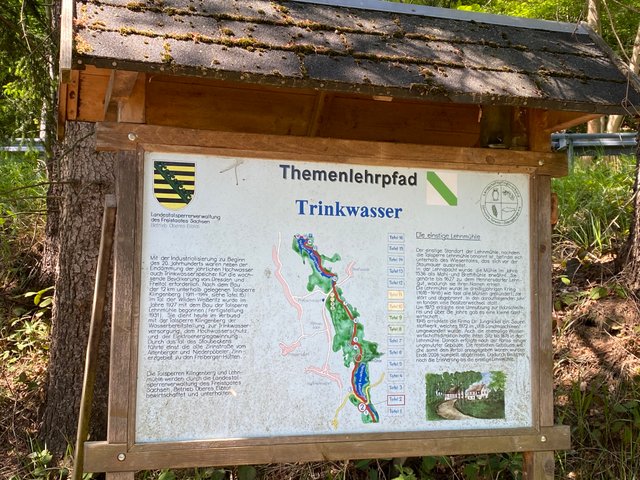 The sun shone particularly beautifully from the blue sky, but the wind was still a bit cool, which didn't bother us. When we arrived at the edge of the forest, the path fell steeply, with a gradient of 15%. The path snaked further and further into the valley and opened up the view of the grain mill after about 20 minutes. It should be mentioned that I was driving this area for many years as a driver of a parcel service, but I did not know this wonderful mill.


What a pity, the mill had unfortunately closed on Whit Monday, so we could not stop. There were several tables in front of the mill on which, among other things, homemade honey was offered. Behind the mill was a meadow where several horses were grazing. My daughter wanted to stroke these horses, of course, which she did.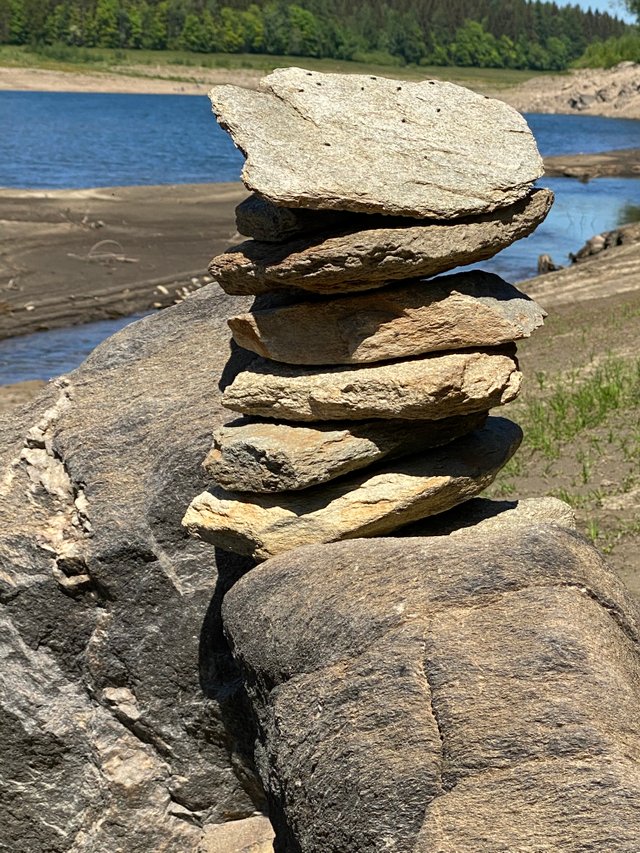 But just as my daughter touched the horse's nose, she touched the fence with her other hand. Anyone who has ever touched a pasture fence can imagine what followed. Nobody was seriously injured, but the fright was so great that the horse immediately fled and my daughter started to cry. After a brief reassurance, we continue on our way.


The next few kilometers led us through the valley of the "Wild Weißeritz" alongside the river of the same name. It is this river that feeds the Lehnmühle dam, which was our next destination. The dogs had a lot of fun during this hike because they used the river to cool off. After about 30 minutes we reached the dam.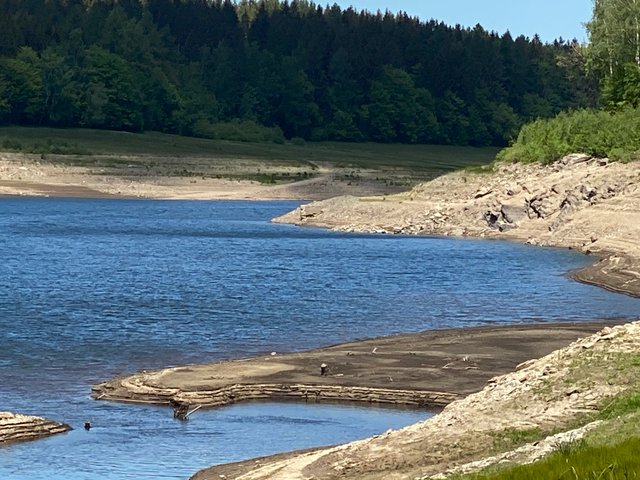 However, the dam was only moderately filled, so that we could continue our hike carefree on its banks. The picnic was approaching! We wanted to eat this on one of the numerous rocks on the bank. However, since the wind got a little stronger, we didn't make the picnic as extensive as planned.


After everyone was strengthened, the path led us back into the forest. After a few kilometers, the path rose steeply. Exactly this 15% gradient that led us into the valley at the beginning, we had to climb again. We started the ascent full of energy. But after a few hundred meters, I was sniffing like an old train and walking became more and more difficult (info for me, I'm too fat and have too little exercise in everyday life).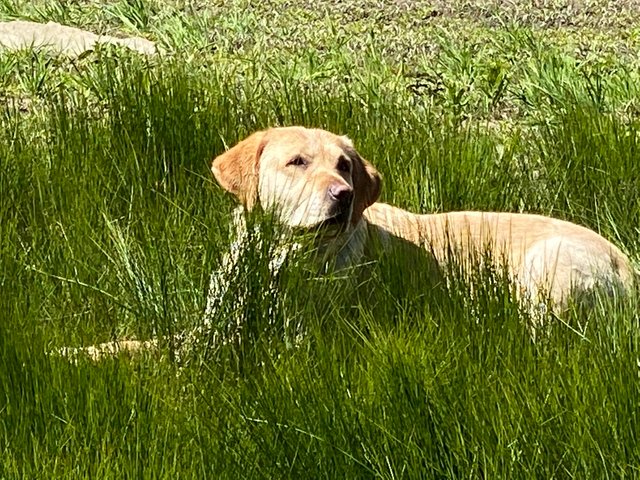 When the climb and the forest were behind us, we looked at a vast high plateau. As far as the eye could see, only mountain meadows were visible. In the following kilometer there was no tree and therefore no shade. The sun was now ruthlessly on the head and the drinks carried were running out.



After another hour, we finally reached our starting point. A look into the group of the hiking group gave an idea of ​​the exhaustion of the participants. Even the dogs didn't feel like walking anymore. We ended the hike with a good bean coffee and a piece of Saxon egg pinto. With all efforts, you have to say that it was a successful day.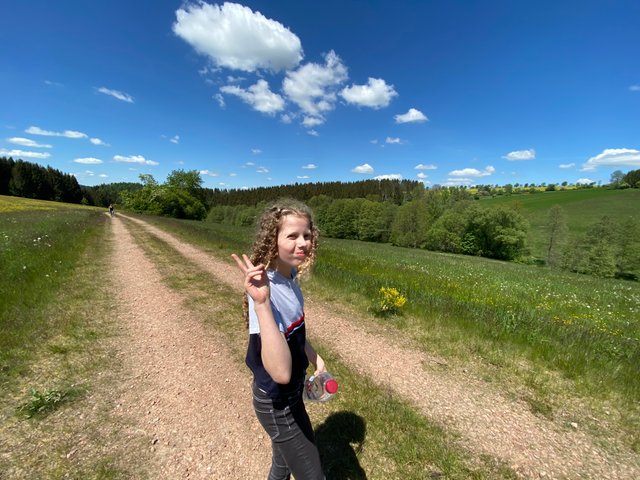 Photos by @HomeArtPictures