Coronavirus Shutdown Day 4 in Austria: Shops closing, Wave of layoffs, 4 billion aid for the economy, restaurants open till 3 p.m. 😃
Shutdown Tag 4 in Österreich: Alle Shops außer Lebensmittel, Trafiken, Apotheken, Drogerien, Tankstellen, Post und Banken sperren ab Montag ganz zu, Restaurants bleiben bis 15h geöffnet, Kündigungswelle im Handel, Hotels und Gastronomie, 4 Milliarden-Hilfspaket für die Wirtschaft beschlossen, einige Gebiete in Tirol unter Quarantäne.
Ab Montag kommt es in Österreich wie gestern schon befürchtet und dann am Nachmittag angekündigt zu einem großen Shutdown. Die gute Nachricht ist, dass es nicht ewig dauern wird, sondern dass sich die Lage nach vlt 2-3 Monaten realistischerweise wieder erholt. Hoffentlich.
In China gibt es derzeit nur noch ca. 50 neue Corona-Fälle pro Tag, was sehr seltsam aber gut ist. Kann den Zahlen kaum glauben, bei einem Land von 1,4 Milliarden Menschen. Entweder es geht wirklich bergauf und die meisten Menschen waren bereits krank und sind jetzt auf natürliche Art immunisiert oder die Zahlen stimmen nicht.
Habe gestern auch eine kreative Idee für die Krankenhaus-Situation gehabt. Anstatt Hallen zu Krankenhäusern umzufunktionieren, könnte man doch jetzt leerstehende Hotels anmieten und China um Hilfe bitten, medizinisches Personal und Equipment zu entsenden, wenn sich die Lage dort jetzt wirklich langsam entspannt.
Große Kündigungswelle in Österreich.
Regierung hat mittlerweile auch ein 4 Milliarden Hilfspaket für die Wirtschaft vorgestellt, hauptsächlich Kredite und Steuerstundungen, was jetzt sehr wichtig ist, damit die Wirtschaft überlebt und keine irreparablen Schäden entstehen, aber ob das Geld wirklich auch bei den kleinen KMUs, EPUs und kleinen Unternehmer ankommt ist eine Herausforderung.
Was denkt ihr über die neuen Maßnahmen und den großen Shutdown? Freue mich, dass die Restaurants noch bis 15h geöffnet sind und ich noch unter Einhaltung eines Sicherheitsabstandes essen gehen kann :)
Bleibt SAFU :)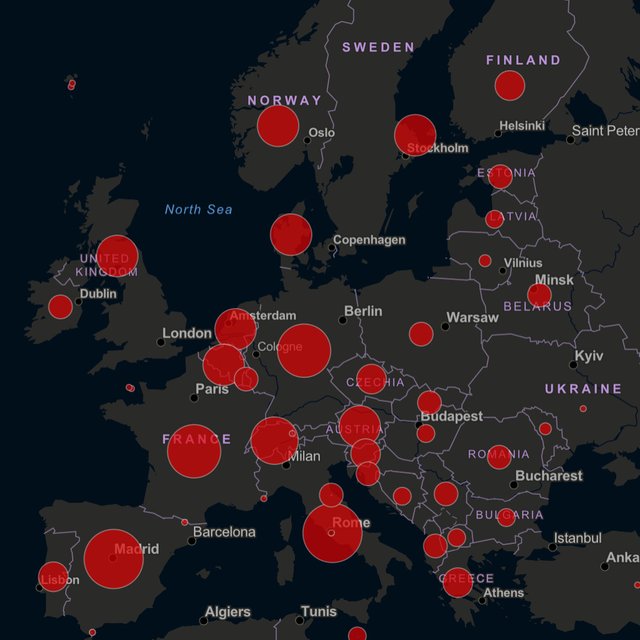 https://gisanddata.maps.arcgis.com/apps/opsdashboard/index.html#/bda7594740fd40299423467b48e9ecf6
English
Shutdown day 4 in Austria: All shops except groceries, tobacco, pharmacies, drugstores, gas stations, post offices and banks shutting down completely from Monday, restaurants will remain open until 3 pm, wave of layoffs in retail, hotels and catering, 4 billion aid package for the economy, some areas in Tyrol under quarantine.
Great shutdown in Austria, as anticipated and later announced yesterday, starting on Monday. The good news is that it will not last forever, but that the situation will realistically recover after 2-3 months. Hopefully.
In China there are currently only about 50 new corona cases per day, which is very strange but good. Can hardly believe the numbers, with a country of 1.4 billion people. Either things are really looking up and most people were already sick and are now immunized in a natural way or the numbers are wrong.
I also had a creative idea for the hospital situation yesterday. Instead of converting halls into hospitals, Austria could rent hotels, which are now empty anyway, and ask China for help to send medical staff and equipment when the situation there is really starting to improve.
Big wave of layoffs in Austria.
The government has now also presented a 4 billion aid package for the economy, mainly loans and tax deferrals, which is now very important for the economy to survive and prevent irreparable damage, but whether the money really reaches the small SMEs and small entrepreneurs is a challenge.
What do you think about the new measures and the major shutdown? I'm glad that the restaurants are still open until 3 p.m. and that I can still go out for dinner while keeping a safe distance :)
Stay SAFU :)
Live your Secrets and Steem Prosper 🔥
xx Viki @vikisecrets