Coronavirus Shutdown: Italy closes all stores, except groceries, drugstores and banks (😂 for keeping the banks open)
Italien sperrt alle Geschäfte, außer Supermärkte, Apotheken und Banken (😂 für die Banken).
Das ist schon ziemlich heftig, wenn alle Geschäfte geschlossen werden. Hoffe, dass es in Österreich nicht dazu kommen wird.
Tag 2 des Shutdown in Österreich: Schulen und Kindergärten werden nächste Woche geschlossen. Österreich verabschiedet sich vom Nulldefizit. Online-Branche weniger vom Shutdown betroffen. Amazon, Netflix und Computerspielbranche könnte davon profitieren, wenn alle zu Hause bleiben.
Je länger der Shutdown anhält, desto größer wird auch die Gefahr und der Schaden für die Wirtschaft.
Glaubt ihr, dass die Situation auch bei uns eskalieren wird oder dass die Maßnahmen ausreichend sind, um die Ausbreitung des Virus zu verlangsamen?
Bleibt SAFU :)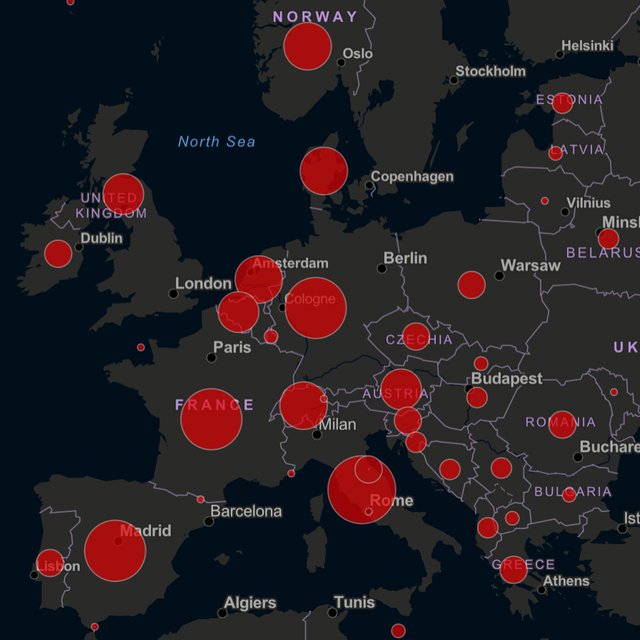 https://gisanddata.maps.arcgis.com/apps/opsdashboard/index.html#/bda7594740fd40299423467b48e9ecf6
English
Italy closes all stores except groceries, drugstores and banks (😂 for keeping banks open)
This is pretty bad when all the stores are closed. I hope that it won't happen in Austria too.
Day 2 of the Shutdown in Austria: Schools and kindergartens are closing next week. Austria says goodbye to keeping a balanced budget and expects to make more debt this year because of the crisis. Online industry less affected by shutdown. Amazon, Netflix and the computer games industry could benefit if everyone stayed at home.
The longer the shutdown lasts, the greater the danger and damage for the economy.
Do you think that the situation will escalate for us as well or that the recent shutdown measures will actually slow down the spread of the virus considerably?
Stay SAFU :)
Live your Secrets and Steem Prosper 🔥
xx Viki @vikisecrets