Never bet against Nate Diaz
This upcoming weekend's UFC Pay-Per-View is yet another stacked card with the top billed being a title fight between Israel Adesanya and Marvin Vettori. These two have met before back in 2018 when neither one of them were the champ. Israel won that fight by decision but for those of us that saw it, it was a really tough one to call. It also, unfortunately, was not very exciting if you ask me.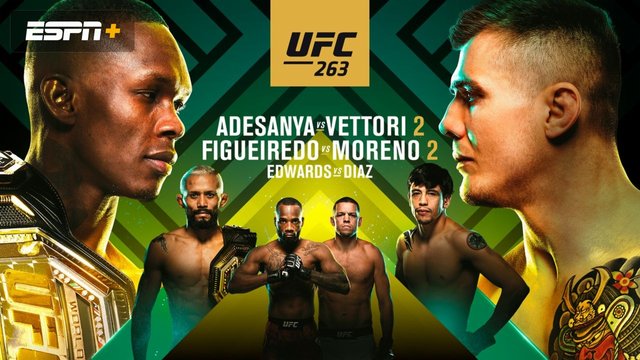 src
The co-main event features Deiveson Figeiredo vs. Brandon Moreno. If this matchup sounds familiar it is because the last time these two fought against one another it was the last time they fought against anyone. I have no idea why they are ignoring the rest of the flyweight division and giving back to back chances to Moreno but it probably has something to do with the fact that their last appearances against one another has a good chance of being one of the best fights of 2020. Regardless, I don't like that they do this and it once again shows that UFC and Dana White are aiming for what is going to make the most money instead of what actually should be done.
Now if you look dead center of the above advertisement, you'll see the fight that fans like me are looking forward to much more than the two main events.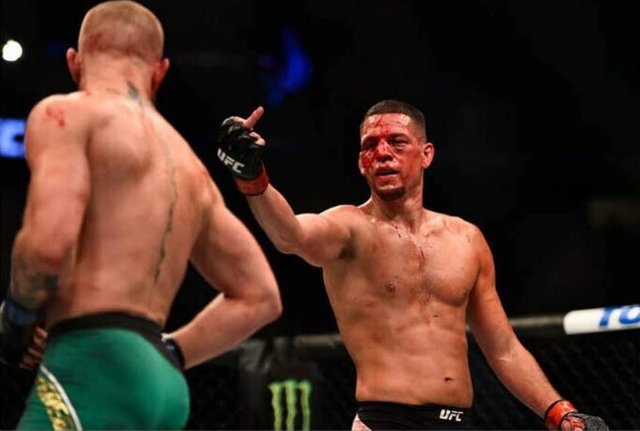 src
Nate Diaz has been a fan favorite ever since he called out and successfully embarrassed the biggest mouth in the sport. I think Diaz won the rematch as well but that wasn't the way the judges saw it. The last time Diaz fought was in the stupid BMF belt fight that ended not because Diaz couldn't continue but because he had a truly heinous gash below and above his right eye. Nate bleeds in almost every fight, this is nothing new and we can expect the same thing to happen this upcoming weekend.
Nate Diaz will be facing off against Leon "Eye Poke" Edwards in the middle of the main card. Many people consider this to be a main event as well and for the first time in UFC history a non-title, non-main-event bout is scheduled to be 5 rounds.

src
Now for one thing, I can't understand how these odds favor Edwards so much and am hopeful that it doesn't end up being another Edwards snoozefest. Leon is one of those guys that appears as though he is trying to not lose more than he is trying to win. In his last 12 fights (and I presume more, I didn't read back that far) Edwards does have an impressive win / loss ratio but all of his victories except for one have been by decision because the man evades his opponents rather than engages them. He wins on points rather than by impressing the crowd and frequently gets booed by the audience because of his tactics. He is also known to keep his opponents at a distance by extending his fingers and this results in eye pokes - the most recent of which resulted in the fight not being able to continue.
If you know anything about Nate Diaz, this is not the kind of fighting that he does and is a big part of the reason why he is a fan favorite despite having a load of losses in his repertoire. Just like "Ricky Bobby" in Talladega Nights, he either finishes first or crashes the car trying to do so.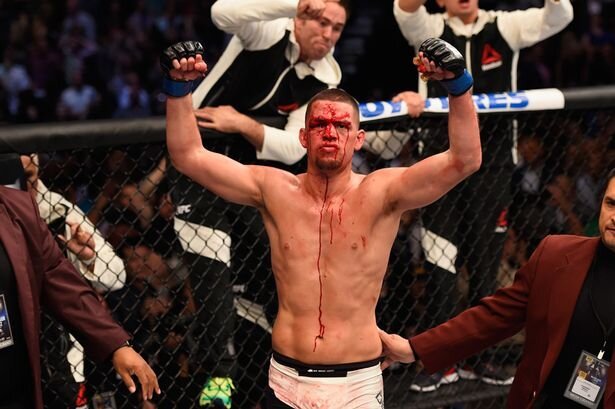 src
The Stockton slap is one of my favorite moves in UFC because it is just meant to aggravate his opponent and embarrass them into making mistakes, not necessarily hurt them.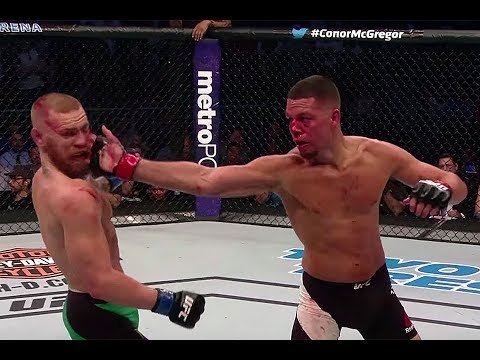 src
As far as I can see, there isn't anyone else in UFC that has a move like this and it makes his already entertaining fight style even more so. He also seems to have a limitless gas tank and I have never seen him ever get tired. His speed in later rounds is the same as at the start, he is just normally covered in blood by that point.
I can only imagine that the Vegas odds have Edwards favored by so much (-500 is a huge lead) is because everyone is expecting Edwards to run away the entire time and while I hope that isn't the case, it will probably be the case. I am very hopeful that Diaz' famous taunts will be able to get into the head of Edwards enough to make the guy actually engage rather than be constantly backpedaling.
For me, this is the biggest match on the cards this Saturday and if Edwards does do his usual run away and win on points strategy I hope that Diaz has enough in him to chase him down and pay for it anyway. I think that is there is anyone that is capable of this, it is probably Nate.
What do you think of this upcoming weekend's PPV?