Art Contest "I love Steemit!" by @ARTSteemit and @veta-less. Prize - 50 Steem!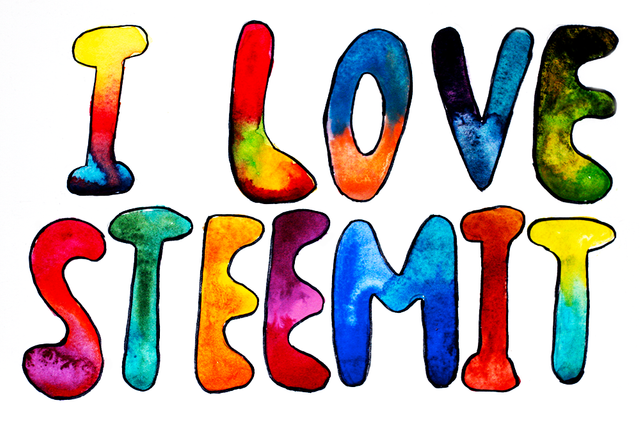 Hello friends!
A new creative contest in the Arsteemit community starts today. Let's declare our love for Steemit! For this contest, you need to write the phrase
I love Steemit!
In this contest, there will be no requirement for the number of words of the text. But you have to be very creative with the image of the phrase " I love Steemit!".
You can use a variety of materials: paper, fabric, ropes, cardboard boxes, stones, mosaics, and other materials. It could be anything. Even edible materials! You can also use collages to create your work! Let's show your imagination!!
Selfies with your art creativity are welcome!

By the way, if you want to write a declaration of love for Steemit, then there is a separate contest for this Steeming Community Weekly Mini-Contest: "Dear Steemit" 50 Steem Worth of Prizes from @steemingcuration

Rules

The post title should include "Art Contest "I love Steemit!"
The post must be written in the community ARTSteemit
Make a link in your post to the contest post
Step-by-step creation process
Upvote and repost of this post
Use tag #artsteemit
If you are creating a collage, then this should include elements of creativity (use photos with free copyright only! )
Any language
Links to your posts in the comments of this post
Repost this contest and your post to other social networks is welcome!

Prize

1st place - 20 Steem

2nd place - 15 Steem

3rd place - 10 Steem

4th place - 5 Steem

Author's sympathy for 1 Steem

The contest starts on May 8 and ends on May 23 at 23:59 Moscow time.

---

Привет друзья!

Сегодня стартует новый творческий конкурс в сообществе Arsteemit. Признаемся в любви к Steemit! Для этого конкурса вам нужно написать фразу

I love Steemit!

В этом конкурсе не будет требований к количеству слов текста. Но вы должны быть очень креативными с изображением фразы «Я люблю Steemit!». Вы можете использовать самые разные материалы: бумагу, ткань, веревки, картонные коробки, камни, мозаику и другие материалы. Это могло быть что угодно. Даже съедобные материалы! Вы также можете использовать коллажи для создания своих работ! Проявим фантазию !!

Селфи с вашим художественным творчеством приветствуются!

Правила

В заголовке сообщения должно быть указано «Art Contest "I love Steemit!"
Пост должен быть написан в сообществе ARTSteemit
Сделайте ссылку в своем посте на пост конкурса
Покажите пошаговый процесс создания
Проголосовать и сделать репост этого сообщения
Используйте тег #artsteemit
Если вы создаете коллаж, то он должен включать элементы творчества (используйте только фотографии со свободными авторскими правами!)
Пост может быть написан на любом языке
Ссылки на ваши посты в комментариях к этому посту
Репост данного конкурса и своего поста в другие социальные сети приветствуется!

Приз

1 место - 20 Стимов

2 место - 15 Стимов

3 место - 10 Стимов

4 место - 5 Стимов

Авторские симпатии по 1 Стиму

Конкурс стартует 8 мая и завершится 23 мая в 23:59 по московскому времени.

I invite our team of curators to support this contest @steemitblog, @steemcurator01, @steemcurator02, @steemingcurators

I ask for informational support of the curators of national communities:

Cameroon (@njiatanga, @saxopedia), Ghana (@njaywan, @oppongk), Nigeria (@focusnow, @bright-obias, @whitestallion), Uganda (@yohan2on), Mexico (@leveuf), Argentina (@belenguerra, @fendit), Venezuela (@adeljose, @anasuleidy, @edlili24, @mariita52, @tocho2, @albenis, @inspiracion, @wilmer1988), Bangladesh (@rex-sumon, @tarpan, @toufiq777), India (@neerajkr03, @rishabh99946, @sapwood), Indonesia (@anroja, @ernaerningsih, @nazarul, @radjasalman), Japan (@cryptokannon), Pakistan (@rashid001), Sri Lanka (@besticofinder, @randulakoralage), Italy (@girolamomarotta), Russia (@filinpaul), Turkey (@alikoc07), and New Zealand (@kiwiscanfly).

Cheers

Veta