Guava fruit from my friend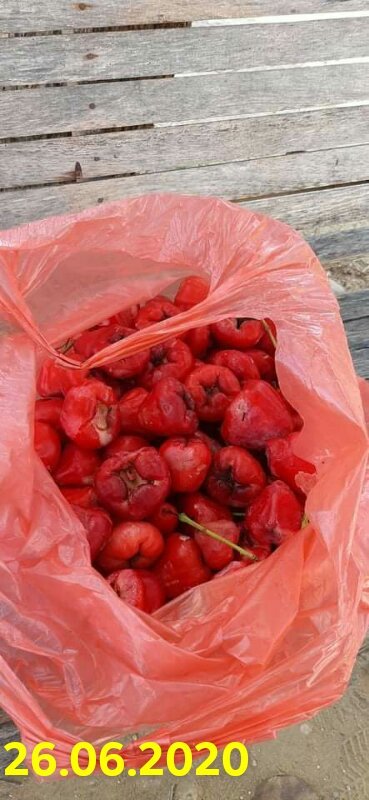 This morning I went to a friend's house for a purpose. Apparently there were many red guava fruit that she had harvested yesterday. The fruitsare very tempting my taste. The red color is so arousing my appetite. I really want to eat it. .Moreover, eaten with a very spicy salad seasoning must be very delicious.
Tadi pagi saya pergi ke rumah teman untuk suatu keperluan. Rupanya di rumahnya banyak terdapat buah jambu merah yang dipanennya kemarin. Tampilan jambu tersebut sangat menggoda selera saya. Warna merahnya begitu membangkitkan selera makan saya.Saya ingin sekali memakannya. Apalagi dimakan dengan bumbu rujak yang sangat pedas. Pasti nikmat sekali.
Without asking her, she gave me the fruits. When I said goodbye to go home, my friend immediately gave me a plastic bag of guava. I am very happy and grateful to her. I immediately brought it home for eating it.
Tanpa saya minta rupanya teman saya ingin memberikan kepada saya. Ketika saya pamit ingin pulang, teman saya segera memberikan saya sekantong plastik buah jambu merah tersebut. Saya sangat gembira dan berterima kasih kepadanya. Segera saya bawa pulang ke rumah untuk saya makan.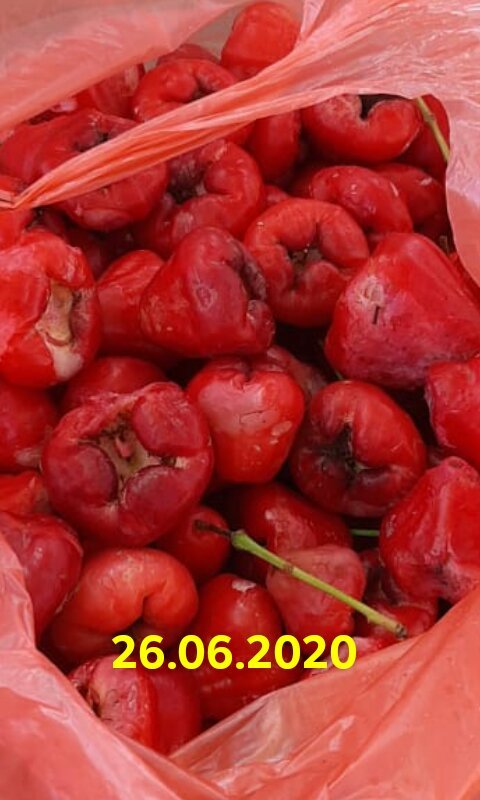 Guava fruit contains many vitamin C. Besides being eaten with herbs, I also like to eat guava fruit with salt and cayenne pepper. Guava contains a lot of fiber and is very good for our digestion. For someone who is often constipated it is recommended to eat guava fruit. In my area, Aceh often found guava trees. But once in my house I don't plant guava trees. This is due to my narrow home yard. When the guava season arrives, guana fruit is sold in many traditional markets . It tastes sour and some is sweet. .That all my post this time. Cheers
Buah jambu banyak mengandung vitamin C. Disamping dimakan dengan bumbu, saya juga suka memakan buah jambu dengan garam dan cabe rawit. Buah jambu banyak mengandung serat dan sangat bagus untuk pencernaan kita. Bagi seseorang yang sering sembelit sangat dianjurkan untuk memakan buah jambu. Di daerah saya , Aceh banyak dijumpai pohon jambu. Namun begitu di rumah saya tidak saya tanami pohonJambu. Hal ini disebabkan halaman rumah saya yang sempit. Bila musim buah jambu tiba, maka di pasar-pasar tradisional banyak dijual buah jambu. Rasanya ada yang asam dan ada yang manis. Sekian postingan saya kali ini. Cheers.