The Amount I Spent On My Education And How I Managed To Pay For My Education
A very big thank you to @rishabh99946 for organising the contest which state:
( How much do you pay for your education?How do you manage to pay? )
This has given me the opportunity to share my my school experience with this honourable platform.This will help others to know much about schools they have little knowledge of and can also help those who will like to go to this institutions to know the amount they are paying there so that they can prepare very well for it.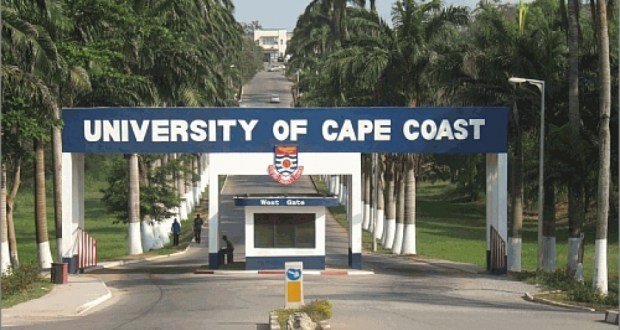 source
The name of my school is University Of Cape Coast.This school is in West Africa,Ghana inside Cape Coast,Western Region.I baught University Of Cape Coast forms for GHS200 in Jenuary 2018 and gained admission into the school to study psychology in September 2018.It wasn't easy for me in raising the GHS200 i used to buy the school form but i managed to raised it by taking a contract of two and halve acres of land from my landlord.The agreement was to weed the two and halve acres of land for GHS200.It was'nt easy for me to finished the work but i did it.It took me one week two days to finished weeding the farmland.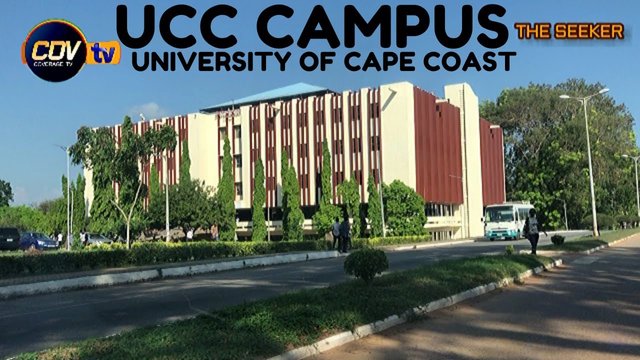 By september 2018,i started the school at level three hundred.I started level three hundred because i applied with my diploma certificate.It was'nt easy for me to pay for my fees but i managed to pay.The admission for the first year was GHS2380 which were suppose to be paid before someone can be enrolled in the school.All my friends were managed to pay it by September but i could'nt raised money that moment to pay for my admission.All my friends thaught i can not make it to school that year because the deadline for the admission was almost up.
I went to many places including friends and some family members to borrow some money to pay for the admission but all to no avail.I called one of my friend from Brong Ahafo Region to see if he can get any job at her place for me to work so that i can raise some money to pay for my education.My friend told me that there is a work at the place but is a very difficult one and he don't think i can do it.I told him with my condition now, i can do any work in no mater how hard the work may be.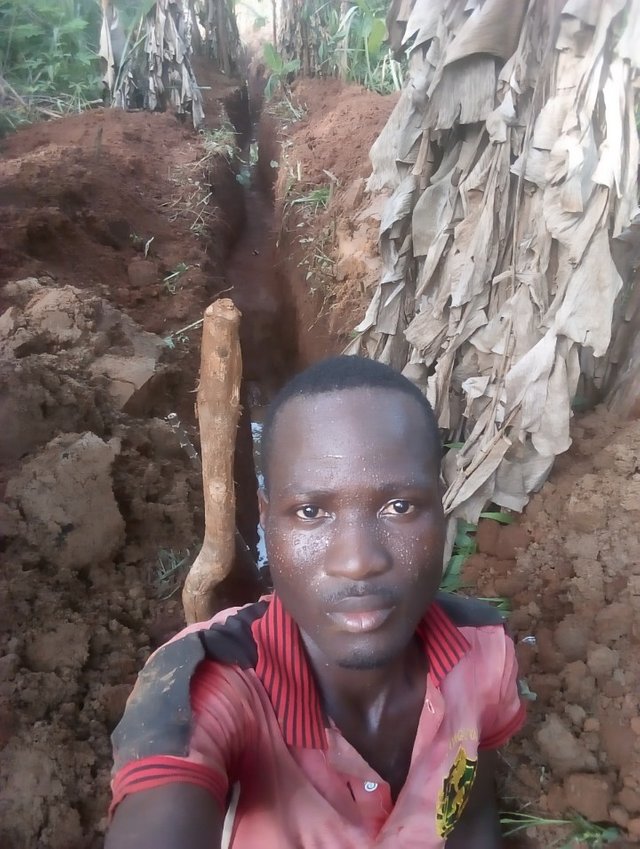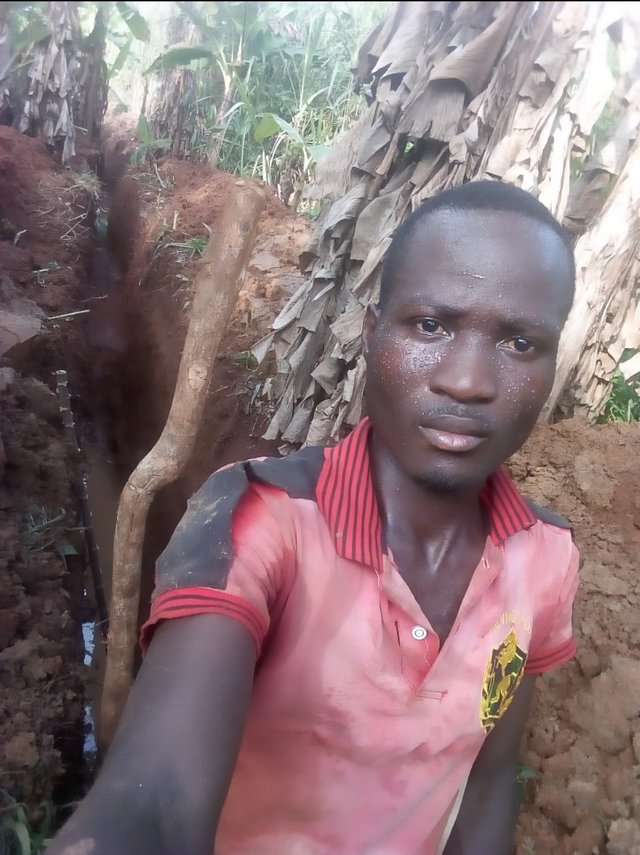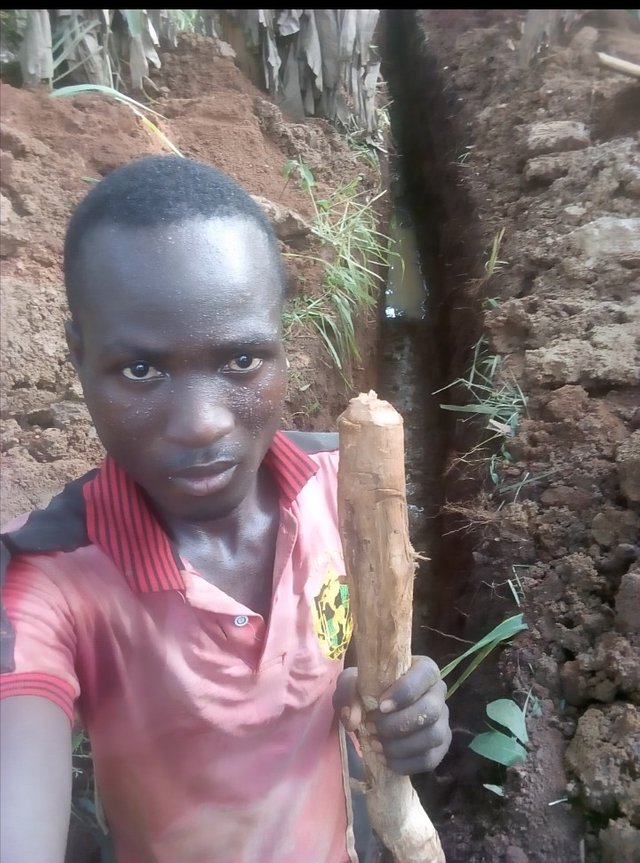 ( @elliamor one working to raise money for his fees )
I went to Brong -Ahafo Region to my friend the following day to see the work he said about. I got there at 12pm in the afternoon so my friend told me to rest for the day because it was already late for the day but i insisted we should go and see the work.He took me to the site to see the foreman.When we got there,I saw the workers digging trench very deep in the ground.We went to the foreman and he told me the work is available if only i can work.He said is a very hard work even many people came and ran away.He told me that,the work is for a telecommunication company which want to lay their cabble under ground.He sead the depth of the trench must be four feet tall.He said that when they measure ten meters long and four feet down, the amount is GHS100.The foreman provided me with the Pick axe and shavel to start work.
I started the work at that moment though it was not easy for me but i said to myself that i have to do it with all cost.We used pickaxe and shavel to do the work by digging with the pickaxe and fetched the sand with the shavel.I could'nt finished the ten meters that so i continued with it the following day.I used three weeks to finished with 280 meters. we pulled the cable in the whole trench we dug and cover everything with the dug sand before we were paid.Everyone covered the trench he dug.The 280 meters gave me GHS2800 since every ten meters was GHS100.
Though the work was dificult for me to do but with determination i was able to do it.I said to my self that i will go to school that year with all cost and i made.I came back home with the money but i was told the admission is closed and they were about to have the semester examination.But fortunately for me,i was told by the school authority to go to the bank and pay to the school account.But they told me to study very hard because it left with two weeks for the first semester quize.I went and paid the GHS2380 and was admited into the school.I used the remaining money to buy myself handout and other necessary things for myself.The school was close to where my friend is staying so i did not stayed in the school hostel.
It was'nt easy for me to catch up with my colleagues but i tried hard and learned to pass my quize.When we finished with the level three hundred,i whent back to my friend in the Brong-Ahafo Region to do the work i did the last time to raised the money for my admission.By God's grace i was able to raised the money and paid for the final year fees.
I will used this opportunity to tell everyone that no matter how difficult the situation you may found yourself in, with determination you can overcome it.I was not having any one to assist me in my education but i said to myself that with all cost i have to raise the money and go to school.With determination and God by myself,i was able to do it.
Thanks to @rishabh99946 for organising this contest which gave me the opportunity to shared my experience in my school life.