WEEKLY CONTEST #1 || INTRODUCING YOURSELF WITH A UNIQUE STYLE IN THE STEEMIT NETWORK COMMUNITY || 12 Steem Prizes From the COMMUNITY for Winners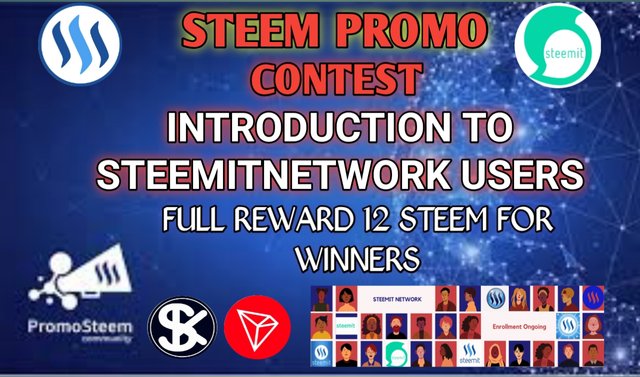 Contest Title
INTRODUCING YOURSELF WITH A UNIQUE STYLE IN THE STEEMIT NETWORK COMMUNITY
Hello all STEEMIT friends, Last week I held a Contest which went well, and have distributed some prizes to make the Contest more interesting.
On this day the #SteemitNetwork Community will conduct a weekly Contest, where all friends MUST INTRODUCE YOURSELF IN THIS COMMUNITY UNIQUE in the open and promote STEEMIT, We will take the Winner with the Uniqueness.
And I really believe that friends have extraordinary creativity in displaying high-quality content.
---
RULES THAT FRIENDS MUST FOLLOW WELL;
Appreciate this post again
Make sure you write at least 250 words in your post
Take your picture in the outdoors and while Promoting STEEMIT
Use Tags: #Promo-steem #steemexclusive #steemit-network, #contest, Country Name ( #venezuela, #pakistan or #indonesia)
*Links to posts of your entries should be commented below this post.
And Make Sure Your Entries must be shared in the #SteemitNetwork community
Your post must be your own and original, No Plagiarism
Give the vote value you have 50% for this contest.
Give 10% of the post results for the progress of the community.
Link your friends at least 3 participants to take part in this contest, and make sure they participate well, more value for you.
Link the names @gorllara, @msharif, @lingkar-photo and @radoan. to meet you
---
End Time: 23:59 July 17 (GMT+6)
---
PRIZE SYSTEM
| RANK | PRIZES |
| --- | --- |
| RANK 1 | 3.5 STEEM |
| RANK 2 | 3 STEEM |
| RANK 3 | 2,5 STEEM |
| RANK 4 | 2 STEEM |
| RANK 5 | 1 STEEM |
WINNING PRIZES SENT BY THE #STEEMIT-NETWORK COMMUNITY.
https://steemit.com/@steemit-network
Support us by delegating your STEEM POWER for the betterment of the community and with you.
20SP | 50SP |100SP |250SP |500SP
cc:-
@steemitblog
@pennsif
@stephenkendal