Always, Safety First
3-11-2020
Johnson Lake
Johnson Lake is a year round recreational site for the area I live in. The camping spots are not plowed, the picnic tables not cleared, the barbecue stands not dusted off, but it is still a year round place to play. It is a lake, and lakes do have water, and people do fall in the water, boats capsize, and fishing holes can get big.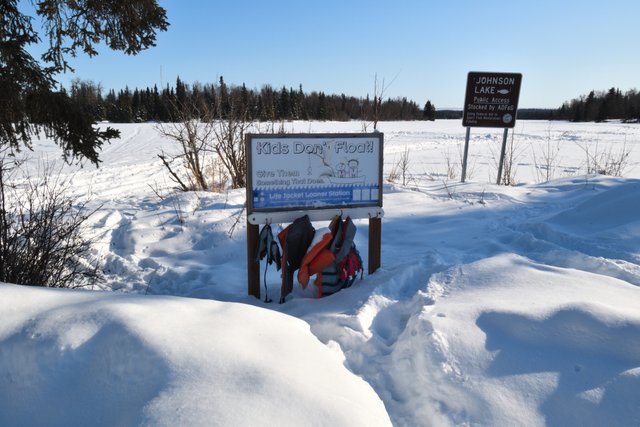 The road to the lake is plowed, the parking area to the lake is plowed, and as you can see the life saving vest have a path beaten to them. I don't know if people use them, they seem to always be there, but they are there should anyone decide they need to protect themselves a little bit or their precious children.
It was a very cold day today. I had thought and hoped we were done with the single digits, and I was pretty sure we were done with the minus digits, it is after-all almost mid March. Alas we are having a last freezing blast. I woke up this morning and it did feel a little chilly in the house, After getting my phone turned on I had to reload the temperature to get the most current and it was, as it showed, minus 6 degrees Fahrenheit.
By 3:25 this afternoon, (that's when this picture was taken), it had warmed up to 20 degrees. We have just the softest breeze today while out there, maybe 3 miles per hour at the most, hardly enough to move the smallest tree branches, but it made it feel very very cold.
This was a hand held1 shot, (to cold to futz with the tripod, plus it was at home), ISO of 125, f-stop of f/25, and exposure time of 1/100 second. It was cold and I did not dally to long as I wanted to get a few snap shots from out on the frozen lake to use in a later post maybe.

I am not a super frequent poster, I do however believe in the community system, and am trying to support them as they support us. i hope more people embrace the community system and make a post every now and then in the various communities we have available.
Edit:1 help to hand