GANADOR 3er Concurso Predicciones de Partidos de Fútbol [Esp]– WINNER 3rd Contest Football Match Predictions [Eng]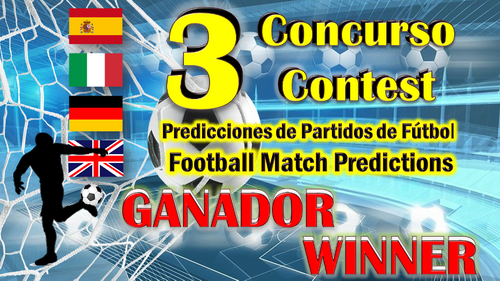 Fuente-Source: Arte final @marcybetancourt / Final art @marcybetancourt
*
ESPAÑOL
Hola amigos del fútbol. El 3er Concurso de Predicciones del Fútbol tiene resultados asombrosos!

El pasado fin de semana viví una las mejores jornadas de partidos de fútbol. Las predicciones estuvieron increíbles y 4 competidores lucharon hasta el final para ganar: @sumanthp, @torrealba2719, @tanhunter254 y @rogegonz. Finalmente, 1 fue el ganador.
Les recuerdo que hicimos el concurso de predicciones para los partidos de cuatro Ligas Europeas: La Liga española, la Serie A italiana, la Bundesliga alemana y la Premier League de Inglaterra, que se realizaron el sábado 27 de febrero y el domingo 28 de febrero.
Las predicciones tienen la peculiaridad de combinar los conocimientos del fútbol con la suerte. Para la jornada que pasó los clubes Bayern, Manchester City y Tottenham sumaron puntos para todos los fans. Mientras, que la Serie A de Italia, en general, causaron daño a todas las predicciones, principalmente el club Lazio.
La jornada estuvo pareja desde muchos puntos de vista. Pero, hubo grandes sorpresas como el club Bolonia que le ganó al Lazio, el club Augsburgo que le ganó al club Mainz 05, y el club Friburgo que le ganó al club Leverkusen.
En total se podían conseguir 112 puntos.
Deseo que revisen la tabla de resultados. Si hubo error humano de mi parte, por favor indíquelo en la caja de comentarios de esta publicación para hacer las correcciones. Si todo está correcto, mañana haré la transferencia para el ganador. Los cálculos se hicieron a través de tres métodos diferentes y estos son sus resultados.
Pero primero vamos a ver cuáles fueron los resultados de los juegos.

ENGLISH
Hello football friends. The 3rd Football Prediction Contest has amazing results!

Last weekend I experienced one of the best days of football games ever. The predictions were amazing, and 4 competitors fought to the end to win. @sumanthp, @torrealba2719, @tanhunter254, and @rogegonz. Finally, 1 was the winner.
I remind you that we held the predictions contest for the matches of four European Leagues: the Spanish La Liga, the Italian Serie A, the German Bundesliga and the English Premier League, which took place on Saturday, February 27 and Sunday, February 28.
The predictions have the peculiarity of combining football knowledge with good luck. For the day that passed the clubs Bayern, Manchester City, and Tottenham added points for all the fans. While Italy's Serie A, in general, caused damage to all predictions, mainly the club Lazio.
The day was even from many points of view. But, there were big surprises such as Bologna club winning against Lazio, Augsburg club winning against Mainz 05 club, and Freiburg club winning against Leverkusen club.
In total 112 points could be achieved.
I would like you to review the results table. If there was human error on my part, please indicate it in the comment box of this post to make corrections. If everything is correct, I will make the transfer for the winner tomorrow. The calculations were done through three different methods, and these are their results.
But first let's see the results of the matches.


La Liga                                                       Serie A
| Equipo Team | Marcador Goals | Equipo Team | Equipo Team | Marcador Goals | Equipo Team |
| --- | --- | --- | --- | --- | --- |
| Sevilla | 0-2 | Barcelona | Spezia | 2-2 | Parma |
| Getafe | 3-0 | Valencia | Bolonia | 2-0 | Lazio |
| Granada | 2-1 | Elche | Crotone | 0-2 | Cagliari |
| Villarreal | 0-2 | Atlético Madrid | Roma | 1-2 | Milan |


           Bundesliga                                         Premier League
| Equipo Team | Marcador Goals | Equipo Team | Equipo Team | Marcador Goals | Equipo Team |
| --- | --- | --- | --- | --- | --- |
| Bayern | 5-1 | Colonia | Manchester City | 2-1 | West Ham |
| Leipzig | 3-2 | Mönchen gladbach | Leeds | 0-1 | Aston Villa |
| Mainz 05 | 0-1 | Augsburgo | Tottenham | 4-0 | Burnley |
| Leverkusen | 1-2 | Friburgo | Chelsea | 0-0 | Manchester United |


GANADOR - WINNER
---
Enhorabuena para el Ganador
Congratulations to the Winner


Espero que se hayan divertido. Me gustaría saber si les gusta este concurso de predicciones para volver a jugar en los partidos del sábado 13 de marzo y domingo 14 de marzo.
I hope you had fun. I would like to know if you like this prediction contest to play again in the games of Saturday March 13 and Sunday March 14.
¡Saludos para todos! - Greetings to everyone!


cc:
• @njaywan
• @worldoffootball
• @steemcurator01
• @steemcurator02