WORLD OF FOOTBALL - Introduction Post & Guidelines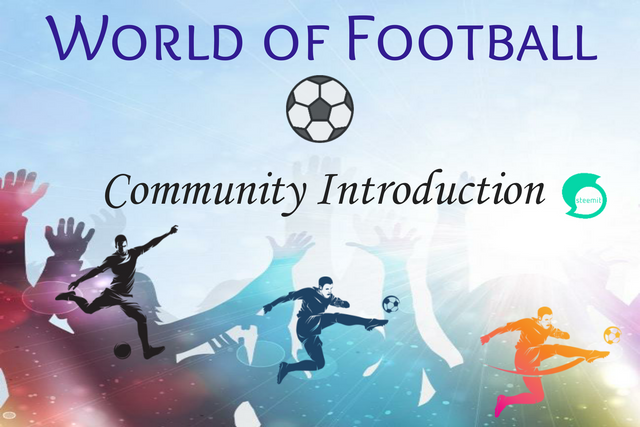 Welcome to our World Of Football Community
This is a fresh community for all football fans here on steemit.
We have now created a safe space for you to pour out your thoughts on anything related to the football world. You can expect to see posts covering;
Many major leagues
Latest transfer deals and signings
News on your favorite club
International matches, etc
We hope to see discussions on matches, fixtures, football events and so on. History of favorite clubs, analysis on upcoming matches, healthy criticism on played matches, etc are highly encouraged.
Rules
Here are some ground rules but not limited to these;
Observe Content etiquette
We detest plagiarism of any kind. All posts must be original else sources must be properly cited.

Post Materials Related to Football
This community is specifically for football related posts. Desist from posting any other materials here.

No Abuse Of Any Kind
We would hate to see any abusive comments or attacks here in this community. We know how intense football discussions can get and plead with all to respect one another. As our football players bend the knee before every match in an effort to fight racism, we would hate to see any racist posts here as well.
No Language Barrier
Football resonates in the hearts and minds of people across the world. As such posts can be in any language. The use of translators such as google translate is highly encouraged amongst members.
Leagues
We don't have any specific league preference. All leagues are important and highly welcome here in this community so feel free to be as creative as you would like.
Contests
Expect to see some amazing contests in this community very soon. We hope to build tons of engagement here in this community and what better way to do that than some awesome contests.
Recruitments
Be sure to recruit many people to join in on the football conversations we will be having to foster engagement.
I would like to thank @steemcurator01 for suggesting the creation of this community.
Country Representatives are invited to translate this into their various languages.
Ghana (@oppongk), Nigeria (@beautychicks, @focusnow), Uganda (@yohan2on), Venezuela (@anasuleidy, @mariita52, @tocho2, @edlili24), Bangladesh (@tarpan, @toufiq777), India (@sapwood , @neerajkr03), Indonesia (@anroja, @ernaerningsih, @radjasalman), Japan (@cryptokannon), Pakistan (@rashid001), Sri Lanka (@randulakoralage, @besticofinder), Ukraine (@alexmove, @olesia, @antorv) and New Zealand (@kiwiscanfly), Russia (@knopka145), Argentina (@fendit, @belenguerra), Cameroon (@njiatanga)
Let the fun Begin!!!