INTRODUCING "THE LEAGUE TALK" - LIVE ACTION FOOTBALL DISCUSSIONS
---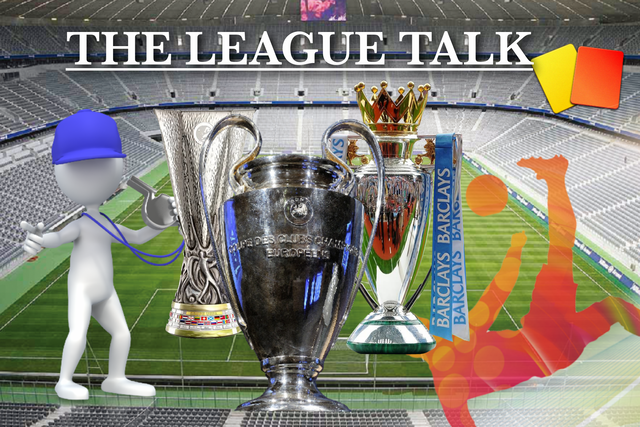 ---
WHY THIS INITIATIVE?
Football would not be the most popular sport on earth without its huge fanbase. It is therefore the various discussions and banters that make the game of football much more enjoyable. There are many people trooping into our community but only a few are posting contents other than the weekly contests we present. This is therefore an all inclusive platform for all to "talk" about the beautiful game we all love.
We also thought to bring this program due to the outcomes of matches we are currently witnessing. It looks as if the tables are turning amongst many major leagues in the world. Last week, Bayern Munchen lost 4-1 to Hoffenheim in the German Bundesliga, while Man City lost 5-2 to Leicester City. It did not end there. This week, many football fans were totally verklempt by some very rare outcomes. Liverpool lost 7-2 to Aston Villa and Manchester United lost 6-1 to Tottenham Hotspurs. All these might be worth a discussion.
The league talk is not just limited to the above, other leagues such as the Mexican Liga MX, the Spanish La Liga, Venezuelan Primera Division, Turkish Super Lig, etc are all welcome.
WHAT WE HOPE TO ACHIEVE WITH THIS
We expect to see many awesome engagement on this thread. We would like for this to be the official chatroom for our community on the various happening of football that might be ideal for a comment.

Also, it is always very appalling to see great posts with zero comments. We hope that this initiative will enable members develop a stronger connection and will attract users to visit each other's posts.

We also hope members will get great ideas for their posts here as well.
For now, we would be allotting 3 slots for the most interesting comments we see for our weekly top ten posts. This is bound to foster engagement here in our community and encourage content creators to put out more great content.
We would be giving honorary mentions to two of the top commenters we see within the week here on our league talk program. If you appear on the list 5 times, you would proceed to the next rank and receive the "verified mark" (Member☑) within our community.
Our golden rules still stand;
Observe Content Etiquette
Post materials related to football
No abuse of any kind
cc:
THANK YOU!

---
JOIN US ON DISCORD
https://discord.gg/sD8tTJ
---
---

Join our World Of Football Community
---
Delegate to our Community through the following links:
50SP
100
250
500
1000
5000
---