Dual Splinter Crossover Life + Death Card
First off, this is just a fan / player idea, and no official announcement of dual splinter crossover cards have been made. However, I think the inclusion of dual splinter cards would eventually make sense. Having monster cards that could be played under summoners of multiple splinters would add variety. Another idea would be summoners that could cast monsters from two splinters similar to the Dragon summoners now. These cards would fit well with the promotion category.
In looking at dual splinters, there are the contrasting opposite splinters such as Fire/Water and Death/Life and the complementing splinters like Earth/Life or Death/Fire. For my first dual splinter card design idea, I chose the most obvious opposites in Life/Death.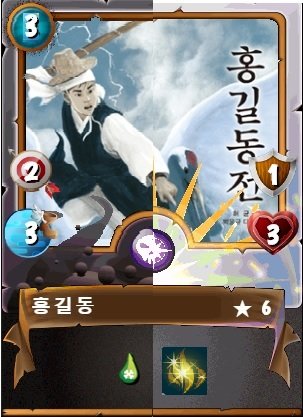 Ignoring my horrible photoshop skills, the card is a 3 mana epic with 2 range, 3 health, poison and cleanse at max level 6. I think including poison fits in very well with the death theme, while cleanse coincides with life and will be heavily utilized after Mimosa Nightshade.
Finally, I named the card after the Korean outlaw Hong Gil-dong (홍길동) who was a champion of the common people similar to Robin Hood. I think promotional cards could be titled in other languages besides English, especially since it is a global game. One of the largest target gamer markets is South Korea, so I think it makes sense they have some cards designed with their players in mind.
Let me know what you think? Too powerful? Bad idea to have cross over splinter cards? Should we have foreign language or multi-language cards? Thank you!