Steem Sri Lanka - Contest Series | Round 02 | Week 03 - Art & Craft Contest
Hello everyone!! 👋
Hope you all are doing well. As you all know Steem Sri Lanka Community is organizing a series of weekly contests hosted by Sri Lankan Steemians. The contests are open to everyone!! 🤗
@sandupi
gave a good start for the round 02 and last week contest hosted by
@madhumunasinghe
. They nicely did it and a big clap from me. This is the 3rd week of round 02. So Today I'm thrilled to announce a Art & Craft Contest for you all as the third contest of the round 02. It's all about your creativity. 🙊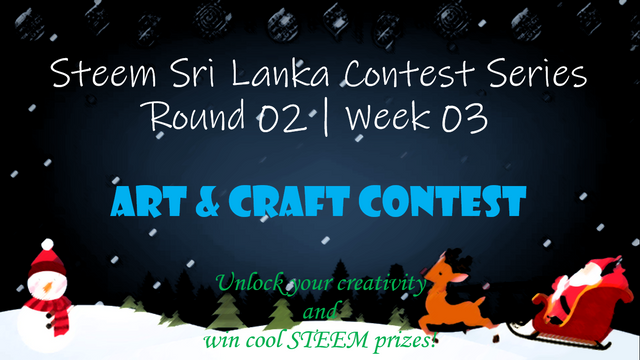 Let's get festive!


Well, December's almost here and the time for festive cheer! Christmas and new year lights are in the street waiting to be lighted. You know what time is it? It's time to create your seasonal Arts & Crafts. 💫
Are you ready to share your creative ideas with us?
The guidelines are just simple as follows. 👇
---
Guidelines



All entries must be your original work.
You have to create a craft to celebrate Christmas or to welcome the New year 2021. (e.g.: Christmas trees, hand made new year crafts and etc)


Or


You have to create a greeting card for Christmas or New year with your own art drawing.
You can use natural materials, kitchen wastes, recycling materials and anything can easily found by you.
(e.g.: Piece of clothes, papers, seeds, sand, sea shells, coconut husks, buttons and etc)
You must put a entry with explaining how would you create it step by step.
The post must be a minimum of 300 words.
The post include your own photographs and minimum of 3.
You must put a creative title for your entry as follows.
Steem Sri Lanka - Contest Series | Round 02 | Week 03 - Art & Craft Contest : Your own title
The post must include #artandcraft tag as one of the first five tags - ideally the first one.
The post must also include a # tag to identify your country.
Make sure you make put your entry in Steem Sri Lanka Community.
---
Prizes



There will be selected top 5 entries at the end of the contest and will receive prizes as follows.
1st prize - 10 STEEM
2nd prize - 8 STEEM
3rd prize - 5 STEEM
4th prize - 3 STEEM
5th prize - 2 STEEM
prize of 1 STEEM for each participant!
Glad to announce that you will have offered new additional prizes for first five places from @steemcurator02 (4M SP)...
1st = 50% upvote
2nd = 40% upvote
3rd = 30% upvote
4th = 20% upvote
5th = 10% upvote
These votes will be increased by 10% if the posts are set to Power Up 100% (and they are not powering down at the same time).
---
Judging Criteria



Creativity
Novelty
Use of nature friendly materials
Relevance
Presentation
Content
---
Winners Notification



Winners will be notified before December 19, 2020.
---
Please note : Open for entries until December 12, 2020.


---
I hope all the guidelines are clear and understand. Now open for entries and hope you will be joining in... 😃
I am so happy to take part in "We Love Contest" concept of @steemcurator01 and @steemitblog.
Stay creative!❤️