Monthly Review - Steemit Sri Lanka
Sri Lanka is a growing community in Steemit now. The aim of this review is to recall what we did as a community during the past month and to give a hint about upcoming projects.
1. Steem Sri Lanka Contest Series
Every project has a meaning. This project is launched to give the opportunity to any member from Sri Lanka to host a contest. Some are afraid to initiate their own dream contests because of lack of assistance and experience. As a country representative, it is my job to assist them and provide them with resources and knowledge to go forward.


The first two weeks of the contest went well. @anusha96 and @sandupi published their dream contests. @neerajkr03 sponsored anusha96 with 16 STEEM and for sandupi I provided the remaining STEEM she needs.
For week three @sandu will host the contest and thereafter another member is getting ready.
So if you are so excited to organize a meaningful contest, just comment me and I will give further assistance. If you don't have STEEM or SBD for prizes due for a reasonable reason, I will try to do my best to find your prizes. One rule, the contests must be hosted in Steem Sri Lanka community.
The current challenge we have here is promoting contests. But I will arrange a different mechanism from the next contest to have more attention. Even though there are many contests in steemit, very few people attempt them. Why?🤔
2. Steemit Sri Lanka Top Picks
This is not a project, but a responsibility to attaining value for the effort of members. It is my pleasure to see everyone who works hard, is getting good rewards up to quality.

Quality?
Quality matters, I am interested in it. I am working hard with a few of my personally known members about this matter. My focus is to join all Sri Lankan members in improving content quality within the community. @steemcurator01 I need your advice on this to arrange next project. What makes a post perfect?
For the weekly top picks, I consider 2 things. First, prioritize newcomers' good content within the community. Second, other extraordinary contents. It's limited to 5 posts for now. After publishing last week's top picks I saw member's enthusiasm is increased.
There is no force to anyone to must post all your posts here, but just join and try to improve yourself.
---
3. Our Members are So Active!
I love them. Even though the community is small, members are so active everywhere.
Music for Steem
She was hidden for her last 2 months.

@sandupi
is busy with her job as a Quantity Surveyor but we should appreciate her for representing Sri Lanka in Music for Steem
World of Cricket
I like cricket but the worst cricket lover.
@damithudaya
doing a great job there with Tarpan and Sumon to keep that wonderful community active.

Damith also won first place in spud4steem and many other contests.
Italy Game
As a CR and POD member
@besticofinder
working hard in all curation work as well as supporting community members. He actively supported
#italygame
by
@girolamomarotta
and
@famigliacurione
. It is a positive sign, that working with other communities.

More than that all members are actively engaged in contests by @steemblog and others. I want to give my thank for the work all you are doing.
---
What Come Next
The next project will launch tomorrow as an extension to weekly top picks. Just a hit 😊
Thanks again for all your support.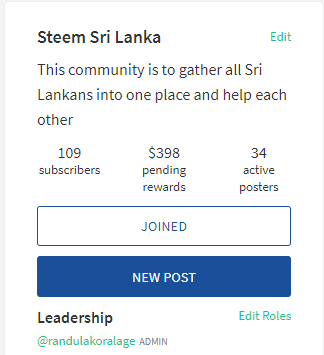 All active members: @besticofinder, @goldcoin, @madushanka, @randulakoralage, @theshaki, @anusha96, @dinoli, @sandu, @randula99, @dilshan96 , @yohank, @kazz89, @pusidu, @sandupi, @chamaranuwan, @pubuduneranjan, @sameera96, @sridhara, @kalpa-sameera, @vishwara, @sathsara93, @inudi, @dilinitharika, @praveenw96, @foxicoreviews