Steem Sri Lanka | Contest Series | Round 2 | Week 5 | Secrets of Success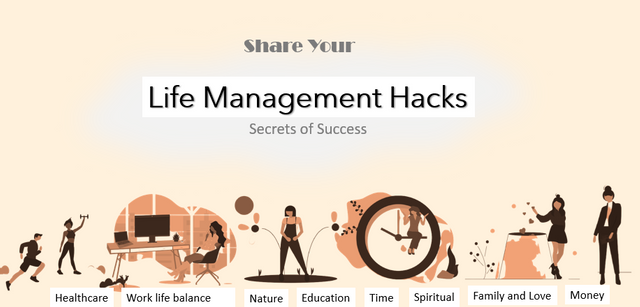 Introduction
This time, I thought to give you an opportunity to talk about your life management hacks. No matter what is your status in life, all you have different ways of managing your life which helps you to climb the ladder of success.
Let me help you by giving some areas,
The way you save money
The way you manage time
How you stay happy
How you keep work-life balance
Are you using any spiritual power
How you organize your works
How you go up as an entrepreneur
How you became an extraordinary student
How you stay healthy and fit
How you control your feelings
How did you get rid of any addition etc..
---
What You Have To Do
Write an article, describing life management tricks, you are using in your real life.
You can talk under any section given above. And also you are free to add any other areas that coming into your mind.
Use at least 3 things which is useful to others.
---
You Can Include
A description of the life management hack.
Stories behind it (how you learned this trick, who inspired you etc)
Advantages you had due to following it
Any tools you are using, let us know their names with a screenshot (timetable tools, to-do list tools, money management tools, maybe AI assistant tools)
Anything you need suggestions from others. (how to get rid of the addiction, how to go for a high grade)
---
Rules
All entries must be your original

Your entry must be at least 300 words

Make sure you make your entry in Steem Sri Lanka community.

The post must include the #secretsofsuccess tag as one of the first five tags

You can include your own photos, app screenshots, drawings, charts, graphics or free images

The title of your post must be,
Steem Sri Lanka - Contest Series | Round 02 | Week 05 – My Secrets of Success: Your own title

One person can post only one entry for the contest

Any plagiarism attempt will make you ban from the contest
📎I Motivate You To Do An Extraordinary Creative Entry To Increase the Probability of Winning
---
Post your entries before 8.00 p.m on 26th of December, 2020 Sri Lanka time.
---
Prizes
I am selecting 10 Places.
Please engage with other participants by voting and commenting. Constructive comments will be voted by @steem-sri.lanka community curator
---
Evaluation Criteria
The usefulness of your tricks and novelty
Way you present
The impression you make by engaging with others
---
You all Welcome