Steem Sri Lanka Ice Breaking Comment Contest | My Pet| Week - 02 | 5% for SL Charity 🤠🤠🤠
Hello steemians!
It is the 2nd week of our contest. From 1st week, I realized that many of us like to travel. It is a nice explosion of your ice mode as we expect. Pleasure to see that there were so many participants from the each corner of the world. Let's figure out about the week -02 of this contest.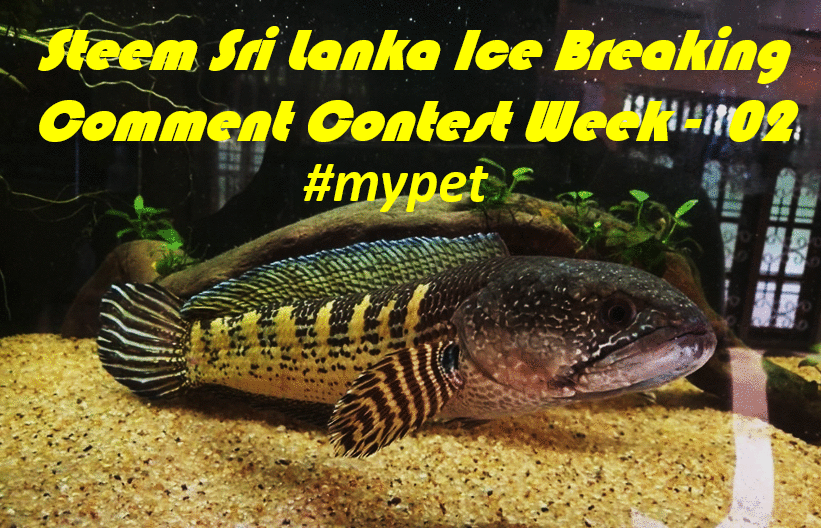 With this covid-19 pandemic most people are staying at home and doing their day to day work. Thanks to that you can spend all the day with your family. I can assure that there is one special member in your family, whom you love mostly… whom you share your thoughts…Who is with you at the happiness and sadness. Let me guess…. I think it is your pet. So in this week we can see nice photographs about your pet. Since many of us having or had pets, this will be very easy and popular topic for you.
What you have to do is to write small description about it and comment to this post. Inviting you all to participate for your pet and enjoy this contest.

These are the simple guidelines🧐🧐🧐
Just upload a photo of your pet and write few words as a comment to this post. You can add up to max 3 photos.

All photos must belonged to you or must be taken by you.

Photos with your pet are welcome and it must be clear enough to recognize.

You must write about 20 - 50 words about your pet. You can write about name / pet name, how did you find, gender, age and unforgettable memories with it.

Prizes for winners😎😎😎
There will be selected top 10 winners and will receive 1 STEEM for each and every winner.
Other than that Steem Sri Lanka upvotes will be received for the best four places as follows.
1st place - 40%
2nd place - 30%
3rd place - 20%
4th place - 10%

Winners notification😉😉😉
Winners will be notified before July 11, 2021.

Please note : The contest will be closed on July 08, 2021 at 4 pm in Sri Lankan time.
I think you will not be miss this opportunity....😍😍😍
I'm waiting for your comments...😜😜😜