Steem Sri Lanka | Contest Series | Round 2 | Week 4 | Recall Memories of 2020
2020 is almost over and it is a year like no other. We all faced a lot of challenges, changes, and incidents within these 366 days. It is time to summarize and save your happiness, sadness and anything else of the expiring year into a steemit article. One day, if you read this again, it will help you to memorize this year full of wonders with a tearful eye. Then all these things will be belonged to the past. No matter how hard it was to live in this year, you will recall all the memories of 2020 with an emotional mind.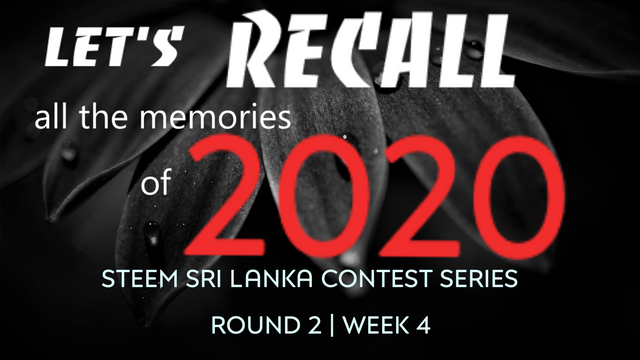 So, this is the introduction to the latest contest of Steem Sri Lanka Contest Series|Round 2| Week 4. All you have to do is to summarize your happy, sad, victory or any other moment within 2020, that worth to memorize later. So, we all will be able to have a flashback of your 2020.
Guidelines are simple and easy!!!
Summarize special moments of 2020.
Minimum word count is 300 words.
Comment your entry link under this once you published it.
Use your own photographs as evidence. (Give references for others)
Include topic as Steem Sri Lanka - Contest Series | Round 02 | Week 04 – Memories of 2020 : Your own title
Include your country within first 5 tags.
Include #recallmemories tag. It will be easy for me to find related posts.
Don't forget to post your entries in Steem Sri Lanka community.
More marks will be added for the creativeness of the post.
Contest is started as soon as I publish this post and will be ended at 8pm on Saturday 19th of December 2020 in Sri Lankan time. (GMT +5:30hr)
Prizes
I am excited to announce that winners will have new additional prizes for first five places from @steemcurator02 (4M SP)...
1st = 50% upvote
2nd = 40% upvote
3rd = 30% upvote
4th = 20% upvote
5th = 10% upvote
These votes will be increased by 10% if the posts are set to Power Up 100% (and they are not powering down at the same time).
All the participants will be rewarded with 30STEEM prize pool.
Announcement of Winner
Winners will be announced on or before 22nd of December 2020.
If you need a further clarification regarding rules or any other thing, please feel free to contact me from a comment.
I am so happy to take part in "We Love Contest" concept of @steemcurator01 and @steemitblog.
Stay safe and stay happy!