All About Creating a Post in Steemit

Introduction
As you all know, there are mainly two ways you can earn Steem, Sbd, or Sp in Steemit. They are posting and curating processes. Today we are going to talk about the posting. In Steemit you can write anything you want. You will get a reward according to your quality of the post. Before making a post you should have an idea about how to post and where to post. So we will give a brief idea about the Posting method in Steemit. When you post an article you can post it using a tag. But we recommend you to find about communities that are available in Steemit and choose your preferred communities first. Check the List Of Steemit Communities to find about communities.
How to post an article in a Community
Assume you choose Steem Sri Lanka Community as you preferred one.

Now go to the preferred community and click on the New post button.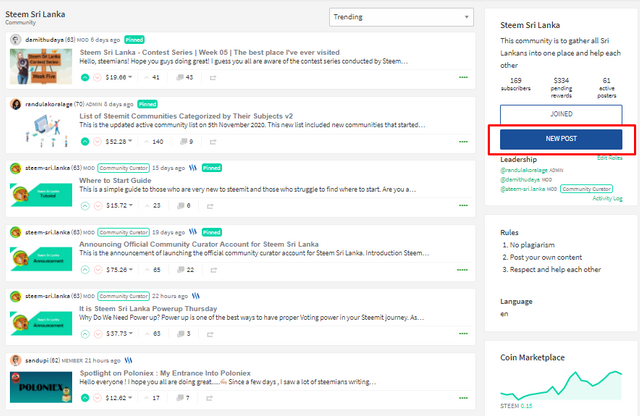 Now you are on the posting screen. Type your article in the description section and type the topic in the title Section. And the tags that you want to use apply, type in the tags section. Here make sure to use tags that are relevant to the article.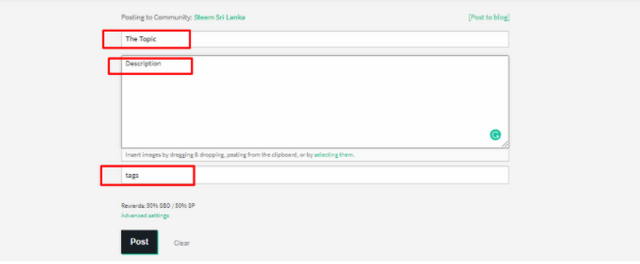 Then click on the posting button to publish your article.
How To Change The Type of Payment
There are two ways you can have your payment relevant to the article. The first one is you can put 50% SBD to 50% SP or 100% Power up. To change the payment type you should click on the advanced setting before publishing the article.

Then click on the mark selected to change the payment type.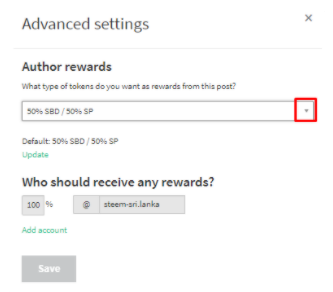 Then choose the type of payment and click on that. There is another option as a Decline payment. You can post an article with declining payment also. After clicking on the type of payment, click on the save button and post your article.
How To Add Beneficiary
Some users may not have an idea what the meaning of beneficiary is. Imagine someone helped you to post an article. So you should give some value to their help. What you can do is, you can give some percentage of your earnings from the article. The procedure is very simple. As in the above case, click on the Advanced Settings. Then click on the add account.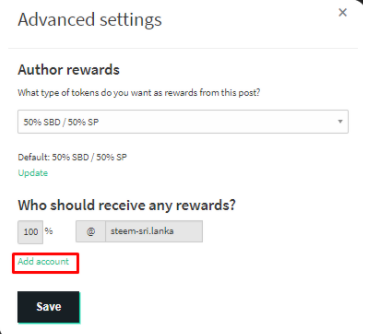 Then type the username that you are going to put the beneficiary and enter the percentage also. Then click on the Save button. Note: You can add more than 1 account as a beneficiary. If you want to add more accounts click on the Add account button.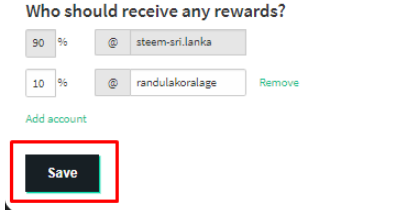 Best Option For Posting
We have seen some users put their all posts as 100% power up posts. When they want money they power down their Sp. That is not the way to have a successful journey in Steemit. If you are a newbie, We also recommended using 100% power up posts for a while. But you should keep in your mind not to power down at any time. As we understood the best way to post is, should post articles using both types of payments. But remember to use a high number of posts with 100% power up and few posts with 50%SBD/50%SP because the main intention should be to increase your effective Sp to help Others in the community.
---
WE ARE STEEM SRILANKA COMMUNITY