Return for Delegation Increased to 80% | Weekly Delegation Reward Distribution

Delegation Update
We are happy to say that we have increased the return for our generous delegators up to 80% of our curation rewards. The more you delegation the more you get as curation rewards. So are you guys ready to delegate for
@steem-sri.lanka
?
Our Generous Delegators
We could increase our Effective power to 38k+ with our generous delegators. Thank you to everyone who has given their delegation to our Community Curator account. Day by day we are trying to be strong. Here is the delegators list and we hope you will give your continuous support for us.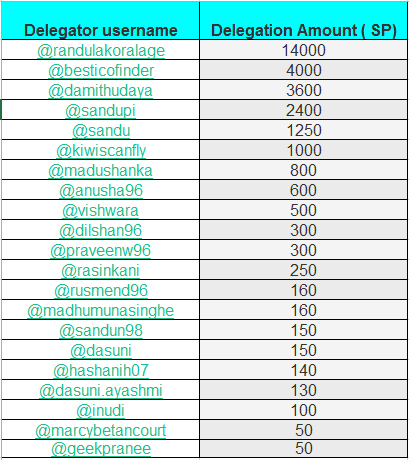 We welcome you all to support the community curator account with your generous delegations.

Delegation Reward Distribution
As we promised, we are going to distribute delegation rewards for our generous delegator. For this week, We got 83.12 SP as our curation reward. We have to distribute 80% of the curation reward this week.

Last 7 Days Curation SP
Here is the expectation curation reward for next week.

Expected Rewards for Next Week
You can see the calculation for the delegation reward below.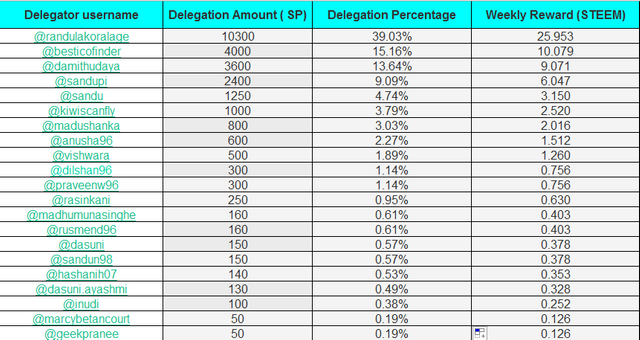 If you have any questions regarding the Calculation please refer to this:
Steem Sri Lanka Delegation and Curation Profit Return Process
We have already distributed your reward. Thank you for your contribution.

Steem Sri Lanka Community Curation Trail
We have already established a curation trial to increase our voting power. Already we have 18+ members in our trail. So all are welcome to join with our curation trail to get maximum curation rewards. For more details, check this post: Join steem-sri.lanka Curation Trial
CC: @steemcurator01