Announcing Contest: The Best Thing I did with My STEEM | Steem Sri Lanka 3G Contest Series | Week 08 |15% for SL charity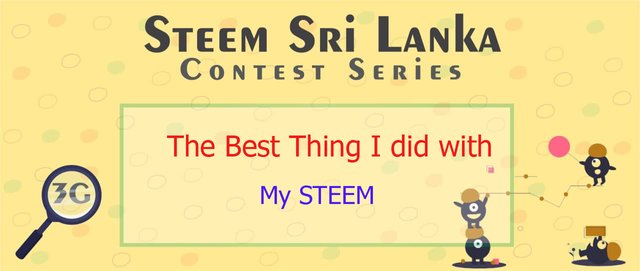 Hello Steemians,
I think all are good. These days Sri Lankans celebrating Sinhala & Hindu new year festival. Now it's time for me to announce to you all my very first contest in Steemit. Here is Steem Sri Lanka 3G contest Series Week 08!! Let's see what I have for you...
Introduction
I know, all steemians are writing their articles and collecting their valuable steems. You may be spent steems in a useful way or you are plan to spent steems in a useful way. This contest best for you to introduce what is the best thing you did with your steem. What are your future plans with stems? I try to show how is steem useful for the people by using this contest. I try to bring you new ideas about spending. In that case, I will introduce this contest to you.
What is the best thing you did with your STEEM?
You can include with this contest;
Have you ever used STEEM for any real-world activity?
If not, you can write about what are you willing to do?
How did you use steem useful way?
How much steem did you spend?
Why is that spend special? Who else benefitted from it?
Explain your feelings about it.
Rules
You have to follow these rules and regulations;
The title of your post must be;
The Best thing I did with My STEEM| Steem Sri Lanka 3G Contest Series| Week 08
Make sure to put your entry in Steem Sri Lanka Community and put your entry link in the comment section of this post.
This contest is open for anyone who interests in this. Only one entry per person.
Try to be more creative in your work.
Make your contest with at least 300 words.
Try to share your Original Images with us. Or else, use only copyright free images
Make sure to use these tags #mysteem so we can easily find your entries.
Resteem this post.
This contest begins on 17th of April 2021 and will be running till the 24th of April 2021 at 8.00 PM (GMT + 5:30).
Winners will be announced within 3 days after the contest ends.
Prizes
1st place= 60% vote from booming01
2nd place=50% vote from booming 01
3rd place= 45% vote from booming 01
4th place = 40% vote from booming01
5th place = 8 steem
6th place=5 steem
7th place= 3 steem
Judging Criteria
Evidence
Relevance
Meaningfulness of use
Creativity
Looking forward to see your entry!