Progress Report - February 2020
3/4/2020
Tracking and Growth
February, oh man what a month. Lots of changes, lots of issues, and it seems for the first few days of March, not a lot of postings other than about Tron/Steemit attempted take over of the Steem Block Chain.
We also had that extra day in the month, I have always heard it as leap year, but I do not recall anyone referring to the day as leap day, just the 29th. I am going to start with the comment chart from Steempeak: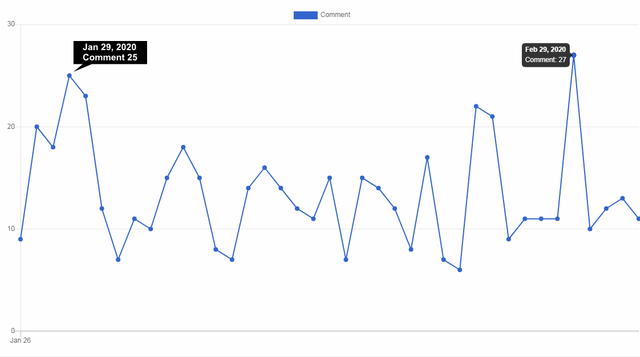 Looks like the 29th of both Jan. and Feb were pretty active commenting days for me. One of my goals is to end the year on or as close to 20,000 comments. So a good start, I did make it to the 15,000 mark on Feb 12, 2020.
The Stats Table:

A few changes, the percent thing on Libre is not working right so I had to use the calculator. The
plus
in the Averages column is the amount of increase. We started getting SBD's again for a short while in Feb, so one more row, this has affected the Approx SP Earned in that I power the SBD's up at various steem ratios,
Postings:
Eleven still a lack of posting on my part, and I am hoping I can get back into the swing of posting more often soon. Spring is almost here, so hopefully is warmer weather. I do like to share some photo's of my area, as I enjoy seeing photos from around the world.
Comments:
As you read above, a good month for comments, there was a lot of things going on with the Tron/Steemit issue, and a lot of real nice photo's and other logs were shared, so I had a good month. I hope next month will be as good, I still need to try and average close to 20 comments a day if I am going to make my year end goal. If I don't...well...I don't. I am certainly not going to stress or lose sleep over it. A few more comments than Jan. But still only averaging about 12.5 a day, I really need to up that number.
Votes/Self-Votes:
Still zero self votes for me, this might change in the future, I don't know, for now I am going to continue trying not to self vote.
Aprox SP Earned:
I have included a total increase over the previous months
Current SP
. We had SBD's come back for a short time, and then there are the odd contest awards and other ways and means of earning Steem Power. So the Aprox SP Earned does not include the portion that was received in SBD. i am pretty happy with a 200 SP increase though for one month.
Conclusion:
So even with all the Tron/Steemit Trauma/Drama things are still progressing for me. I will continue to strive and create post, but mostly I am going to try and stop by and visit and leave comments on other post.We need to make the new users, the cold feet users, and those thinking of leaving aware that even though there is a new Drama Show to watch on the SBC channel, lets not forget about each other and the community.
This post made possible with thanks to @abh12345 and his Monthly Script report post. When he has time he will pull one for you if you ask in the comments of the post.
ps. For the Steem Statistics Community please let me know if this is not the kind of user content for the community. I am trying to spread my post out and support the various communities on the Steem Block Chain.
Related Progress Links: