RECIPE FOR QUANG CHICKEN COOKING IN CENTRAL VIETNAM
You love chicken quang noodle - a special dish of the Central region, want to prepare this dish yourself to treat family and friends. But still has not found a way to make the standard standard chicken noodle soup in Central Vietnam. Then save the chicken quang noodle recipes shared by the people of Central origin below.
The central chicken quang noodle dish has a unique and delicious taste that is the perfect combination of soft, chewy rice noodles, delicious chicken, rich broth served with many fresh vegetables and some pure fish sauce, some roasted peanuts, and central baked rice paper. Just by describing you will feel irresistibly delicious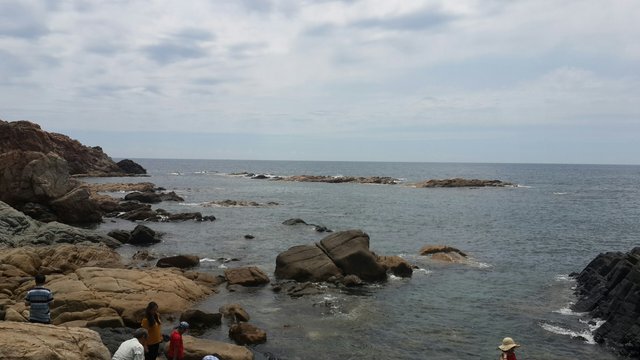 At first glance, Quang noodle dish is like many other dishes. Noodles are also made from rice flour, in a bowl of vegetables, meat, shrimp, peanuts and familiar spices. However, if anyone has tasted it, he will quickly realize the difference. Fatty meat and oil, rich in shrimp, rich in peanuts, mixed with spices such as chili garlic fish sauce, characteristic spicy aftertaste, served with raw vegetables, herbs, has created a very interesting and attractive taste. The food presented to the customers' eyes seemed simple but sophisticated and sophisticated. Each bowl of Quang noodles also contains sunshine, wind and the hearts of the people of Quang.
Raw materials prepared
• A chicken about 1kg (for 5-6 people)
• 1 liter of fresh coconut water
• 4-5 dried onions
• 2 garlic bulbs
• Fresh chili, peanut oil (peanut oil), colored chili (dried chili powder)
• Quang noodle
• Roasted peanuts (roasted peanuts)
• Grilled rice paper (rice paper)
• Onions, vegetables served with lettuce, basil
• Raw vegetables: banana, bean sprouts, young cabbage
• Spices: pepper, salt, delicious fish sauce, monosodium glutamate, sugar, a lemon
Process materials
• The chicken you bought you clean, wash it with diluted salt water to remove the smell of the chicken. Then, you peel the meat separately, cut small pieces to taste. Chicken bones or pieces of meat that cannot be peeled meat such as wings, neck, and legs, are cut into bite-sized pieces
• Crush fresh onions, garlic and chili (if not spicy, they can prevent fresh chili). Marinate chicken, chicken heart with onion, garlic, crushed chili, add ground pepper, sugar, monosodium glutamate, delicious fish sauce, salt (can be replaced with seasoning powder), mix well and let for at least 30 minutes to allow the meat to infuse. Spice. With chicken bones, you marinate like above.
• Wash and cut cilantro onions. Lettuce picked clean and cut into bite-sized pieces, mixed with other vegetables washed and drained.
How to cook chicken noodle soup at home
• Step 1: Put the pan on the stove, add oil, fry the garlic, then cook the chicken and chicken bones until they are firm.
• Step 2: Then, you put coconut water in a pot, cook with chicken for 15 - 20 minutes. When the tender chicken and chicken bones are also secreting the sweet water, you proceed to taste it again, then turn off the heat. You can add a little chili oil to make the broth a beautiful color.
• Step 3: Cook another pot of boiling water, poach the noodles for 2 minutes, then take out and drain.
• Step 4: Prepare sliced chili, pure chili fish sauce, sliced lemon juice and raw vegetables, place on a plate. Put the raw vegetables in the bowl, add the poached noodles to the top, fill with the broth and the chicken, add the roasted peanuts, the chopped onions, and cilantro.
• Step 5: When enjoying, squeeze lemon, break into baked rice paper, mix well and enjoy. This dish will be even more delicious if there is a little bit of central chili sauce.
That's why, no matter how many years, through many generations, Quang noodles are so popular in all regions. If there is any, it will be slightly changed to better suit the taste, but still satisfy the love for this dish.
For Quang people, a dish is not only on the taste, but also in the heart of the processor. The dishes are cherished and cared for in each stage. The step of selecting ingredients is important, but the way that ingredients are combined and stir-fried must be invested more time. Broth is considered the soul of Quang noodles as well as the secret to cooking delicious Quang noodles. To make the chicken broth more attractive, cashew nuts are stir-fried into shiny yellow water. Gently mixed with other ingredients, the attraction is hard to resist. Then add the fatty pieces of chicken, pork or shrimp, sprinkle with roasted peanuts, and enjoy with broth.
Chicken quang noodle is a combination of chicken meat sweet, chewy, fat by peanuts, sweet and sweet of broth, fresh herbs ... used on cold days is the best. In addition to chicken quang noodles, Central people also have noodles in advertising with shrimp meat, snakehead fish noodles ...
Coming to Quang land, if you are lucky, you will be able to see with your own eyes every step of processing this famous noodle dish to see all the carefulness of the cook and to fully understand the spiritual value it brings.
Every dish is attractive with its own flavor. So, if you have a chance, please come and enjoy these delicious dishes!