Ms. Catherine Mackenzie (Chief Security Advisor United Nations) visited my Office Yesterday
Asslam u Alaikum and Hello to fellow Steemians,
This is salmanwains, Punjab Police Officer of PSCA. I hope that you all are fine, healthy and doing great.
Yesterday was a very busy day in office as a delegation of United Nations Department of Safety and Security visited PSCA with their Chief.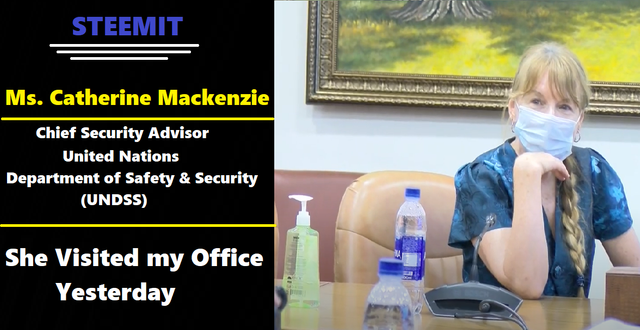 On their visit to Punjab Safe Cities Authority, the whole delegation appreciated the efforts of PSCA specially the United Nations Chief Security Advisor Catherine Mackenzie was very much surprised to see this state of the Art project in Lahore.
Our PSCA web TV Anchor, Mr. Umer Bakhat did an exclusive interview of Catherine Mackenzie and asked some questions related to PSCA, PPIC3, Lahore Police, Punjab Police etc.
Here is the full video of Ms. Catherine Mackenzie Interview
Question: Madam, my question is that you have served in many member countries of the United Nations. You have a keen eye on the steps taken by the government to protect and safeguard the people of the member countries. What are your thoughts on this project after visiting the Safe Cities Authority?
Answer by Ms. Catherine: I am very impressed not with what you are trying to achieve but with what you have achieved. Especially when I look at the figures from 2017,18 to date and the impact that this project has had on the lives and happiness of the people of Punjab.
Also, as a woman, I am very impressed with the special measures taken to ensure the safety and security of women here.
And to ensure that women are able to cope in the event of an unpleasant event, even if they fear that something bad could happen to them that will help us survive again, Contact this center. Because we not only want to be a helper in the event of an accident, but we also want to prevent accidents from happening.
I am very happy with what is happening here.
Question: After visiting this Punjab Police Integrated Command & Control Center of PSCA, do you now feel more secure in Lahore now?
Answer by Ms. Catherine: Yes I feel more secure, but now I will look at my speedometer very carefully to make sure that I am not driving too fast to avoid E Challans :D
And now I know I have to be wary of cameras.

Furthermore, she also acknowledged the role of PSCA and Punjab Police in making Lahore and Punjab Safe trough Cameras, Latest 15 system and by launching Women Safety app for the Safety of Females.
CC:
@haidermehdi, @hassanabid, @rashid001, @vvarishayy, @yousafharoonkhan, @suboohi, @steemit-pak