WEDNESDAY EDUCATIONAL THEME - GUIDANCE POST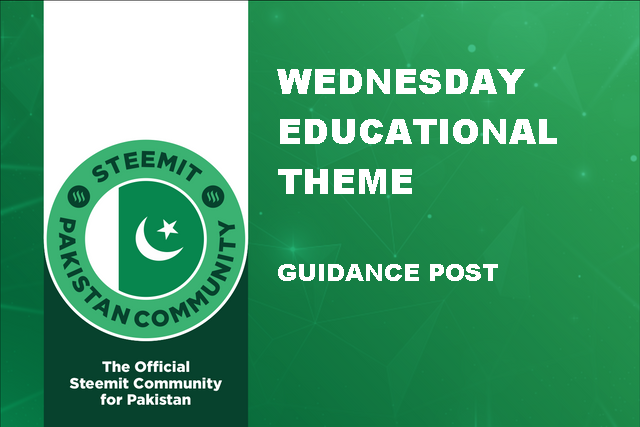 ---
Asalamoalaikum to all the community members and supporters of @steemit-pak.
I hope you people have seen the announcement done by @haidermehdi regarding the new themes and posting criteria in STEEMIT PAKISTAN. you can read the complete post by clicking the link below.
---
STEEMIT PAKISTAN PROGRESS - NEW STORIES, NEW BEGINNINGS!
---
In short, it is stated that we have assigned 3 days Monday, Tuesday, and Wednesday to write crypto, reviews on different topics, and on education, respectively.

WEDNESDAY THEME EDUCATIONAL POSTS

---
WHAT IS AN EDUCATIONAL THEME?
---
We have made this theme to empower the people of steemit. In this theme, you can write about anything that can be useful for others. The only thing that increases when we share is knowledge. You can write on any topic including,
---
Educational posts regarding steemit.
Educational post regarding Computers.
Educational posts regarding health and fitness.
Educational posts regarding Science.
Educational posts regarding Parenting.
Educational posts regarding psychology.
Educational posts regarding business.
---
There are uncountable topics in which you can write. above topics are some example just to clarify you the theme.
---
RULES TO FOLLOW
---
Your title must be [Wednesday-Educational Theme - your title of the post]
There must be no plagiarism. If we find any plagiarist, he will be downvoted.
you must include the tag #wed-education as your first tag, your country name (eg #pakistan) your second tag and #steemexclusive your third one.
Write a minimum of 200 words in your own words.
---
WHY YOU SHOULD TAKE PART IN THESE THEMES?
---
You will get a chance to get the booming support if you show us your dedication and loyalty by fulfilling all the rules and participating in the themes, we vote for the quality posts and hardworking authors by steemcurator07 and from steemit-pak curation account as well and sending your links to booming to support you, people.
---
You can ask anything if you still have any confusion regarding themes or anything.
---

THANK YOU FOR READING
YOUR'S COUNTRY REPRESENTATIVE
VVARISHA
---

Subscribe STEEMIT PAKISTAN
Quick Delegation Links To earn delegation rewards
guidance